There aren't any Events on the horizon right now.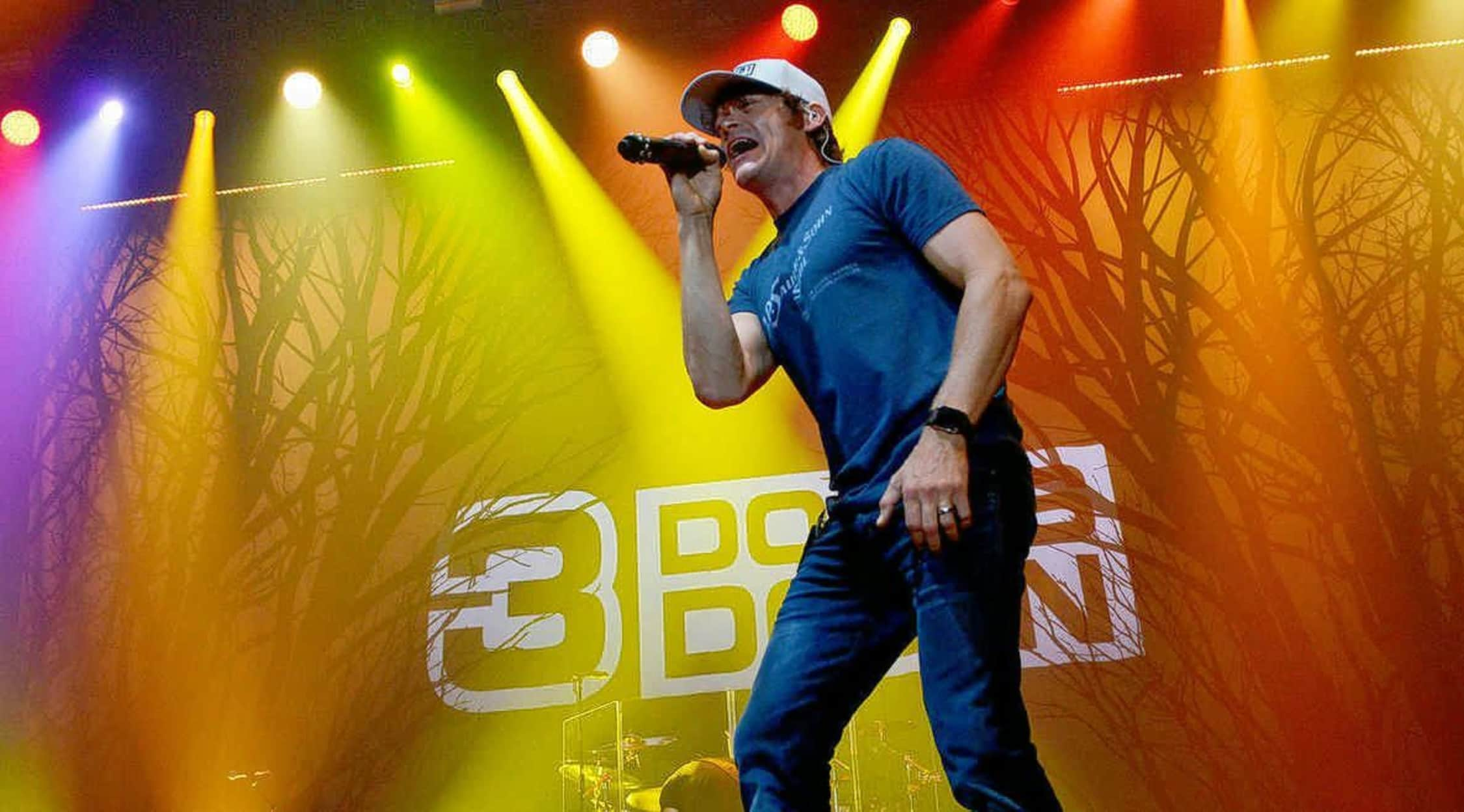 Alamy
3 Doors Down Tickets
3 Doors Down Tickets
In 1996, a group of three guys from Escatawpa, Miss., got together and created the band known as 3 Doors Down. After playing in small venues, the group released its first single in 2000. The band took the music world by storm with the release of its single called "Kryptonite," which got to No. 3 on the Billboard Hot 100 chart. After this success, 3 Doors Down signed with Republic Records and began releasing albums. In total, 3 Doors Down has released six studio albums, two of which have made it to the No 1 position. In addition, five of its albums have been in the top 10. The group has also had three top 10 singles and sold more than 30 million albums throughout the world. The band has won several awards, including five Billboard Music Awards, one American Music Award and one Eska Special Award.
Professional and Personal Struggles
Only one member of 3 Doors Down is from the original lineup, and that is the lead singer named Brad Arnold. Throughout the years, the band has had to deal with some personal issues and tragedies. In May of 2012, lead guitarist Matt Roberts announced he was stepping down to focus on his health. Tragically, he passed away from a drug overdose in 2016. In April of 2013, bassist Todd Harrell was driving at high speeds under the influence of prescription drugs, and he caused an accident that killed another person, Paul Howard Shoulders, Jr. Harrell was charged with vehicular homicide, and the band let him go. 3 Doors Down even canceled tour dates out of respect for Shoulders' family. The group has also switched out drummers a couple of times, although there was not an official drummer for the band until 2000, which was when Richard Liles joined. The tragedies 3 Doors Down has endured have helped to shape it as a band. It has also helped to shape its music in new ways.
Where can I buy 3 Doors Down tickets?
To see 3 Doors Down in concert, you can purchase your tickets at StubHub. StubHub is the world's leading ticket marketplace, and you can feel confident purchasing tickets with its FanProtect guarantee.
How long is a typical 3 Doors Down concert?
3 Doors Down normally plays for between 45 and 90 minutes. The band usually plays about 20 songs at each concert.
Where is 3 Doors Down playing?
3 Doors Down is on tour across the US. To find out if the band is playing near you, check out upcoming tour dates at StubHub. In the past, the band has held concerts at the Comerica Theatre in Phoenix, the Oklahoma City Zoo Amphitheater, the Pearl Concert Theater at Palms Casino Resort in Las Vegas and the Hollywood Casino Amphitheatre St. Louis.
What does a 3 Doors Down setlist look like?
You are sure to hear some of your favorite 3 Doors Down songs at its concerts. The band's setlist includes songs like "Kryptonite," "In the Dark," "Still Alive," "Us and the Night," "Away From the Sun" and "Let Me Be Myself."
Who are the members of 3 Doors Down?
3 Doors Down is made up of Brad Arnold as the lead vocalist, Chris Henderson on rhythm guitar, Greg Upchurch on drums, Chet Roberts as lead guitarist and Justin Biltonen on bass. Former members include Richard Liles, Daniel Adair, Matt Roberts and Todd Harrell.
Where did the name 3 Doors Down come from?
The band adopted the name 3 Doors Down on a trip to Foley, Ala. Brad Arnold, Matt Roberts and Todd Harrell were wandering around Foley when they saw a sign that was missing some letters and simply said "doors down." They added the "3" to the name because there were three of them in the band at the time.
What other bands are similar to 3 Doors Down?
For music similar to 3 Doors Down, be sure to check out Three Days Grace, Theory of a Dead Man and Third Eye Blind.
Back to Top
Epic events and incredible deals straight to your inbox.