We didn't find any Events nearby, but here's what's happening in other cities.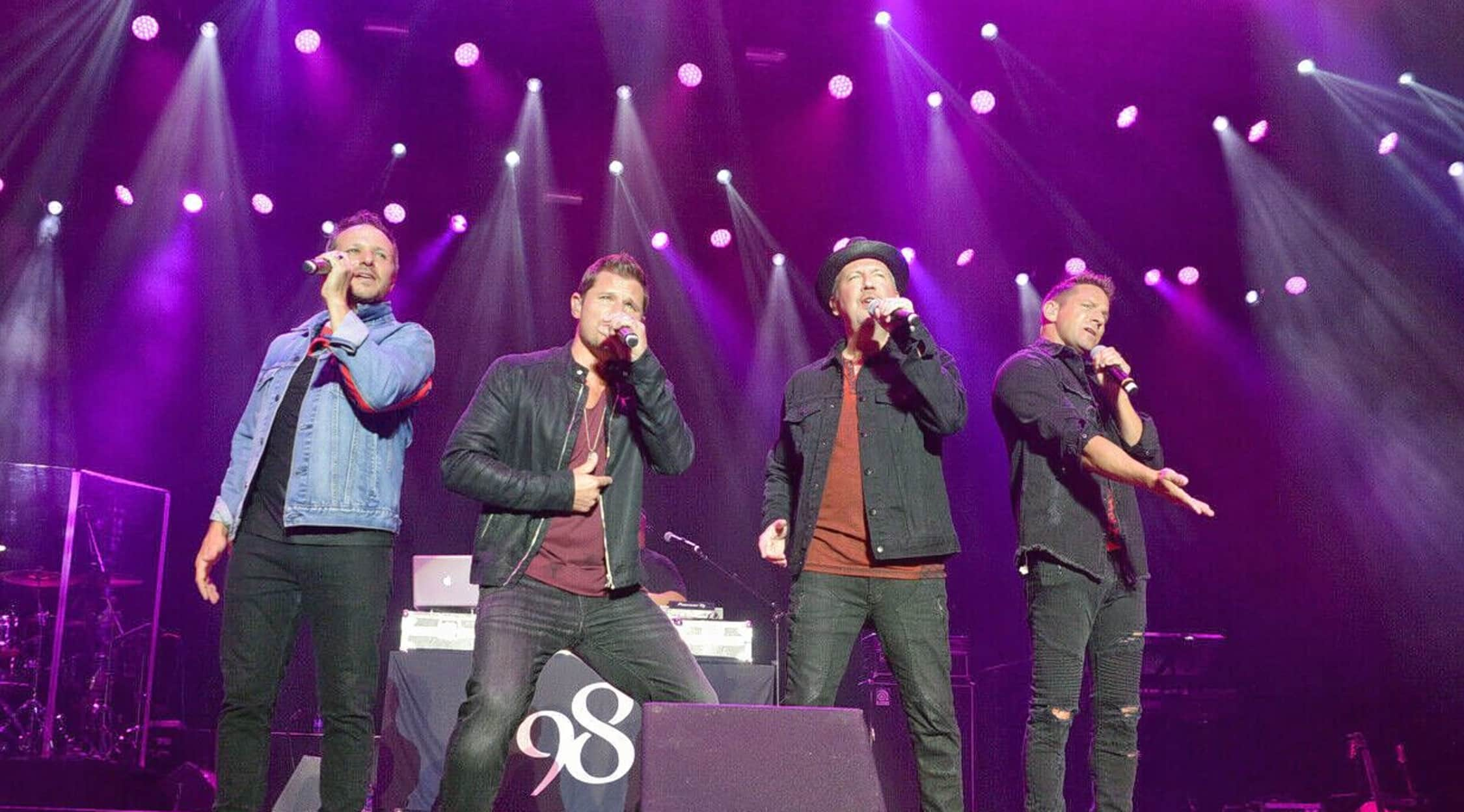 Zuma
98 Degrees Tickets
98 Degrees Tickets
98 Degrees is an American pop vocal group consisting of two brothers, Nick and Drew Lachey, and their friends, Justin Jeffre and Jeff Timmons. Although the group was formed by Timmons in California, all the members of the group originated from Ohio. The group came onto the scene when teen vocal groups like the Spice Girls, Backstreet Boys and NSYNC were becoming popular. Unlike its musical peers who were assembled by a label or producer, 98 Degrees was independently formed and picked up by a record label later. With more than 10 million record sales worldwide and eight Top 40 singles in the United States, it is no guess as to why 98 Degrees won the Choice Music: Breakout Artist Award.
98 Degrees Highlights
After discarding several band name ideas, such as Just Us and Next Issue, the group unanimously chose "98 Degrees" for the way it conveyed the body temperature and the atmosphere that its music created. With its independence came a little struggle getting its foot into the music business door. The group started with building its contact list through small auditions that worked around the members' everyday jobs until it happened upon its shot. Hoping to get a chance to pass its demo to the band, 98 Degrees jumped at the opportunity to sing during a live radio broadcast of a Boyz 11 Men concert, which led to them being discovered by a music manager and signed shortly after. With their debut single achieving gold record status, opening for several Janet Jackson concerts, being featured in Disney's Mulan and singing "True to Your Heart" with Stevie Wonder, you can say that 98 Degrees got off running and haven't slowed down since.
Where can I buy 98 Degrees tickets?
Watch this one-of-a-kind boy band take it to the next level at a live concert near you. Grab your 98 Degrees tickets at StubHub.
What can I expect from 98 Degrees concerts?
Since hitting the scenes in the early '90s, 98 Degrees has been tearing up the dance floor with its popular hit songs like "Invisible Man," "Give Me Just One Night" and "My Everything," You can expect to see amazing choreography and spectacular stage lighting at a 98 Degrees concert, not to mention the great music that will keep you on your feet all night long.
How long is a 98 Degrees concert?
With the members' stunning costumes, hypnotizing dance moves and lyrical dominance, 98 Degrees was born to perform. You can expect a 98 Degrees performance to last about two hours with a short intermission for set and costume changes.
Where is 98 Degrees playing?
In 2012, 98 Degrees reunited for a one-time performance at the Mixtape Festival in Pennsylvania. On The View, the group announced their 2013 joint tour with New Kids on the Block and Boyz II Men. In 2016, 98 Degrees embarked on its My2K Tour. I'm has since released several new albums with upcoming tour dates countrywide. In 2019, you can catch 98 Degrees performing in Maryland, Pennsylvania, Nevada, California, Washington, Hawaii and many more states throughout the US.
Where did 98 Degrees get their inspiration from?
Being independently formed and writing many of their songs, it is no doubt a public curiosity where such a successful group of singers drew their inspiration from. You can credit groups such as Boyz II Men, Take 5 and Jodeci for inspiring the refined harmonies and presentation that 98 Degrees is known for.
What artists are similar to 98 Degrees?
Fans of 98 Degrees will also enjoy music by NSYNC, O-Town, Backstreet Boys, BBMak, Nick Carter and Boyzone.
Back to Top