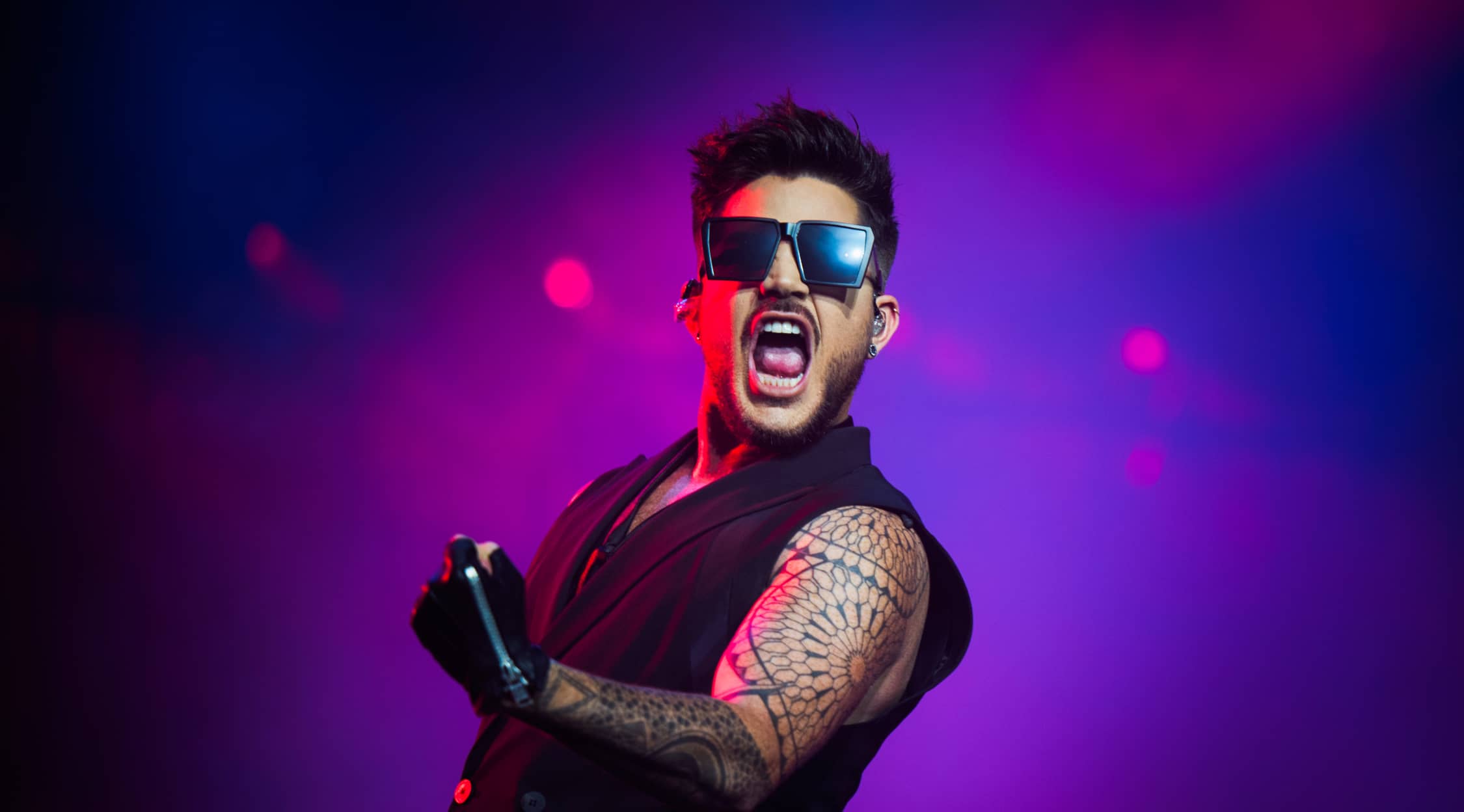 Zuma Press
Adam Lambert Tickets
Adam Lambert Concert Schedule
Since competing on American Idol in 2009, Adam Lambert has been one of the standout vocalists on the modern music scene. Lambert has rocked out on stage with Queen and has sold out major music venue across the globe, and now he's ready to bring his mind-blowing voice and electrifying on-stage energy to venues across the US, which is great news for all of the rock, pop, and glam rock lovers out there! When Adam Lambert starts busting out phenomenal hits like "Ghost Town" and "Whataya Want From Me," make sure that you are in the audience to catch one of the most thrilling rock shows of the year—grab your Adam Lambert concert tickets right here on StubHub before it's too late!
In the upcoming months, Adam Lambert will be stopping at major music venues in cities like Phoenix, San Diego, Cleveland, Wilkes Barre, Saint Louis, and Independence. No matter where you catch this famed rock star in concert, you are sure to be instantly hooked by his explosive energy and undeniable talent. So when the wildly talented Adam Lambert heads to a venue near you, don't be caught without your concert tickets—snag your Adam Lambert tickets right here on StubHub as soon as possible!
Adam Lambert Background
Throughout his childhood in San Diego, Adam Lambert spent much of his time on stage in various local productions. His very first role was Linus in You're a Good Man, Charlie Brown, and from that moment on he was hooked. Lambert began taking vocal lessons and devoted his free time to pursuing his career as a performer. After high school, Adam Lambert enrolled in college, yet dropped out after just five weeks because he had the realization that his main dream in life was to become a performer. So Adam Lambert packed up and moved to Los Angeles, where he juggled a variety of jobs while trying to break into the entertainment scene. Lambert tried to get his foot into the door of the local theatre scene as well as the music scene, and eventually he started to achieve one success after another. Lambert scored small roles in various musicals and stage productions, but it wasn't until he auditioned for American Idol in 2009 that his career really took off. Not only were the judges enamored with this talented rock vocalist, but millions of music lovers around the world also began buzzing about the exciting young Adam Lambert.
After dazzling viewers week after week on American Idol, Adam Lambert became one of the most talked about new acts on the music scene. Lambert came out with his debut album, For Your Entertainment, in 2009, and the very next year he scored his first Grammy nomination. In recent years, Adam Lambert has collaborated with Queen, stepping into Freddie Mercury's shoes as the lead vocalist. Whether he is performing with Queen or touring as a solo act, you can always count on Adam Lambert to put on an absolutely spectacular rock show. With his wildly powerful vocals and insanely catchy songs, Adam Lambert will have you entertained from the moment he takes the stage until the moment of his final encore. Make sure that you are in the audience when Lambert steps out on stage at a venue near you—grab your tickets right here on StubHub today!
Greatest Hits
To date, Adam Lambert has released three studio albums: For Your Entertainment (2009), Trespassing (2012), and The Original High (2015). His debut album went platinum in Australia, Canada, and New Zealand, and all three of his albums have charted high in countries all over the world. Some of Lambert's greatest hits include charting singles like "Time for Miracles," "For Your Entertainment," "Whataya Want From Me," "If I Had You," "Better Than I Know Myself," "Ghost Town," "Another Lonely Night," and "Never Close Our Eyes." So hurry and make sure that you have your tickets to see Adam Lambert perform some of his greatest hits live in concert—snag your tickets right here on StubHub as soon as possible. These in-demand tickets surely won't last long, though, so check out StubHub's ticket selection today!
Trivia
Adam Lambert contributed vocals to the song "Marry the Night" for the TV show Glee.
The Experience
Come rock out with one of the best artists in the modern music scene—lock down your Adam Lambert concert tickets here on StubHub before it's too late. There is no doubt that Adam Lambert can put on a fantastic live performance, which is one of the main things he is known for in the entertainment world. So come see this spectacular artist and performer live in concert before the opportunity passes you by—grab your Adam Lambert concert tickets here on StubHub as soon as possible. Hurry, though, because these red-hot rock show tickets surely won't last much longer!
Back to Top