We didn't find anything nearby, but here's what's happening in other cities.
There aren't any events on the horizon right now.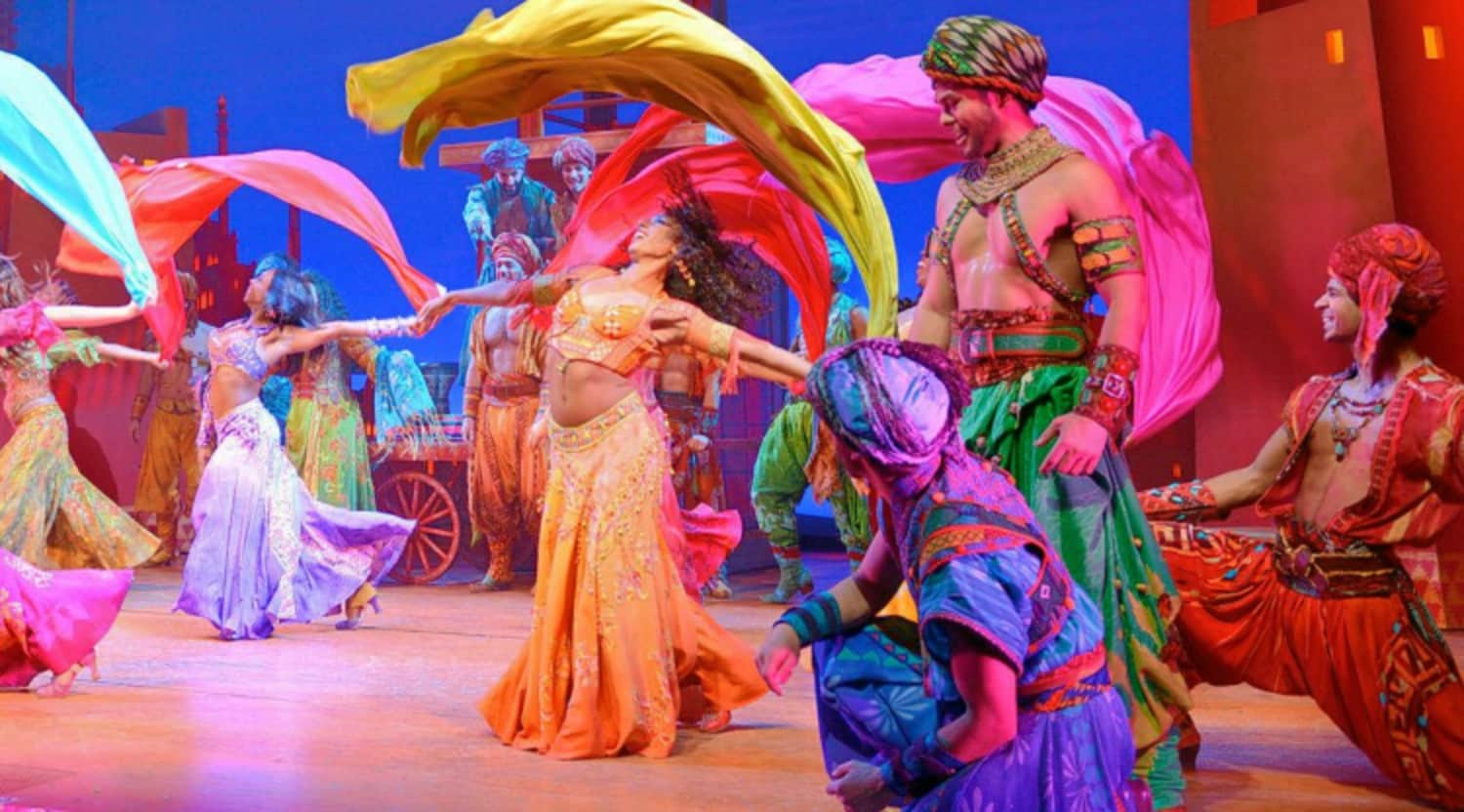 Disney
Aladdin Los Angeles Tickets
Aladdin Los Angeles Tickets
Disney's Aladdin first came to life as one of the most successful animated films of its time. Released in 1992, it was the highest-grossing film at the box office that year. With great sons and incredible performances, it easily charmed audiences. This production brings the beloved story of Aladdin, Jasmine, Genie and Jafar to life on stage. Aladdin not only features a great cast, but it also has an amazing set and incredibly elaborate costumes. There are over 300 individual costumes in the show, and the special effects include live pyrotechnics. This is a show that brings the magic of one of Disney's most beloved characters up close to a live audience.
A Whole New World
Disney's animated Aladdin became a classic almost as soon as its release. The film featured iconic performances by legends like Robin Williams. The story hinged in large part on magic carpets and other fantastic feats. It must have been intimidating to think about bringing this show to a theater for a live performance. However, the team at Disney did it right, and Aladdin has been running on Broadway since 2014. There have been over 2,300 performances of the show so far. Aladdin was nominated for five Tony awards in 2014 and took one home. Today, in addition to the Broadway run, this show is touring the United States.
Where can I buy Aladdin Los Angeles tickets?
StubHub is your source for Aladdin Los Angeles tickets. With StubHub, you can get tickets to all the best live events in the world.
Where is the Aladdin tour in Los Angeles being staged?
Aladdin Los Angeles is taking the stage at Hollywood's iconic Pantages Theater. The Pantages is an ornate, historic theater located right on Hollywood Boulevard in Los Angeles. The theater first opened in 1930. Since then, it's been home to movies, vaudeville and touring Broadway shows. At one point, it was the home to the Academy Awards. The theater was renovated in 2000 in order to accommodate another Disney production, The Lion King. In addition to Aladdin, the Pantages has played host to The Book of Mormon and other hit shows. The Pantages seats over 2,700 patrons.
Is the Pantages Theater accessible for people with disabilities?
The Pantages offers wheelchair-accessible seating on the orchestra level only. Audio description and ASL interpretation are available for some performances. Binoculars, booster seats and assistive listening devices are also available at the theater. It's a good idea to call the venue beforehand if other accommodations are required.
What can I expect when I buy Aladdin Los Angeles tickets?
Aladdin is a great show for the whole family. This musical incorporates the six songs from the original animated movie, adding others like "Proud of My Boy." The Genie is not blue, but his show-stealing vigor is similar to Williams' in the animated film. His pop-culture quips have been updated for a new generation. The youngest recommended age for attendees is 6 years old. The show is lively and has a long running time, so it's not designed for toddlers and very small children.
How long is an Aladdin Los Angeles show?
Aladdin Los Angeles has a running time of about two hours and 30 minutes. Since the production is live, there can be small deviations from that time frame. There is an intermission for this show.
What shows are similar to Aladdin Los Angeles?
Aladdin is most similar to Disney's other Broadway shows, including Beauty and the Beast and The Lion King. All of these shows have done an incredible job translating Disney's animated musicals to the stage as live shows.
Back to Top
Epic events and incredible deals straight to your inbox.