We didn't find any Events nearby, but here's what's happening in other cities.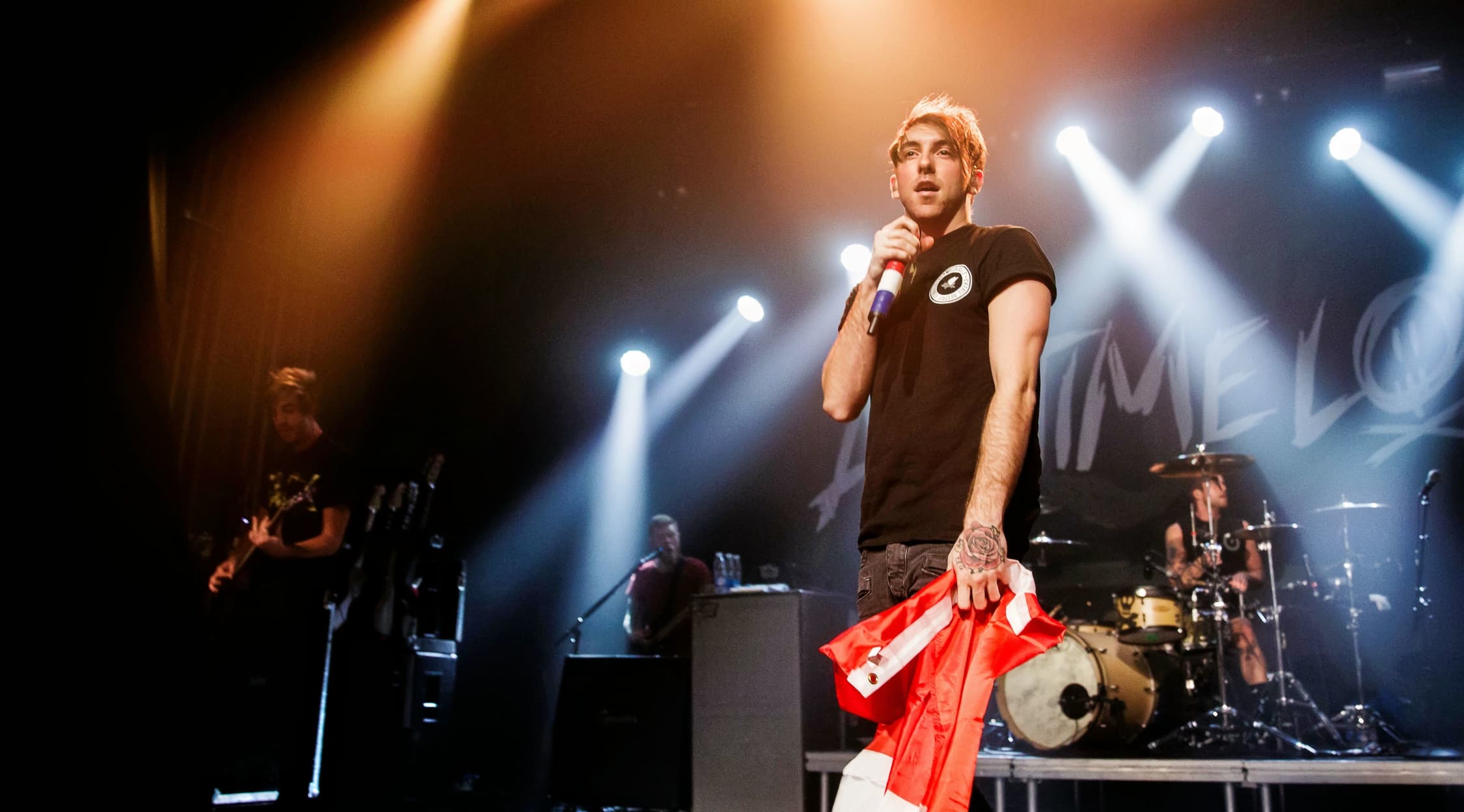 Zuma
All Time Low Tickets
All Time Low Tickets
All Time Low has been sweeping the pop-punk scene since 2003. Getting its start on the smaller stages of Vans Warped Tour, the group now sells out venues all over the country. The band's music is extremely personal in every way, ranging from downright hysterically honest to painfully passionate. Above all else, they love their fans, and that's why they keep an almost constant touring schedule.
Inspired by the Greats
All Time Low got its name from a New Found Glory song. Members Alex Gaskarth, Jack Barakat, Ryan Dawson and Zack Merrick formed the band while attending high school in Maryland. They cut their teeth doing covers of blink-182 songs. Even though they were still young, the group released its first EP in 2004. Just two years later, All Time Low was signed with Hopeless Records and released its debut, The Party Scene. A year later, the band released its second album and the hit that would later make the four guys famous: "Dear Maria Count Me In."
Where can I buy All Time Low tickets?
All Time Low's schedule is busy as the group is constantly touring and working on new music. You can get easy access to the best seats at StubHub - the best place to get tickets at the fairest prices.
What kind of music does All Time Low make?
All Time Low puts out primarily pop-punk music. In its earlier days, the group put out goofier songs, hitting on the themes of sex, drugs and booze. Even the hit "Dear Maria Count Me In" was supposedly written about a stripper. However, All Time Low also released music that described the struggles each member was going through as barely old-enough-to-drink musicians signed to massive record labels. Even 10 years later, "Weightless" tugs at the heartstrings of teenagers everywhere.
Do All Time Low tours include other bands?
All Time Low tours have included countless bands in the pop-punk scene. It still regularly tours with bands like blink-182 while also sharing the stage with newer bands like Neck Deep. The group's primary focus during the shows is having fun, and that means touring with friends.
What record label is All Time Low signed to?
All Time Low is signed to Fueled By Ramen as of 2017. When the band was first working towards getting signed in 2004, the members sought out Fueled By Ramen. Due to timing, Fueled By Ramen couldn't sign the group at the time. That's when All Time Low signed with Hopeless Records. Through Hopeless Records, the band was able to put out the first six albums before releasing the seventh one via Fueled by Ramen.
Who are the band members behind All Time Low?
Alex Gaskarth and Jack Barakat serve as the band's frontmen. During All Time Low concerts, these two are the most talkative and will generally do the most to interact with the crowd. Gaskarth is the lead vocals and rhythm guitar while Jack Barakat is the lead guitar and backing vocals. Zack Merrick plays bass and Ryan Dawson plays drums.
Are the members involved with any side projects?
In 2018, Alex Gaskarth came out with a side project featuring blink-182's Mark Hoppus called Simple Creatures. The band has played a few live shows and released their first EP last year. Just this year, Jack Barakat just came out with his new band WhoHurtYou. Despite this, both members are still friends and have no intention to quit All Time Low.
What awards has All Time Low won?
The band has drawn some heavy support from magazine-sponsored awards like Alternative Press and Rock Sound. Kerrang! Awards nominated All Time Low for best newcomer in 2008. In 2010, All Time Low's Dirty Work won album of the year from the Alternative Press Music Awards. The band's most recent album Last Young Renegade won Album of the Year at the Rock Sound Awards.
Back to Top