We didn't find any Events nearby, but here's what's happening in other cities.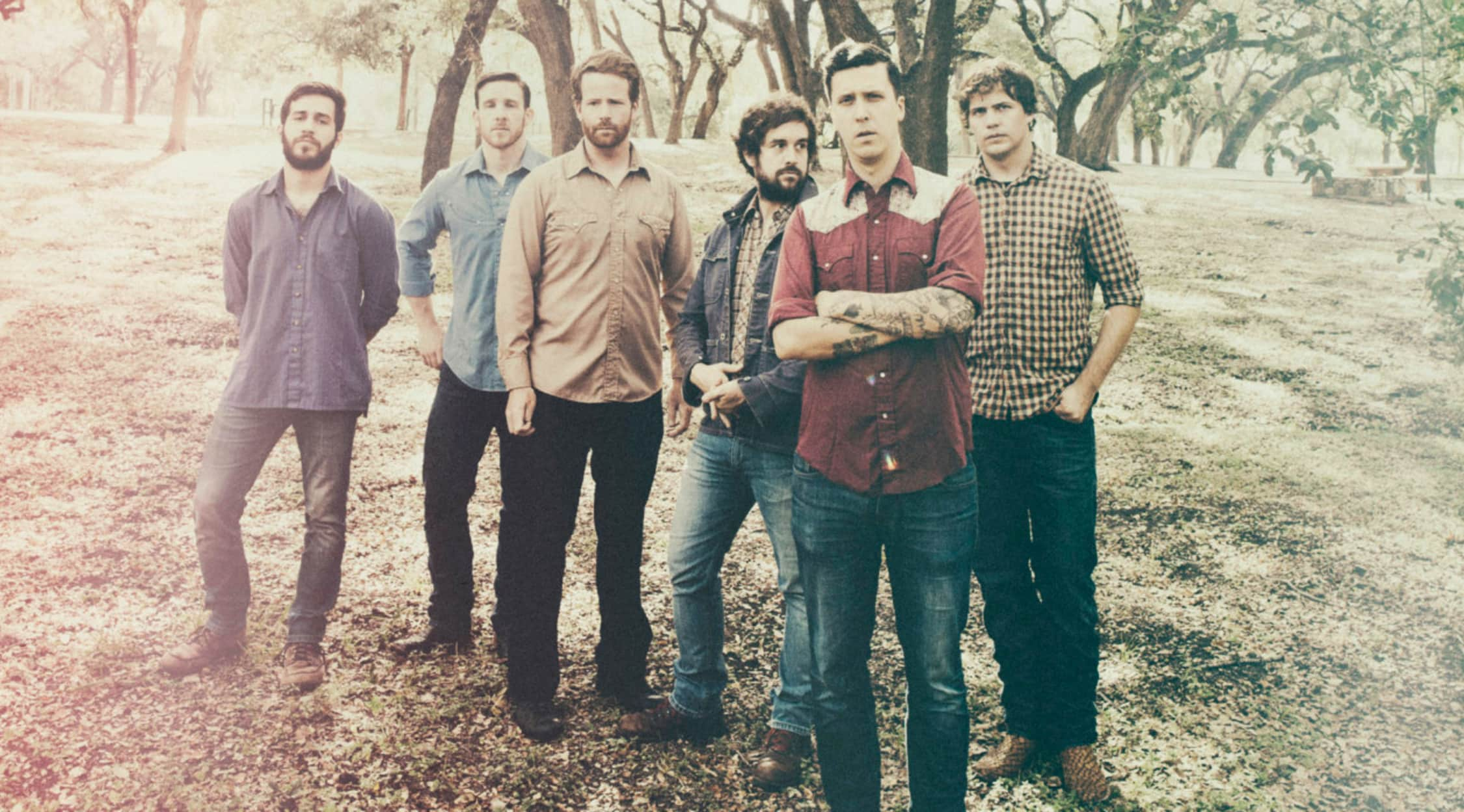 Rovi
American Aquarium Tickets
American Aquarium – The 2016 Tour
Whether they are performing in the most downhome bars (Scottie's Grill in Texarkana, Billy Bob's in Fort Worth, Sam's Burger Joint in San Antonio) or the classiest concert halls (the National Arts Centre in Ottawa, the Winter Garden Theatre in Toronto, the FirstOntario Performing Arts Centre in St. Catherines), American Aquarium put on a show that you will not soon forget. Tickets are going fast, so don't wait – get yours today!
About American Aquarium
American Aquarium started issuing records in 2006, drawing inspiration from bands like the Drive-By Truckers and Whiskeytown in the process. Established in Raleigh, North Carolina (alt-country's unofficial headquarters), the group is focused around the songwriting of B.J. Barham, who rounded out his lineup with Zack Brown (piano), Bill Corbin (bass), Ryan Johnson (guitar), Kevin McClain (drums), and Whit Wright (pedal steel guitar). Despite a hectic live schedule, American Aquarium managed to make regular trips to the recording studio. They issued a couple of independent records before signing to Last Chance Records for Dances for the Lonely in 2009. Chris Starney, former frontman of dB and fellow North Carolinian, produced the album, which also included guest vocals from Caitlin Cary, alumna of Whiskeytown. Arriving the following year, their fourth album Small Town Hymns further illustrated the band's penchant for Springsteen-style, gritty anthems.
2012 would be a banner year for the band with the arrival of their debut concert set Live in Raleigh, as well as the release of their fifth and most critically successful studio record, Burn.Flicker.Die, which featured production from Jason Isbell. The album was initially meant to be the band's swan song. They were whittled and weathered to the bone by more than five years of partying and heavy touring. Despite the fervent loyalty of their cult fanbase, Barham was so poor that he had been living in a storage unit for months. Something had to give, but their album about disillusionment, desperation, and failure ended up being American Aquarium's most successful effort to date. It was a critical favorite and rallied new armies of fans. Two years and nearly 500 gigs later, American Aquarium had travelled the world, found a new passion for the road, and quadrupled their listenership. When the time came to record a follow-up in June of 2014, it made sense to make something that celebrated survival.
For nearly ten years, American Aquarium had spent the majority of their time on the road, burning up miles of highway during the day and playing sets of rootsy, raw rock n' roll at night. Sometimes, the job is a grind. Most of the time, however, it's a blessing. The American Aquarium catalog, packed with biographical lyrics about long horizons, lost loves, and last calls, has always examined both sides of that divide. For each drunken night at a bar, there's a hangover the next day. For each new love, there's the chance of broken hearts. It's this kind of honesty that made Wolves that band's strongest release to date.
Barham has described Wolves as the sound of a group firing on all cylinders. With production by Brad Cook of Megafaun, the album was recorded over the course of 20 days in Asheville's Echo Mountain Studios. Wolves was entirely funded by the band's diehard fanbase. The ten tracks on Wolves represent a new direction in the group's signature twang. Rather than drawing from the alternative rock approach that influenced their name almost ten years ago, Wolves mixes the dirty, dark swirl of two electric guitars with the twang of a steel pedal, resulting in a sound that is ready for the dive bar, the honky tonk, or the roadhouse. Barham has done his time in all three types of venues, but his newest songs now look to brighter horizons.
Previous Hits
"Harmless Sparks" sits relatively peacefully in the middle of 2012's Burn.Flicker.Die. It's a minimal, simple track – a pair of verses and a short chorus set to steady bass and quiet, acoustic strums with tasteful, careful touches of pedal steel, strings, organ, and piano. It's probably the best song American Aquarium has ever cut. Longtime fans who live for the band's barroom ragers will beg to differ, but those standards (which are scattered generously throughout Burn.Flicker.Die) tend to sound the same in the end, like waves rippling together in one drunken and interminable blur. "Harmless Sparks", on the other hand, dares to move in a new direction; it's unclear whether this was the group's own idea of that of producer Jason Isbell, but it works because B.J. Barham drops all pretense as a singer. Nothing but the truth remains.
On 2015's Wolves, the band's follow up to their 2012 breakthrough Burn.Flicker.Die, vocalist Barham offers ten tunes about the chaotic battle within, delivering raw truths about the ever-present fear of failure, big dreams, aging, addiction, and sacrifice. Getting sucked into a town, as Barham describes on opener "Family Problems", could not be more adverse to the kind of hard-touring American Aquarium has undertaken for the last decade. Most of those years, however, found Barham supported by a rotating lineup of musicians. Now, the American Aquarium sound is more full, thanks to a now-steady cast of Barham, guitarists Colin Dimeo and Ryan Johnson, drummer Kevin McClain, bassist Bill Corbin, and pedal steel guitarist and keyboardist Whit Wright. While the band is still firmly rooted in the alt-country world, the cuts off of Wolves have become more creative. The electric organ and guitars reach into new areas. The choice of producers who helmed Burn.Flicker.Die and Wolves explain a good deal about the differences between the albums: Jason Isbell helped to make the former intense, gritty, and raw, while Megafaun's Brad Cook gave the latter a wider and tougher-to-categorize sound.
Trivia
In the winter of 2014, American Aquarium frontman B.J. Barham married Rachel, his sweetheart of over three years.
The American Aquarium Concert Experience
Best appreciated in the company of like-minded alt-country fans, American Aquarium will impress you with their natural-born charisma and stellar technical chops. They have been paying their dues on the live circuit for over a decade, and they know what it takes to provide an audience with an unforgettable night of music. With a catalog that covers the rawest and rootsiest of alt-country offerings, an American Aquarium concert is as mighty as it is sentimental. Don't miss your chance to see American Aquarium on their latest live circuit!
Back to Top
Epic events and incredible deals straight to your inbox.