There aren't any Events on the horizon right now.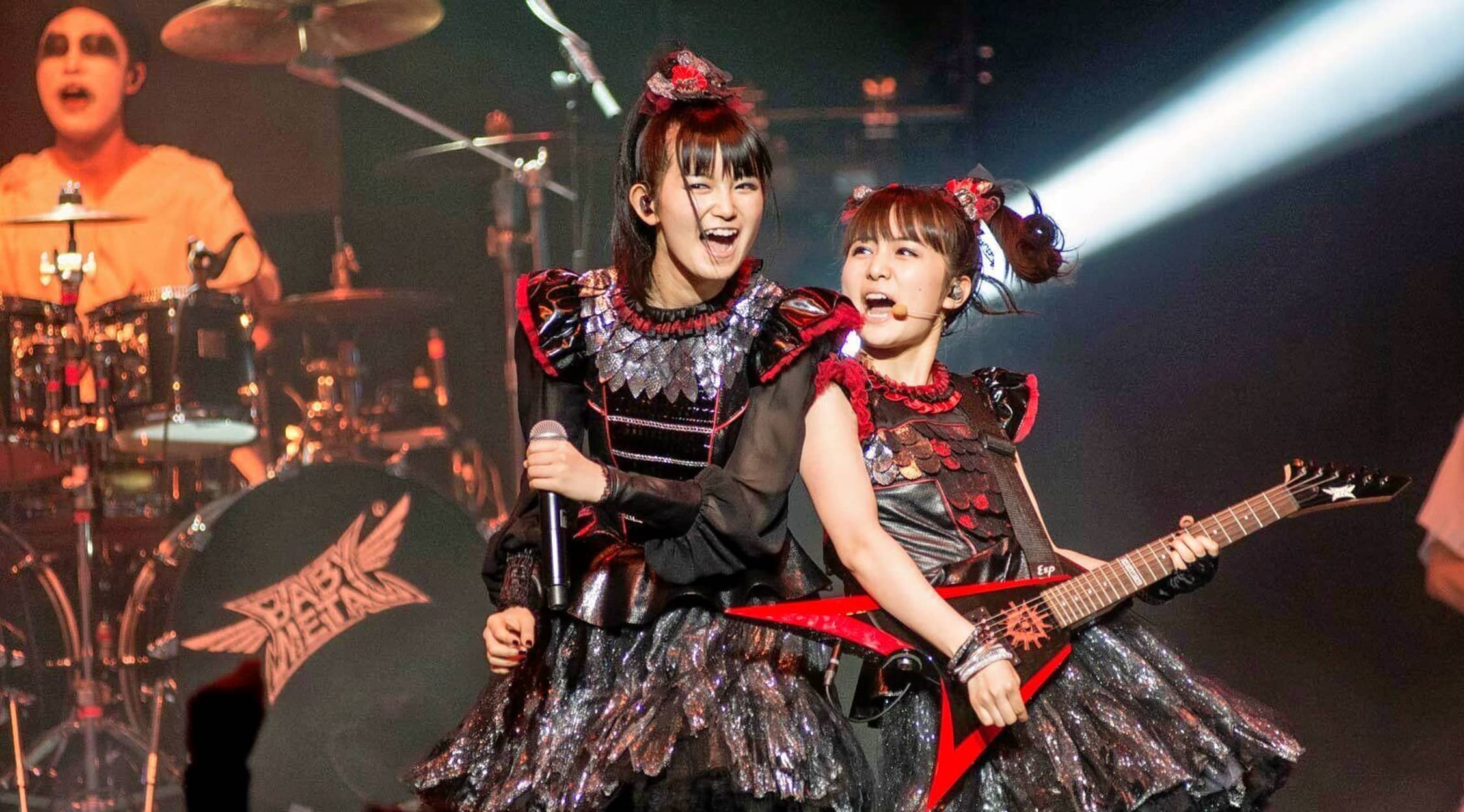 Alamy
Babymetal Tickets
Babymetal Tickets
Japanese band Babymetal has been proving that being cute and heavy metal performers aren't mutually exclusive. The group has released two studio albums to date, and both have been certified gold in Japan as well as charted in multiple countries. While they remain most popular in Japan, Babymetal has gained a large global following. Babymetal regularly makes appearances at festivals such as Glastonbury Festival, Pain in the Grass, Loud Park Festival and Anime Festival Asia.
Redefining Metal as Kawaii
Babymetal was formed in Tokyo, Japan in 2010, surrounding vocalist Suzuka Nakamoto who now goes by the stage name Su-metal. Two more vocalists were added, and they go by the similar stage names Moametal and Yuimetal. None of the members were familiar with metal prior to forming Babymetal, which is likely why this heavy metal group has some J-pop influences in their unique sound. They started performing live by the end of the year but didn't officially start releasing music until the following year. Five out of the six singles to be released from Babymetal's self-titled debut album were released ahead of the album. Their first single "Doki Doki Morning" premiered in 2011, but Babymetal didn't release until 2014 when the group got signed to a larger label. The album was certified gold in Japan and charted in five countries with the highest being No. 2 in their home country. Babymetal spawned other notable singles including "Headbangeeeeerrrrr!!!!!," "Gimmie Chocolate!!," "Ijime, Dame, Zettai" and "Megitsune." Babymetal released their follow-up album Metal Resistance in 2016. It charted within the top 100 albums in six countries. Once again reception was best in Japan where it peaked at No. 2 and was certified gold but was also a top 10 album in Australia. The album produced two more singles entitled "Road of Resistance" and "KARATE." Babymetal began releasing singles from their third studio album in mid-2018 but Metal Galaxy isn't scheduled to release until October 2019. So far the album has produced the singles "Distortion," "Starlight," "Elevator Girl" and most recently "PA PA YA!!" in June of 2019.
Where can I buy Babymetal tickets?
Tickets for all of Babymetal's upcoming concerts can be purchased at StubHub.
Will Babymetal tour in 2019?
Babymetal will be touring the US through September and October. The group will embark on a European tour early next year.
Will Babymetal be performing at any festivals?
Babymetal is scheduled to perform at Super Slippa in Taipei, Summer Sonic in Japan and Aftershock Festival in Sacramento, California.
Who will be touring with Babymetal?
Avatar will be opening for Babymetal on their upcoming US tour.
What songs are on Babymetal's setlist?
Babymetal has been performing "PA PA YA!!," "Starlight," "Distortion" and "Elevator Girl" from their upcoming album Metal Galaxy. Some of the songs that they have performed at recent shows are unreleased and titles are unknown which has led to the assumption that these songs will be featured on the album that is scheduled to release later this year. From previous releases, the group has also regularly been performing "Megitsune," "Ind-Metal," "Gimmie Chocolate!!," "KARATE" and "Road of Resistance."
Who are the members of Babymetal?
The only official members of Babymetal are Su-metal and Moametal. The duo tours with a band that formed in 2013 made up of guitarist Takayoshi Ohmura, guitarist Leda Cygnus, bassist Boh and drummer Hideki Aoyama. In 2015, Isao Fujita was added as a third guitarist. There are three back-up dancers that tour with Babymetal as well but only the identities of Riho Sayashi and Kano Fujihira are known.
How long is a Babymetal concert?
Babymetal usually performs for a little under an hour and a half. The set typically contains about 14 or 15 of the group's songs.
Back to Top