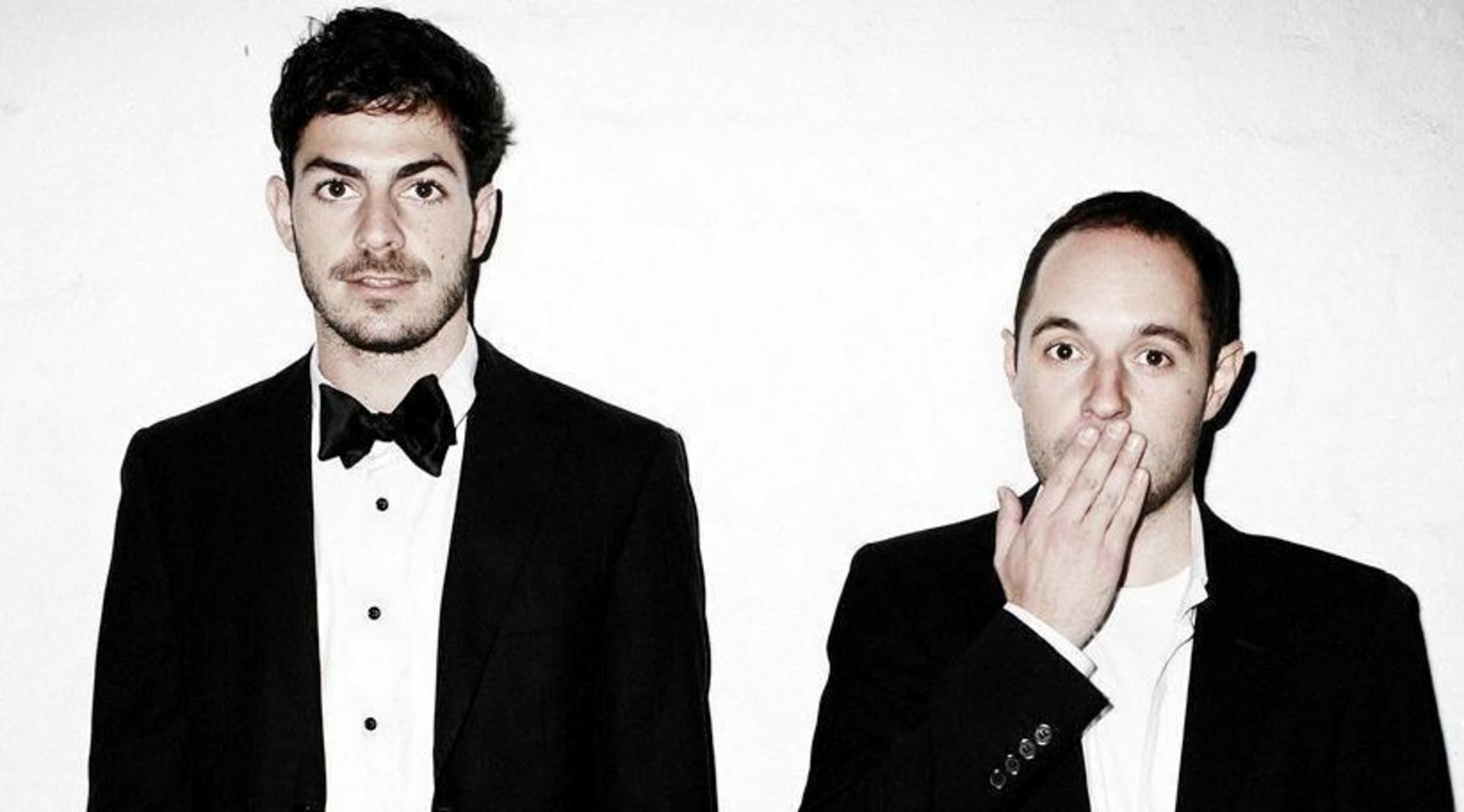 Rovi
Bag Raiders Tickets
Bag Raiders – The 2016 Tour
Their 2016 tour will be Bag Raiders' most exciting to date. This Australian dance duo has released another tantalizing EP, Friend Inside, that is powering their latest live circuit. Bag Raiders will be touching down in cities all over North America. You can see them at the Imperial in Vancouver, The State Room in Salt Lake City, Walter's Downtown in Houston, and more! Don't miss out on your chance to see one of the hottest new dance acts. Get your tickets today.
About Bag Raiders
Bag Raiders are an electronic band from Australia. The band was founded by mainstays Chris Stracey and Jack Glass in 2006. In October of 2010, Bag Raiders dropped their eponymous studio album debut, which rose to number seven on the ARIA Albums Chart and earned a nomination for Album of the Year at the J Awards.
The founders of this celebrated alternative dance band, Glass and Stracey, are both classically trained musicians. The pair first met each other in an orchestra practice room in the Cranbrook School. In 2005, the duo reconnected and began experimenting with a mix of '70s rock music and hip-hop. As Bag Raiders, the act's musical inspirations include Orbital, 808 State, The Brothers Johnson, and Earth, Wind & Fire.
Bag Raiders' first release through a label was their second EP Fun Punch. Released through Modular Records and Bang Gang 12 Inches, it arrived in August of 2007. In October of 2010, the pair dropped their self-titled studio album debut. One of its tracks, "Shooting Stars", would make 2009's Triple J Hottest 100 at number eighteen. In 2010, "Way Back Home" made number 46 on the same list. In addition to writing songs, Bag Raiders produce, DJ, write, and remix the work of other artists. In 2009, the pair was ranked number 11 out of Australia's best 50 DJs by Inthemix.
In June of 2014, they issued their house EP Nairobi. Now based in Los Angeles, Bag Raiders are currently recording their long-awaited second full-length album. Their self-titled full-length debut arrived more than five years ago, with only the Nairobi EP to tide their fans over. The lead single is the EP's title cut, which found the duo taking their baroque electro-pop style and deconstructing it for dance floor play. With melodic marimbas that soar over fleeting cowbells, conga rhythms, and a relentless, funky guitar riff, the song brings some much-needed personality to the palette of tech-house. While Bag Raiders fans should expect a more ornate strain of radio-friendly electro pop from the band's upcoming sophomore album, "Nairobi" and its club-oriented follow-up "Savannah" are both equally strong offerings of global modern disco. These tracks have been remixed by London's master of booty bass, Zombie Disco Squad, and fellow Australian Roland Tings. Bag Raiders' upcoming album is due for release through Modular Records.
Bag Raiders' material frequently appears in popular media. Their song "Way Back Home" was used as a background track in a Vodafone TV commercial in Germany. The duo's remix of Kim's "B.T.T.T.T.R.Y." was included on the soundtrack of Grand Theft Auto IV. "Shooting Stars" would appear in the closing credits of episode six on the first season of the HBO show How to Make It in America. This song was also featured in Australia's Got Talent on Channel 9 in 2013. The track subsequently cracked the ARIA Top 40 almost four years after its original release due to downloads.
Previous Hits
Bag Raiders first found commercial success with their track "Shooting Stars", a single which they released in 2009. The cut rose to number 62 on the ARIA Singles Chart, and it landed at number 43 on ARIA's year-end list of Top 50 Australian Singles. The track is a favorite of fans at home games of the A-League soccer team Adelaide United. The song has been remixed by Kris Menace, and this version rose to the top of ARIA's Heatseekers songs chart. In August of 2013, "Shooting Stars" once again found itself on the ARIA Singles Chart, where it cracked the Top 40 at number 44.
The single "Way Back Home", from the duo's eponymous debut album, entered the ARIA charts at number 77 in late August of 2010. It would make the Top 40 of the official German Singles Chart in June of 2011 after appearing in a Vodafone TV commercial in that country, eventually peaking at number 19.
The album Bag Raiders was released in October of 2010. It entered the ARIA Albums Chart at number seven. A third single from the album, "Sunlight" featuring Dan Black, made its Australian radio debut in November of that year. In February of 2011, "Sunlight" peaked at number 84 in the ARIA Top 100. The self-titled album was initially released on physical CD and as a digital download, and in 2011, it was issued exclusively on vinyl. This long-awaited album followed a small collection of 12" singles, as well as more than a dozen remixes of works by artists such as Kid Sister, Sneaky Sound System, and Cut Copy. This succinct album was released through the Modular label, Chris Stracey and Jack Glass' new home after Bang Gang, though which they had released singles in 2007 and 2008. Since they formed in 2006, Bag Raiders gradually developed their style, slowly distancing themselves from somewhat basic electro-house and moving toward a softer, more melodic, and winsome version of dance-pop rooted in synth pop and disco. Their refinement continues on this album, which is led by the blissful, brisk 2009 single "Shooting Stars" – the album's only track released prior to October of 2010 – and the unassuming, gorgeous "Gone Away", which intertwined a handful of ear-pleasing ideas inside of three minutes. Stracey and Glass have become so adept at crafting full-blown songs that the album's instrumentals – four of the 11 tracks on the disc – come across as extensive and welcome intermissions.
Trivia
Jack Glass plays cello and piano, and Chris Stracey plays clarinet, guitar, and violin.
The Bag Raiders Concert Experience
Grab your friends, partners, family members, and anyone else with whom you want to share an unforgettable night of dance music. Experience electro pop like you never have before, with everything that makes it fresh, irresistible, driving, and boisterous. The Bag Raiders concert experience is once that is best enjoyed with those you love and who love to party. Bag Raiders take over some of the best venues in the world, so don't miss out on your chance to see them blow the roof off of your local dance arena.
Back to Top