There aren't any Events on the horizon right now.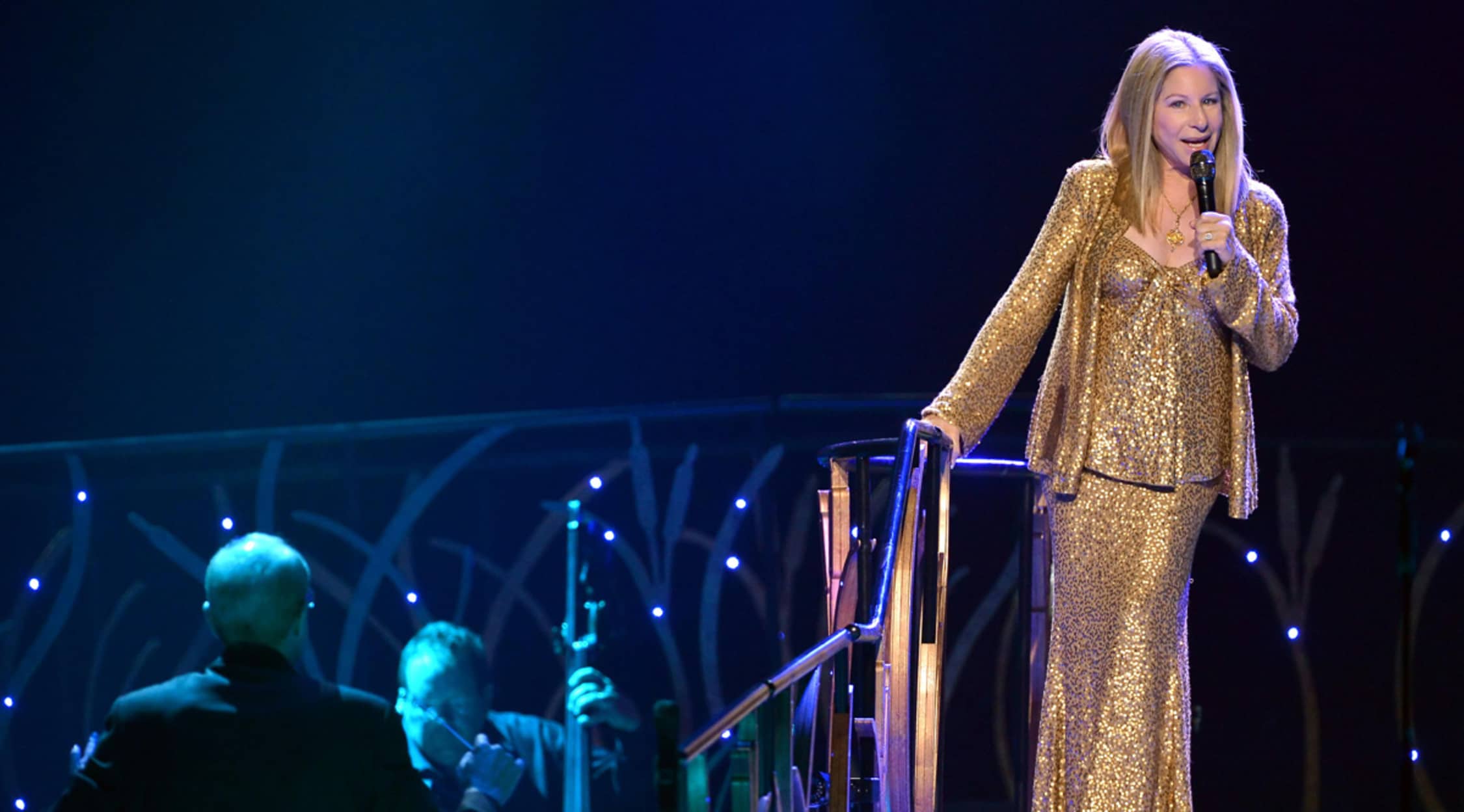 Alamy
Barbra Streisand Tickets
Barbra Streisand Tickets
Barbra Streisand has over 69.5 million record sales in the United States and 150 million albums and singles sold across the globe. She is recognized as the best selling female artist by the Recording Industry Association of America. Billboard lists her as holding the record for the most top 10 albums of any female artist and the female with the most No. 1 albums. Barbra Streisand is the only artist that has had a No. 1 album in each of the last six decades. Her successful career has only grown since its start in the '60s and doesn't appear to be slowing down any time soon.
The Streisand Effect
"The Streisand Effect" is a phrase used to describe a phenomenon where the act of attempting to censor information indirectly causes it to gain more attention. This phrase was coined after a 2003 incident in which Streisand sued over her private home pictures being posted online, only to have the lawsuit bring mass media attention to the photo she had wished to keep private. Streisand has had a much larger effect on the world than a simple phrase can convey though, which is shown through the many awards she has earned. Streisand has been nominated a total of 43 times for the Grammy Awards, winning eight. She has also received the 1992 Grammy Legend Award and the 1994 Grammy Lifetime Achievement Award. In 2011 Streisand received the title MusiCares Person of the Year from the Grammy Foundation. She has been inducted into the Grammy Hall of Fame four times. Streisand is still filling the hearts of her fans with hit songs like "What Kind of Fool" and "Don't Rain on my Parade."
Where can I buy Barbra Streisand tickets?
Don't miss your chance to see the only recording artist to have a No. 1 album in each of the last six decades! Grab your Barbra Streisand tickets at StubHub before they sell out.
What can I expect from Barbra Streisand?
Barbra Streisand is a legend that keeps it eccentric by putting on a performance you will not see elsewhere. At a Streisand concert, you will hear her talking as much as singing. She once reminisced on stage of when Prince Charles visited her on set and shared images from her 1966 production of Funny Girl. She perfectly combines her charismatic songs with heartwarming stories and jokes. One minute you'll be laughing, the next wiping away a tear and the next dancing the night away like never before.
Where is Barbra Streisand playing?
Barbra Streisand has previously toured through several countries including Australia, Europe, Canada and the United States. In 2019 she is scheduled to perform in various states throughout the US including Del., N.Y. and Ill.
How long is a Barbra Streisand concert?
Barbra Streisand typically has a setlist of approximately 28 songs, which often include all-time favorites like "Happy Days are Here Again," "Un-break My Heart" and "My Shining Hour." With adding in time for minor set changes, a short intermission and interaction with the audience, you can expect a Barbra Streisand concert to last just over three hours.
Will Barbra Streisand tour in 2019?
Barbra Streisand first started touring in 1966 and is still going strong. The Barbra Streisand in Concert tour lasted through 1993 and 1994. In 2000, many fans were saddened by the announcement of her final tour, Timeless, when Streisand stated she was retiring. Lucky for us, she pushed on with her 2006 North American Tour. In August of 2019, you can catch Streisand in concert at Madison Square Garden in New York and The United Center in Chicago.
What artists are similar to Barbra Streisand?
If you are a fan of Barbra Streisand, you will also enjoy the music of similar artists like Bette Midler, Celine Dion, Liza Minnelli, Cher and Olivia Newton-John.
Back to Top