There aren't any Events on the horizon right now.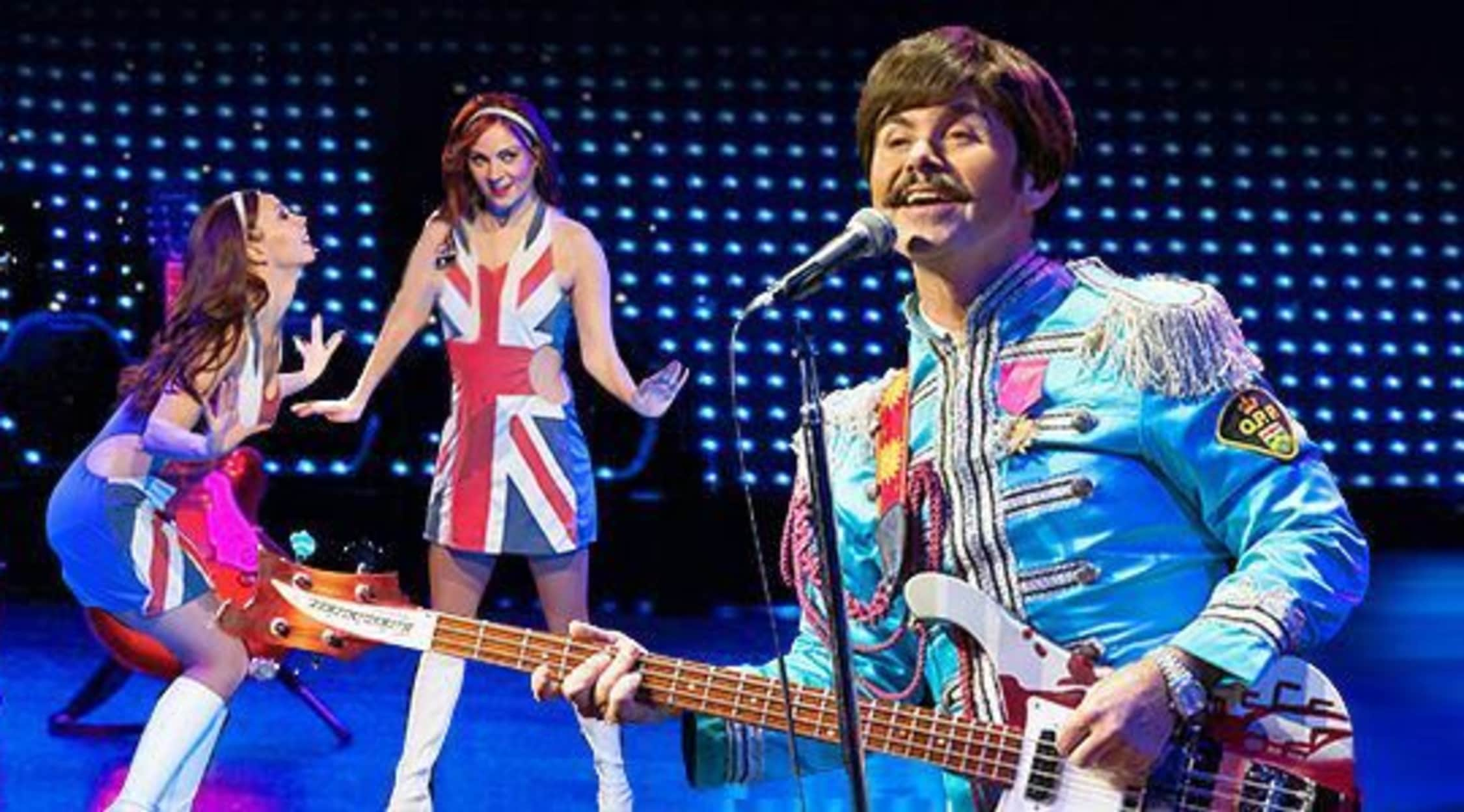 BeatleShow Orchestra
BeatleShow Tickets
BeatleShow – The 2015 Tour
The definitive tribute tour dedicated to the Beatles is back and better than ever before, bringing the years of all of the greatest Beatles hits to one very special stage in Las Vegas, NV. Don't miss out on your chance to surrender to Beatlemania all over again with the best of the British boys' hits at the Saxe Theater in the Planet Hollywood Resort and Casino. The Saxe Theatre is one of the best stages in the Southwest, with video curtains made of fiber optics, state of the art sound and lighting systems, and premier stadium seating. Truly, the Saxe Theatre is one of the most coveted stages on the Strip today. BeatleShow is just one of many amazing, endlessly entertaining shows that you can find in the Saxe Theater. It is guaranteed to enhance your Vegas trip. With over 22,000 square feet of space valued at $34 million, the Saxe Theater is equipped for the biggest productions you can imagine. You can find the incredible Saxe Theater inside Planet Hollywood Resort and Casino's Miracle Mile Shops lane. Designed by David Saxe, the legendary Vegas producer, the Saxe Theater is guaranteed to add to the luxury and excitement of BeatleShow.
BeatleShow will be performing in one of the most exclusive and largest venues along the Las Vegas Strip all winter long, every night of the week. BeatleShow is a concert that everyone, from the most diehard Beatles aficionados to the newest neophytes, can enjoy before or after experiencing the wider pleasures of Vegas. Don't miss out on your chance to fall in love all over again with everyone's favorite British band – get your tickets today!
About BeatleShow
There is no question that the Beatles were the most important rock band in history. After revolutionizing the rock n roll scene in Europe, they would take America by storm. After getting their start with some quiet shows in London pubs, the Beatles would gain serious notoriety and would play sold out concerts. After topping the European music charts, they would sweep over North America. Their historic show on Ed Sullivan would reach 73 million American fans.
BeatleShow perfectly captures that earth shaking experience with their nightly concerts at the Saxe Theater. They are guaranteed to bring Abbey Road right into the heart of Las Vegas. BeatleShow will treat you to every single Beatles hit throughout their glorious career. Without an elaborate getup to be seen or a pre-recorded sound to be heard, BeatleShow brings you the authentic Beatles feel. From the explosive beginnings of Beatlemania to psychedelic experimentation, BeatleShow has it all.
Adam Joel plays Paul McCartney, and there is no better man for the job. Before arriving in Las Vegas from upstate New York, Joel was already established as a talented guitarist. His time in the music industry contains over a decade of experience. The BeatleShow producers knew Joel would be a perfect fit as soon as he strummed his first chord. Joel is dedicated to the role of Paul McCartney and would make good use of his ambidexterity to learn to play the guitar left-handed.
Glen McCallum executes the role of George Harrison perfectly. Hailing from Sydney, Australia, McCallum is widely agreed to be the best George Harrison actor and guitar player around. Before signing on with BeatleShow, McCallum had years of experience performing in various other Beatles tribute bands.
Tony Felicetta is ace as Ringo Starr. He is gifted with a natural panache onstage, a ready smile, and an effervescent personality. In fact, he has to mind that he doesn't steal the show. Hailing from California, Felicetta is an avid collector of 'fifties and 'sixties movie memorabilia. As a pop culture aficionado and a lover of music, Felicetta was the producers' obvious choice to play Ringo Starr. Felicetta can also be seen in the swing band The Swinging Pedestrians.
Howard Arthur does double duty as George Harrison and John Lennon. He is no stranger to the entertainment industry and has shared the stage with John Oats and Glenn Frey. He is a gifted reader of music and a truly exceptional guitarist, making him one of the most sought after performers in the music industry.
Bobby Taylor also takes on the role of Ringo Starr. Hailing from Hawaii, Taylor's resume is perhaps more Beatle-heavy than that of any original Beatle. His rock n roll expertise makes him an asset in any band.
If you've been fruitlessly searching for a way to recapture the heady days of the Beatles, you need look no further. BeatleShow is more than just a cover band or a cheap imitation with music tracks pumped from a CD. Every sound you'll hear at BeatleShow is live and carefully studied to produce an authentic Beatles sensation. BeatleShow is the only real choice for Beatles fans to relive the glories of the original band first hand. You can rock out to your favorite Beatles hits any night of the week at 5:30pm, when BeatleShow takes the stage in the glorious Saxe Theater.
Previous Hits
BeatleShow has recently been voted as the number one Beatles tribute band in the whole world, thanks in no small part to the cast's dedication and authenticity.
Trivia
Although he is frequently courted by other Vegas producers of Beatles tribute shows, Glen McCallum remains loyal to BeatleShow because it affords him the most opportunity to hone his character and talent.
Bob Taylor has performed more Beatle tribute shows as Ringo Starr than the first Ringo Starr himself.
The BeatleShow Concert Experience
Since the advent of BeatleShow, there has never been a more wonderful time to be a fan of the Beatles. For diehard Beatles fans and the uninitiated first-timers alike, the incredible BeatleShow concert experience is sure to be one that will make you fall in love with the Beatles' extensive and varied repertoire of hits all over again. Whether you love their early poppy megahits or their mind-bending later artistic efforts, a night with BeatleShow is going to be an experience that you will remember to the end of your days. Tickets go fast, so start planning your BeatleShow concert experience today!
Back to Top
Epic events and incredible deals straight to your inbox.