BEAUTIFUL THE CAROLE KING MUSICAL ATLANTA
Beautiful The Carole King Musical Atlanta
Beautiful The Carole King Musical Atlanta Tickets
We didn't find anything nearby, but here's what's happening in other cities.
5 events in all locations
Only 8 tickets left at lowest price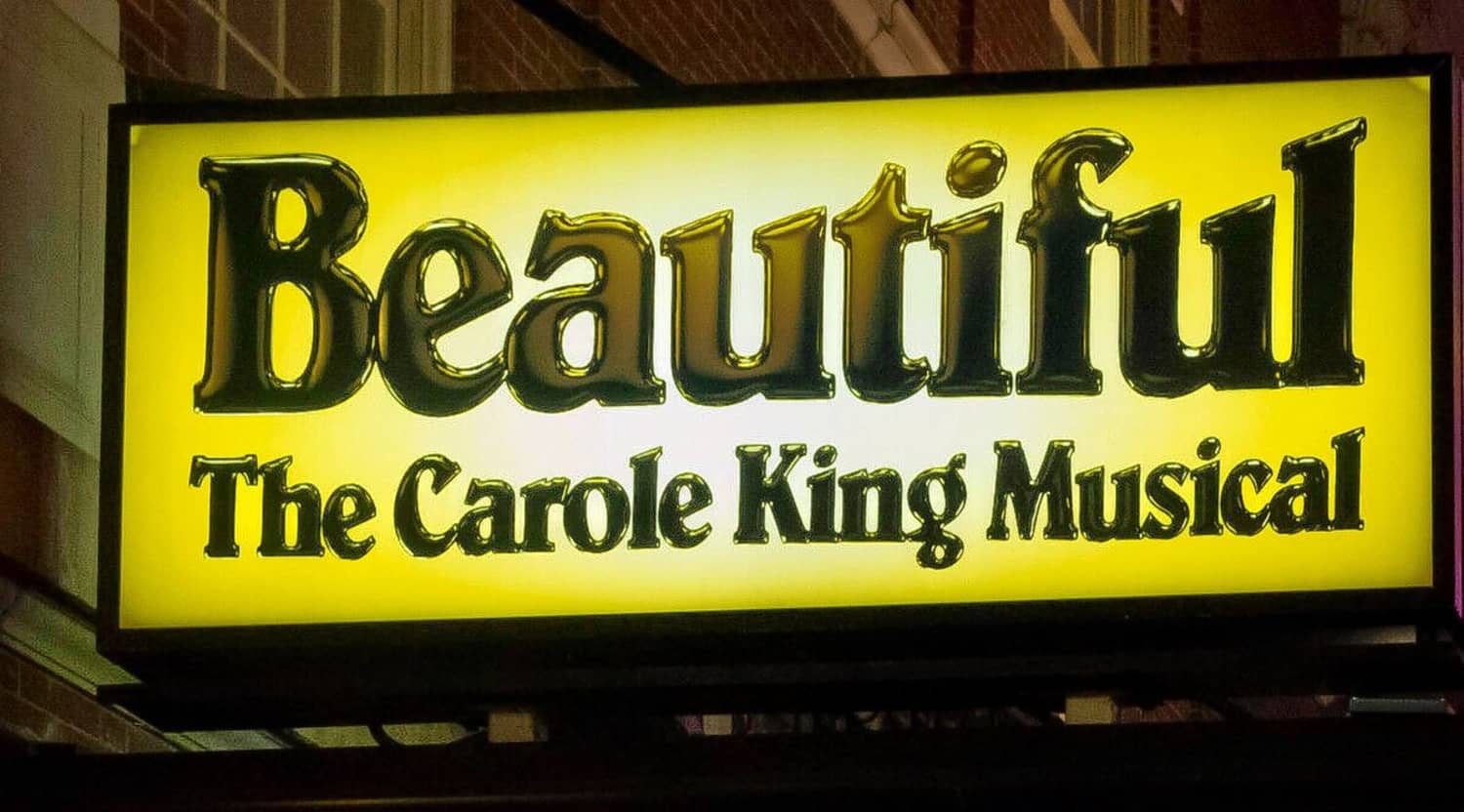 Alamy
Beautiful The Carole King Musical Atlanta Tickets
Beautiful The Carole King Musical Atlanta Plot
The art of the song is one that's been praised for many generations as vocalists have long been upheld as one of the most talented kinds of performers in our society today. That's because some of humanity's oldest roots in music come from a time when instruments were scarce and vocalizations using harmony and local subject matter were all that people had to entertain themselves. Of course, today, the music world is an established and organized industry that's incredibly difficult to break into. But if you've been hoping to learn the story of just one figure that rose above all of the challenges she faced to find her place in the world of music, make sure you get out there and enjoy Beautiful The Carole King Musical when this hit show opens next on a stage near you! Married to a prominent songwriter whose constant infidelity led to her unhappiness, Carole King knew she wanted more in life than just raising a family. But her husband, Gerry Goffin, refused to give Carole the chance to try her hand at becoming a performer. A professional songwriter himself, Gerry Goffin's refusal to aid Carole King's career combined with his constant infidelity led Carole to a breaking point where she decided that she was going to leave her husband and start a life for herself. That's no easy feat when you're already a single mother, but Carole King vowed not to let any challenges stand in her way as she worked towards becoming a success. Don't miss your opportunity to experience Beautiful The Carole King Musical today by getting your tickets early through StubHub!
Beautiful The Carole King Musical Atlanta Schedule
Have you been talking to your friends about what production on the stage will be sure to get them excited for this upcoming weekend? Are you always trying to figure out the best way for you to go and explore the world of musical performance with your time off of work? Well make sure that you get to spend your weekend doing something that you love and enjoy that will help you relax, like when the hit production of Beautiful the Musical opens for the stage at the Fox Theatre Atlanta in beautiful Atlanta, Georgia! A hit since it first came to the stage, this story will tell you about the life and times of Carole King as her struggles helped her develop into one of the most talented vocalists to be popularized during the 1970's. With a lasting legacy that's maintained by some of her biggest fans today, Carole King's followers are sure to gum up the seats at the theater if you're looking to get in and see this show so close to when it's coming to the stage. Don't let someone else beat you to the punch of seeing Beautiful The Carole King Musical in person, buy your tickets through StubHub so you don't have to miss out on any of the fun when this hit show opens next near you!
Beautiful The Carole King Musical Atlanta Cast
Giving you the chance to see all of the figures from Carole King's life as recreated for the stage, a talented group of young actors that includes Jessie Mueller, Jake Epstein, Anika Larsen, Jarrod Spector, Jeb Brown, Liz Larson, Ashley Blanchet, E. Clayton Cornelius, Joshua Davis, Alysha Deslorieux, Kevin Duda, Carly Hughes, Sara King, Rebecca LaChance, Douglas Lyons, Chris Peluso, Gabrielle Reid, Arbender Robinson, Rashidra Scott, Sara Shepard, Antoine L. Smith, Melvin Tunstall, and more has been cast in this production. Come and see as they recreate every aspect of the life of the famous singer Carole King in this hit production when Beautiful The Carole King Musical opens next on the stage near you!
Beautiful The Carole King Musical Atlanta Author
Music as an art form can be a very powerful tool. While some can throw on songs in the background while they work to help keep them focused on the task at hand, others use the more raucous performances on their playlist to let loose and dance to release energy that's been building up over the course of the workweek. But music can also act as a sort of time machine, with songs that you remember from your youth instantly bringing you back through memories to your earliest, happiest days. Maybe a certain song reminds you of a time out that you spent with friends, or maybe you shared a song as "yours" between yourself and an old flame. Whatever the reason for music's ability to evoke strong emotions in people, it's clear that there are important figures that have been instrumental along the way to build the modern state of music into what it is today. One of the most influential artists of the 1970's was Carole King, and if you're interested in hearing how this popular figure became a world-renowned performer, make sure that you take the time to experience Beautiful the Carole King Musical on the stage next near you! Earning an Oscar and a BAFTA award thanks to his many great successes in the entertainment world, Douglas McGrath is no stranger to success. After working on stage shows like L.A. Law, Emma, Company Man, Nicholas Nickleby, Infamous, Checkers, and more, Douglas McGrath left his former life as a film actor behind with billings on productions like Quiz Show, The Daytrippers, Prix Fixe, Happiness, Celebrity, The Insider, Company Man, Small Time Crooks, and Hollywood Ending. But no matter what medium is being used, Douglas McGrath has proven that he has the right instincts to create a masterpiece for his audiences to enjoy! You're going to love hearing all of the amazing songs from Carole King that have been incorporated into this show, so head out early and get your tickets through StubHub to experience Beautiful The Carole King Musical today!
Beautiful The Carole King Musical Atlanta Trivia
Q: When did the stage production of Beautiful The Carole King Musical first share the story of popular entertainer Carole King with her fans from the stage?
A: The celebrated and popular stage show Beautiful the Musical first debuted for the stage in 2013.
Q: What Californian venue was chosen to debut the very first performance of Beautiful the Carole King Musical?
A: The celebrated and popular stage show Beautiful the Musical first debuted for the stage at the Curran Theatre in San Francisco, California.
Back to Top
Epic events and incredible deals straight to your inbox.