We didn't find any Events nearby, but here's what's happening in other cities.
Blake Shelton tour venues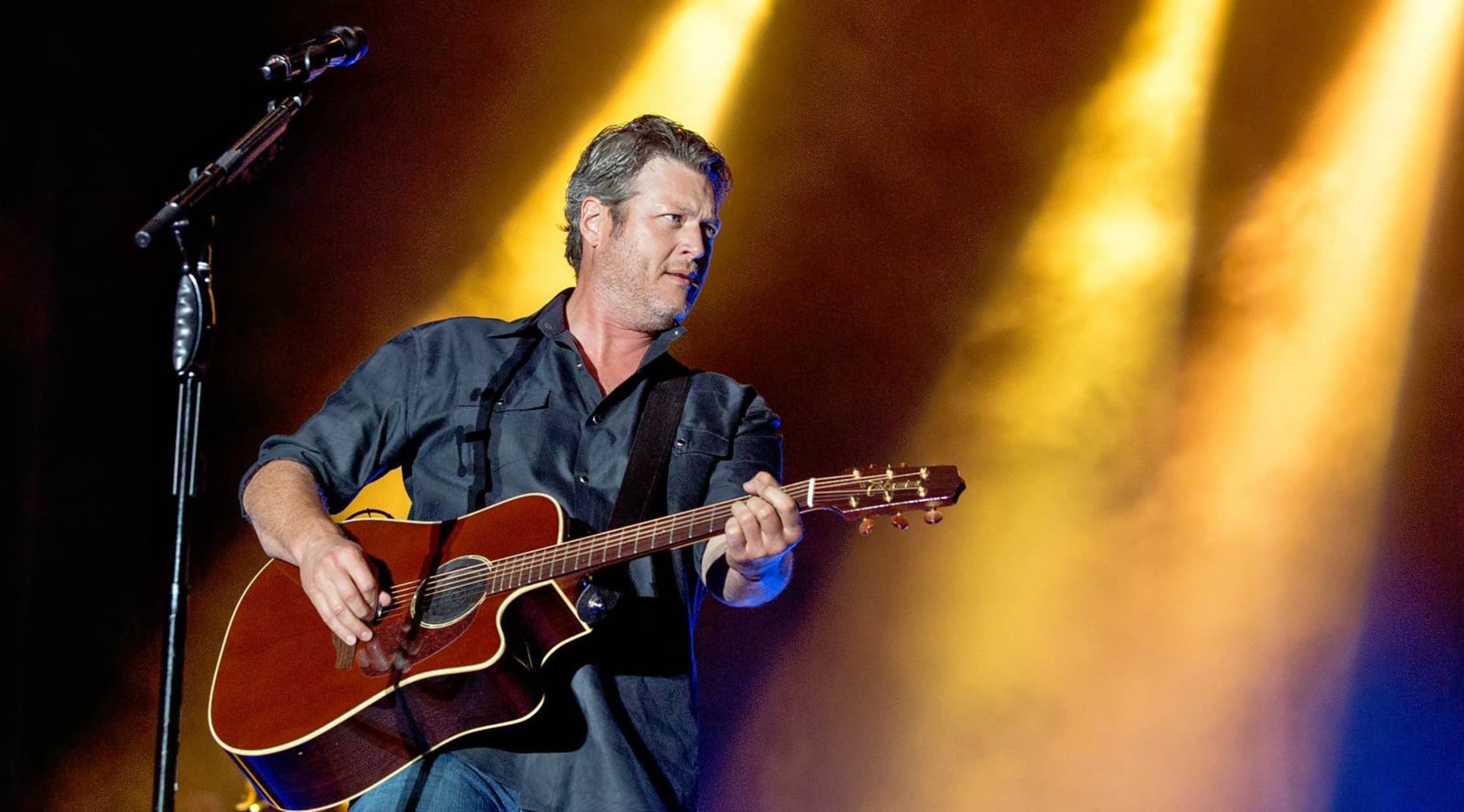 Zuma
Blake Shelton Concert Tour & Tickets
Blake Shelton Concert Experience
Blake Shelton is a country singer hailing from Oklahoma who has loved music from his earliest years. One of Blake's biggest musical influences while growing up in foster care was Conway Twitty. Blake Shelton is not just known for his multiple No. 1 hits. He is also beloved for his quick wit and musical genius as a judge on the popular television singing competition called The Voice. A Blake Shelton concert delivers a night full of raucous fun, laughter and soulful country hits. It can be a memory of a lifetime for true fans.
The Country Man With the Big Smile
Anyone who knows Blake Shelton knows about his beaming smile. Known for his country-boy wit and charm combined with the beauty of his smooth voice, it's easy to understand how he has stolen the hearts of many fans. Blake has multiple gold and platinum certifications from the RIAA. In 2001, Blake made his big break with his song called "Austin," which was the lead single from his self-titled album. It spent five weeks at No. 1 on the Billboard Hot Country Songs chart. This seven-time Grammy Award nominee has seen 33 of his singles chart, 24 of which hit the No. 1 spot. His 11th No. 1 single titled "Doin' What She Likes" from his album Based On a True Story... broke the record for the most consecutive No. 1 singles in the Country Airplay Chart's history. His sixth album, Red River Blue, was the first album to hit No. 1 on both the top US Chart and the Country Albums chart in 2011. The album contained a whopping four No. 1 hits, including "Honey Bee," "God Gave Me You," "Drink On It" and "Over." In February 2019, Blake wowed the crowd on a stop during his Friends and Heroes Tour in Kansas City when he gave the concert of a lifetime for the dedicated fans who braved frigid temperatures and dangerous conditions to be at the show.
Where can I buy Blake Shelton tickets?
You can buy your Blake Shelton tickets at StubHub, the world's largest ticket marketplace. With a great ticket selection, 24/7 customer support and an easy-to-use mobile app, you can rely on StubHub for safe, efficient transactions for your favorite shows.
Where is Blake Shelton performing?
Blake Shelton concerts will take place at a wide range of venues and events across the country, such as the California Mid State Fair in Paso Robles, Calif., Stambaugh Stadium in Youngstown, Ohio, the Choctaw Grand Theater Durant in Durant, Okla., and Harveys Outdoor Amphitheatre in Lake Tahoe, Nev.
How long is a Blake Shelton concert?
Blake Shelton is known to strut his scruffy charm out onto stage promptly on time and fill concertgoers' spirits with everything from rabble-rousing drinking songs to soulful ballads that will touch your heart for two hours and up.
What is a Blake Shelton concert setlist like?
In 2019, Blake's regular setlist included an opening with either "Neon Light" or "Honey Bee." The sets have included "All About Tonight," "She Wouldn't Be Gone," "Doin' What She Likes," "Sure Be Cool If You Did," "Kiss my Country Ass," "Mine Would Be You," "Every Time I Hear That Song," "A Guy Without A Girl" and more. The main set's closing number has been his breakthrough hit from 2001, "Austin." The show closer has been "God Gave Me You." Fans cheer loudly for Blake Shelton at his concerts, and he is known to frequently return to the stage for an encore or two.
Will Blake Shelton tour in 2019?
Blake's Friends and Heroes tour ended, but Blake has several concert dates in 2019. Check at StubHub to find out if Blake is playing at a venue near you.
Who are some other performers like Blake Shelton?
Fans of Blake Shelton may also enjoy the music of Luke Bryan, Jason Aldean, Chris Young or Tim McGraw.
Back to Top