We didn't find any Events nearby, but here's what's happening in other cities.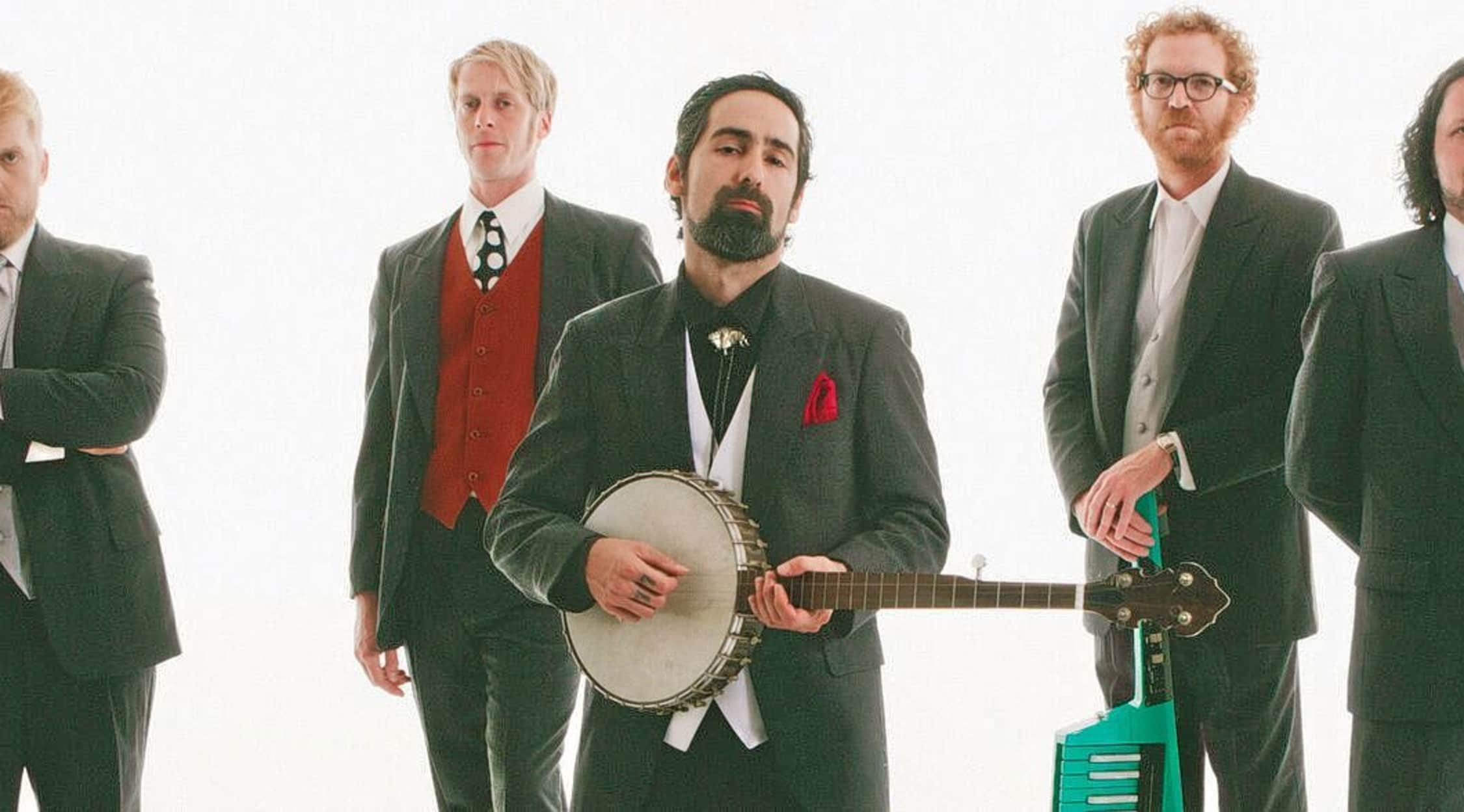 Rovi
Blitzen Trapper Tickets
Blitzen Trapper - The 2015 Tour
Everyone's favorite Portland-based alternative country band, Blitzen Trapper, is at it again, taking their decade spanning discography of non-stop feel good hits onto the road as they embark on one of their greatest tour events yet. Don't miss Blitzen Trapper when they make their way to a location near you, with a laundry lists of stops in the world's greatest cities including: Asheville and Charlotte, NC; Indianapolis, IN; Chicago, IL; Columbus, OH; Wilmington, DE; New York City, NY; and Washington, DC. Don't see the Blitzen Trapper 2015 tour making its way to a local in an area near you? Keep calm and carry on because these iconic alt country rockers from the City of Weird are constantly adding last minute performances and exciting special engagements to their frenzied tour schedule. Stay up to date on all of their latest live performance info right here on StubHub - the number one spot worldwide for all of your online concert ticket needs.
First, the band will jump off their 2015 Spring tour starting line in Asheville, North Carolina, where the band will be heading to the outskirts of the Asheville nightlife arena for a special show at the Grey Eagle music hall. Once the band's done lighting up North Carolina, they'll be making their way to the heart of Indiana to play the state's most celebrated concert destination - Indianapolis' Radio Radio. Located in the heart of Indy's Fountain Square area, the band will burn down Radio Radio with gusty and hard hitting country jams shortly before they make their way to the heart of the midwest: Chicago. The band will play Chi Town's City Winery Chicago, the hippest and most exciting local music venue the Windy City has to offer, shortly before they head to the the A and R Music Bar in always hopping Columbus, Ohio. The band will then head into the less travelled avenues of Delaware, playing Wilmington's The Queen World Cafe before making their way to the big leagues as they head to NYC. The band will be playing their second City Winery location, this time City Winery New York, which is located squarely in the nighttime metropolis that is the lower west side of Manhattan. Blitzen Trapper will then burn down the house at Washington DC's Black Cat hall, then make their way full circle as they head back to North Carolina for a show at Charlotte's Visulite Theatre, capping off an exciting and hugely successful Spring tour.
From the biggest concert halls to your favorite hole in the wall music venues, the Blitzen Trapper 2015 Spring tour is a must catch alt country event that has fans and music critics alike buzzing with excitement. The band's short Spring tour is a glimpse into their exciting 2015 tour plans, marking what is sure to be the band's most exciting year yet. Be sure to catch the Blitzen Trapper tour train when it chugs, serenades, and jams its way into a local near you!
About Blitzen Trapper
Blitzen Trapper is a highly vaunted five piece alt country outfit that sprang into existence in early 2000. The band formed in Portland, Oregon, and still calls America's weirdest city its home as it pushes its way into a decade and a half as one of the premier alt country band's the west coast has to offer. The band's current lineup consists: frontman Eric Earley, a multi instrumentalist and the band's vocalist who occasionally strums the guitar, blows the harmonica, and jams on the keyboard; Erik Menteer, who operates exclusively on two dimensional level of the guitar and keyboards; Brian Adrian Koch, who lends his vocal talents and percussion expertise to the band's sound; Michael Van Pelt slapping the bass like it's never been slapped before; and Marty Marquis rounding out the band's sound as he jams along on guitar, keyboards, and vocals.
In the band's early days, Blitzen Trapper occupied a niche of alternative country west coast bands, self publishing their work as they became a formidable counterpoint to the traditionally Nashville and southern dominated country scene. Despite the lack of a label, the band's work garnered a nationwide fan base and a strong local following. By the late 2000s, the band was regularly receiving widespread praise from major critical outlets, including Rolling Stone and Spin Magazines, and they were operating from a position of strength when negotiating their deal with major label Vagrant Records. Seven hit albums and counting, the Blitzen Trapper music phenomenon continues on strong as they take the alt country genre to new highs and fresh destinations with every new release.
Previous Hits
The band's 2007 release Wild Mountain Nation remains one of their most widely celebrated albums yet, a 34 minute masterpiece released on Sub Pop records that received widespread praise from critics across the board. The album received four stars from AllMusic, 7 out of 10 from PopMatters, and an 8.5 out of 10 from Pitchfork Media, which gave the album's hit single "Wild Mountain Nation" the honor of one of the best 100 songs of 2007. The album featured a slew of hit tracks including "Futures & Folly", "Miss Spiritual Tramp", "Devil's A-Go-Go", and "Summer Town".
Trivia
The band's 2008 release Furr would be widely lauded by Rolling Stone, with the media outlet naming the album as the 13th best album of 2008, and it's title track "Furr" making it to #4 on the best singles of the year.
The band's most recent work, VII, was their first release with a major label. The album retained all of its rustic, Blitzen Trapper esque roots, assuring Trapper fans that the label switch wouldn't see the band depart from their previous work.
The Blitzen Trapper Concert Experience
A five piece mega country group, the Blitzen Trapper concert experience is a non stop blitz of hit tracks that span the band's impressive decade and a half music catalogue of hits. Whether the band is opening with their early work or dropping fresh tracks from 2013's VII, Blitzen Trapper delivers a live performance that is an adventure in music that will keep you out of your seat and singing along from start to finish. Don't miss your chance to catch one of the most influential west coast country acts to ever grace the planet - get your tickets today!
Back to Top