There aren't any Events on the horizon right now.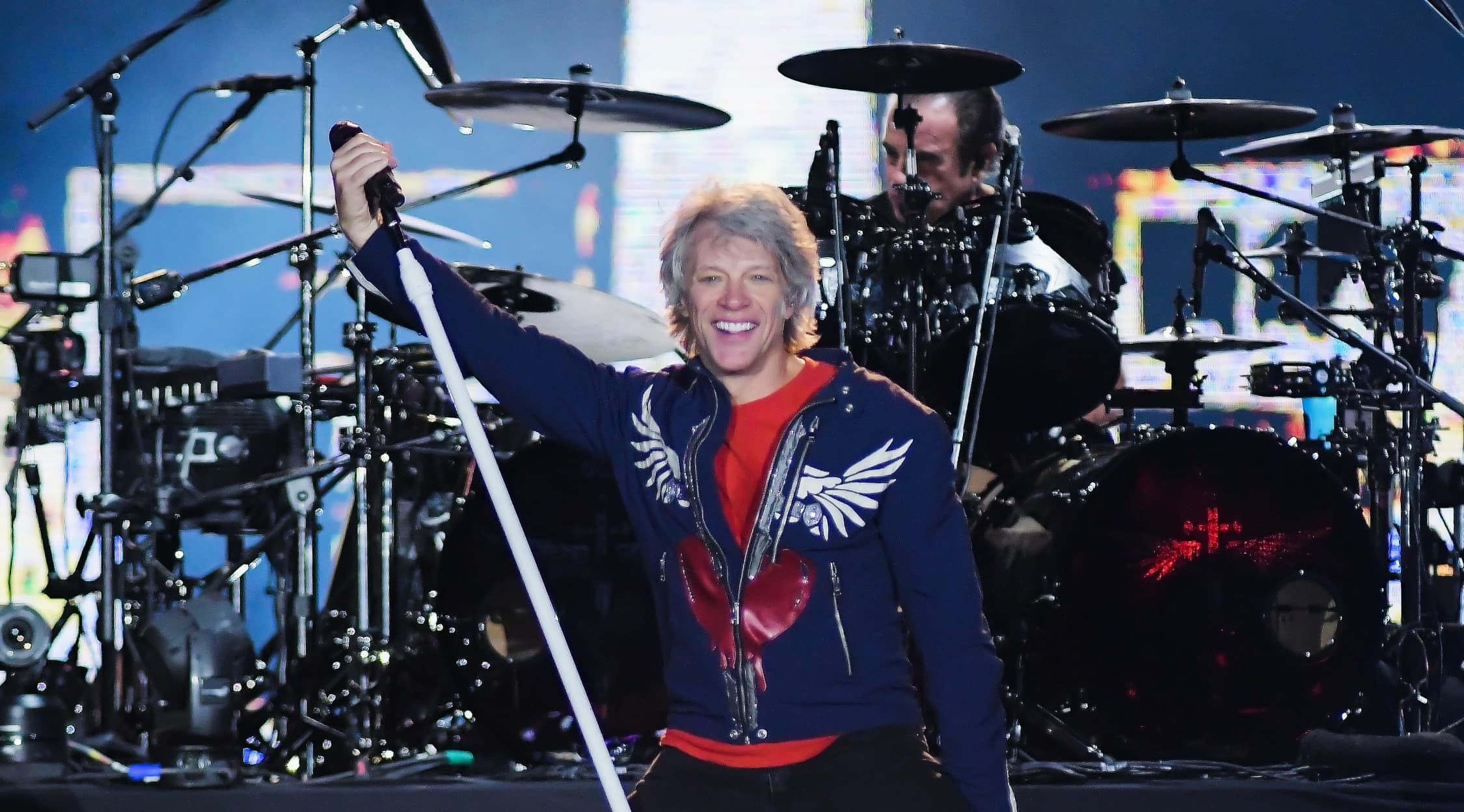 Alamy
Bon Jovi Tickets
Bon Jovi Tickets
When members of the rock band Bon Jovi started out in 1983 in Sayreville, NJ, they likely never realized how much of an influence they would have on music and their fans during their decades in the industry. On January 21, 1984, they released Bon Jovi and have since gone on to sell over 100 million albums across the globe and have received numerous awards and nominations. The band's appeal spans generations, and fans continue to pack venues to see members Jon Bon Jovi, David Bryan, Phil X, Hugh McDonald and Tico Torres perform popular songs that still bring audiences to their feet.
Rock and Roll Hall of Fame Induction
After 35 years and a previous 2011 nomination, Bon Jovi was inducted into the Rock and Roll Hall of Fame in 2018. At the event, the current members reunited with former members Alec John Such, who left the band in 1994, and Richie Sambora, who left almost two decades later in 2013. It wasn't until the Slippery When Wet album was released on August 18, 1986, that the now-former hair band made major strides in gaining worldwide attention with the song "Wanted Dead or Alive." The songs from that album, "Livin' on a Prayer" and "You Give Love a Bad Name," landed on Billboard's Top Songs of the '80s chart. Also on the chart were "Bad Medicine," "I'll Be There For You" and "Born To Be My Baby," all of which are from their New Jersey album, which was released on September 19, 1988.
Where can I buy Bon Jovi tickets?
Known as the world's largest ticket marketplace, StubHub is a great place to get Bon Jovi tickets. Continuously working to improve the ticket-buying experience, it offers a Fan Protect guarantee, so you're able to have peace of mind whenever you're ready to see your favorite band.
Was Slippery When Wet on any Billboard charts?
In 1987, Slippery When Wet grabbed the No. 1 spot on the Billboard 200 chart for seven weeks starting on January 17 until February 28. The album is also in the 33rd slot on the Greatest of All Time Billboard 200 Albums chart, and it's the only Bon Jovi album to land a place on the list.
What are popular Bon Jovi songs after the '80s?
There have been many Bon Jovi hits over the years even after the band's initial entrance into the music scene in the '80s. While favorites vary from one fan to the next, popular tracks tend to be "Bed of Roses" from their 1992 Keep the Faith album, "Have a Nice Day" from the 2005 Have a Nice Day album, "It's My Life" from their 2000 album Crush and many more.
When is the next Bon Jovi tour?
Bon Jovi's schedule is currently made up of the This House Is Not For Sale tour. The most recent international Bon Jovi tour dates kicked off on May 31, 2019, in Moscow and will continue around Europe and move on to Tel Aviv on July 25, 2019. It will then head to South America starting in September and is currently set to finish on October 2, 2019 in Lima, Peru. The tour initially kicked off in February 2017 in Greenville, SC, and continued around North America before heading to South America and then back again to North America in 2018, finishing the year in Japan and Australia.
When was the This House Is Not For Sale album released?
This House Is Not For Sale was released on November 4, 2016, with its first track being of the same name. The band's third live album, This House Is Not for Sale: Live from the London Palladium, was released on December 16, 2016. These are the band's two most recent albums.
Which bands are similar to Bon Jovi?
If you are a fan of Bon Jovi concerts, there are other similar bands that you might like, including Aerosmith, Guns N' Roses, Queen and Def Leppard.
Back to Top
Epic events and incredible deals straight to your inbox.