There aren't any Events on the horizon right now.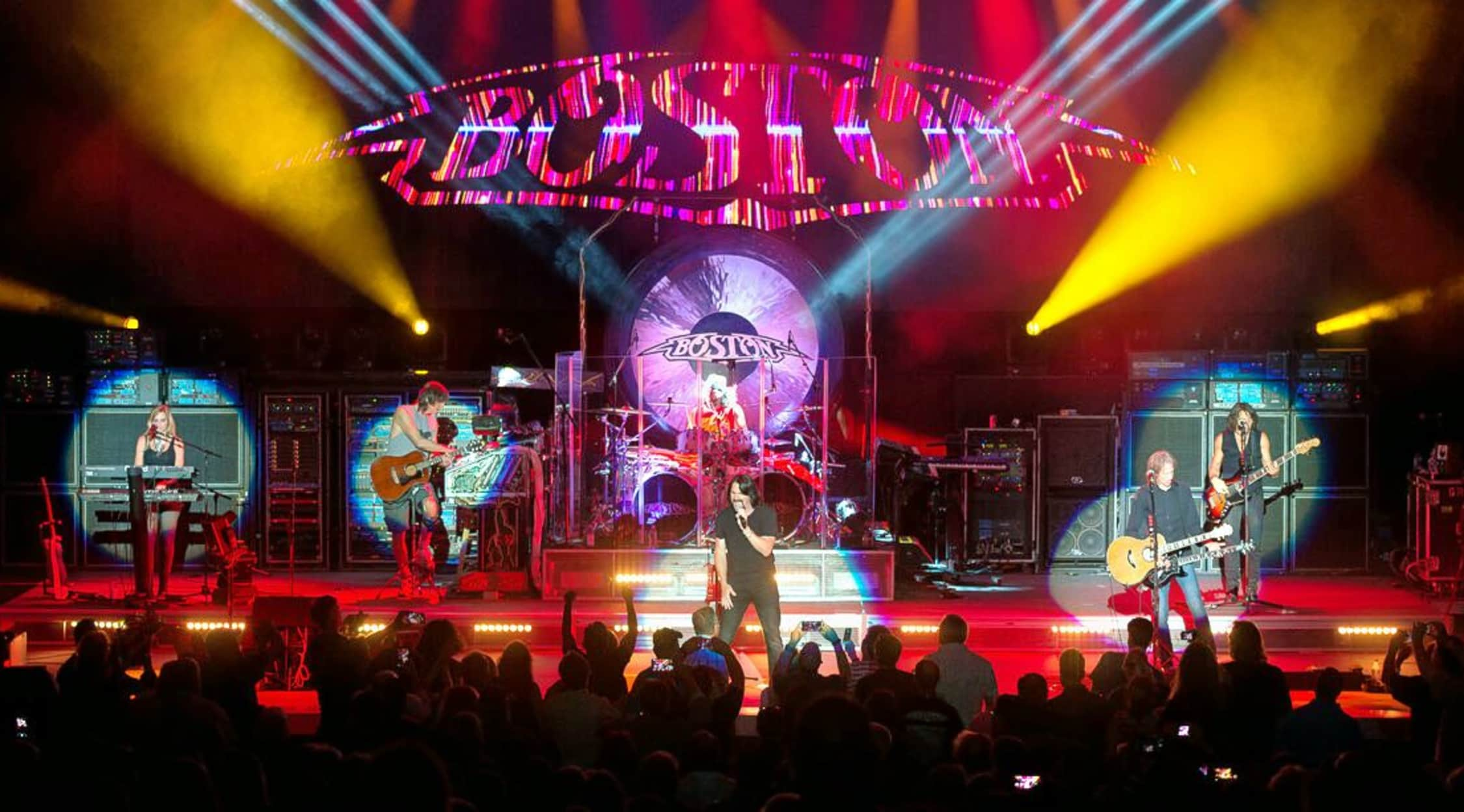 BOSTON ©Jon Viscott
Boston Tickets
Boston Tickets
For an enduring rock band of such world renown, it's hard to believe Boston's whole catalog boils down to six studio albums, one compilation album and 16 singles. But the size of Boston's repertoire betrays the musical skill and timeless appeal of the band. From that selection alone, Boston has sold over 31 million albums in just the US. Of those, 17 million were for its eponymous debut album and another seven million were for its follow-up album, Don't Look Back. This made Boston one of the bestselling musical artists in the world. VH1 names Boston the 63rd greatest hard rock artist of all time.
More Than a City (or a Band)
Based, as if there were any doubt, in Boston, Massachusetts, the band achieved its peak of fame in the 1970s and 1980s, though its contribution to music endures today in the music of bands like White Lion, The Smashing Pumpkins and Bon Jovi. Boston's iconic album art cover is almost as influential, helping transform record album cover art into an art form all its own. Every Boston album cover depicts one or more guitar-shaped spaceships in a space scene. A model of the ship itself even appeared onstage at many of their tours in the way of a big lighting rig.
Where can I buy Boston tickets?
Buy your Boston tickets at stubhub.com or over the StubHub app for a guaranteed safe and secure transaction with the world's biggest online ticket marketplace's FanProtect Guarantee.
Who are the members of Boston?
The only original Boston member still with the band is Tom Scholz on lead and rhythm guitars, bass and percussion, keyboards and backing vocals. The rest of the current Boston lineup joining him is Tommy DeCarlo on lead vocals, keys and percussion, Gary Pihl on rhythm and lead guitars, keys and backup vocals, Curly Smith and Jeff Neal on drums and percussion, harmonica and backup vocals, Tracy Ferrie on bass and backup vocals and Beth Cohen on vocals, keys and rhythm guitar.
What can I expect from Boston?
At a Boston concert, expect to hear a blend of arena rock and hard rock with prog rock elements thrown in. The guitar stylings of the band's founder and main songwriter Tom Scholz incorporates a wide variety of musical elements into his playing and songwriting, including English pop and classical. Songs often switch between acoustic and electric guitars for different parts. Boston's vocals typically include layered lead vocals and complex harmonies.
What are some names of Boston songs?
The 16 singles that made Boston more than a city in most households across America and the world are (in order of release): "More Than a Feeling," "Long Time," "Peace of Mind," "Don't Look Back," "A Man I'll Never Be," "Feelin' Satisfied," "Amanda," "We're Ready," "Cool the Engines," "Can'tcha Say (You Believe in Me)/Still in Love," "Hollyann," "I Need Your Love," "Walk On Medley: Walk On" "The Star Spangled Banner/4th of July Reprise," "God Rest Ye Merry Gentlemen" and "God Rest Ye Metal Gentlemen." Boston is also known for recording the songs "Smokin'" and "Rock and Roll Band."
Where can I see a Boston concert?
Recent Boston shows have been held at venues like Lakeview Amphitheater in Syracuse, New York, The Pavilion at Montage Mountain in Scranton, Pennsylvania, Veterans United Home Loans Amphitheater in Virginia Beach, Virginia, The Rose Music Center at The Heights in Dayton, Ohio, Shoreline Amphitheatre in Mountain View, California and others across the US and Canada.
Who are Boston's influences?
As you'll hear in any Boston show, the bands influences include the likes of Aerosmith, The Beach Boys, The Beatles, Cream, Crosby, Stills & Nash, Deep Purple, Electric Light Orchestra, Free, Grand Funk Railroad, The Guess Who, James Gang, Elton John, Emerson, Lake & Palmer, Led Zeppelin, Queen, The Who and Yes.
Back to Top