We didn't find any Events nearby, but here's what's happening in other cities.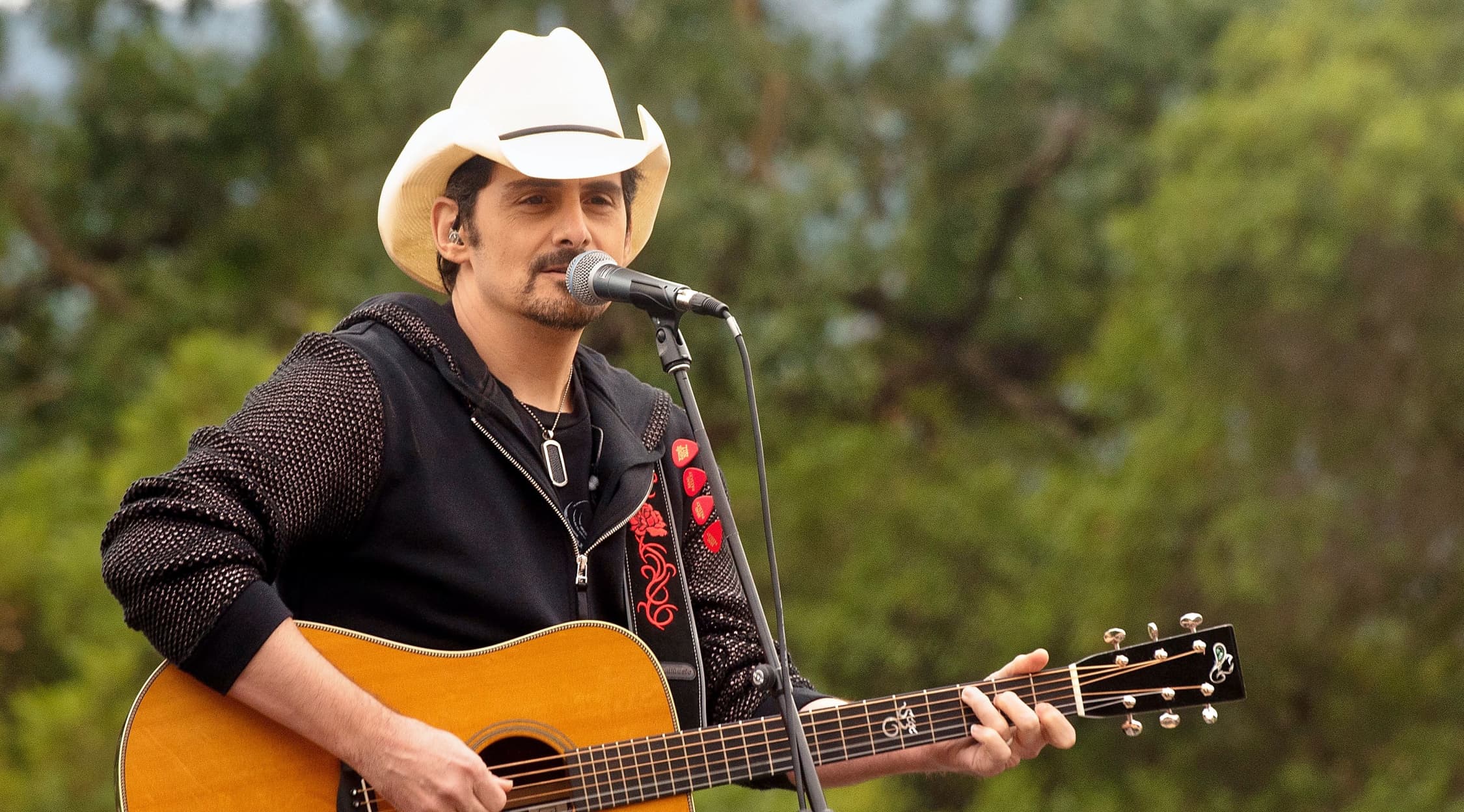 Zuma Press
Brad Paisley Tickets
Brad Paisley Tickets
Brad Paisley entered the country music scene in 1999 with his debut album Who Needs Pictures, which was certified platinum within two years of its initial release. Since then, he's released a total of 11 studio albums, as well as a compilation of Christmas recordings. He began writing his own songs at the age of 13 and continues to do so today, selling over 11 million albums and winning three Grammy Awards in the process. His style owes a debt to old-school country artists like George Strait and John Michael Montgomery with a tendency toward playful and romantic lyrics.
Country Roads: A Journey from West Virginia to Nashville
The eponymous single from Paisley's debut album was a fast hit for the up-and-coming performer who got his start writing songs for EMI Music Publishing. A second single, "He Didn't Have to Be," was inspired by his longtime collaborator's relationship with his stepson, and it struck a chord with stepparents everywhere. Along with his recording band, The Drama Kings, the prolific Paisley released a second effort in 2001 called Part II and a third, Mud on the Tires, just two years after that. The first song he ever wrote, "Born on Christmas Day," made an appearance on his Christmas compilation that was released in 2006. In 2009, Paisley set a record for the most consecutive singles reaching No. 1 on the US Billboard Country Airplay Chart. Other accolades include 14 Academy of Country Music Awards, 14 Country Music Association Awards and two American Music Awards.
Where is Brad Paisley touring?
Brad Paisley constantly tours all across North America. He is currently scheduled to make stops in cities like San Antonio, San Francisco and Nashville. Be sure to catch Brad Paisley perform at the Houston Rodeo on Saturday, March 21st.
Where can I buy Brad Paisley tickets?
Tickets to the Brad Paisley concert nearest you can be found at StubHub. Be sure to check in frequently in case tour dates or locations have changed.
What can I expect from a Brad Paisley concert?
Paisley is a performer who is known for engaging with audiences a great deal during the show, so expect a lot of fan participation. Long instrumental solos, especially featuring Paisley's work on the guitar, are commonplace as well. As Paisley has released a number of albums over a period of two decades, you can also expect to encounter large crowds at his concerts.
What does a Brad Paisley setlist look like?
A Brad Paisley concert setlist will typically run the gauntlet from the emotional duet with Allison Krauss, "Whiskey Lullaby," to the upbeat and playful "Ticks," "Online" and "Alcohol". He'll usually save one of the latter examples for his encore as they are songs that the whole crowd can sing along with.
How long does a Brad Paisley concert usually last?
As Paisley enjoys a great deal of fan interaction during a performance, shows can easily last two hours or more. While his setlist usually consists of the standard 20 to 25 numbers, expect each song to play far longer than their recorded counterparts as the instrumental solos are a central aspect of the event.
What should I wear to a Brad Paisley concert?
Brad Paisley is known for wearing a traditional cowboy hat and jeans while onstage, and you can expect to find many concert-goers who'll be following his lead. That said, there's no need to go full country in your own attire. Nor should you wear a T-shirt emblazoned with the artist's name-it's best to save that for when the concert is over. A simple plaid shirt (flannel for winter, lighter cotton in summer) worn over jeans or shorts will suffice. If the weather forecast calls for a particularly warm night, wear a solid-colored tank top underneath your button-down shirt, so you can remove the top layer if necessary.
Back to Top