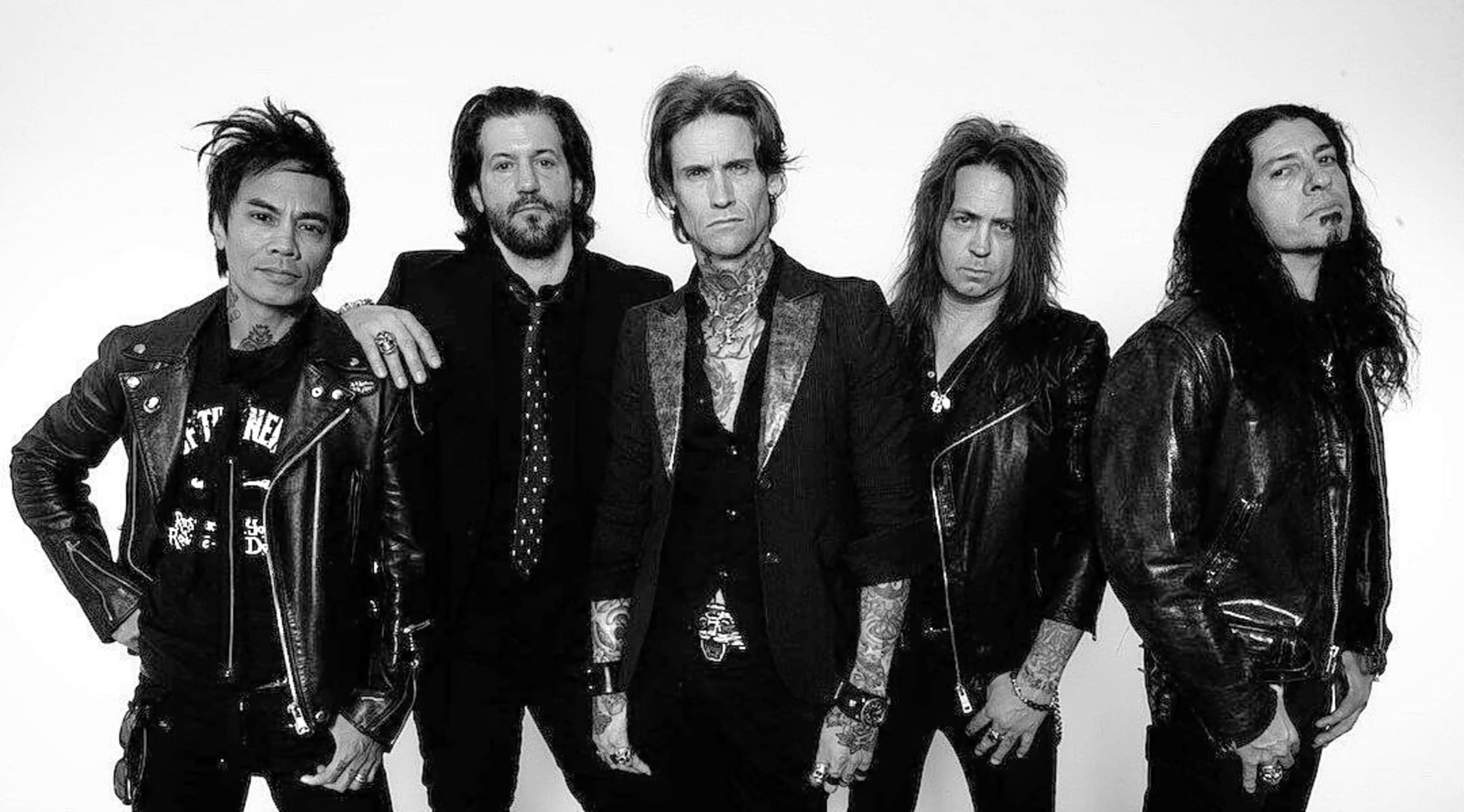 Rovi
Buckcherry Tickets
Buckcherry Concert Schedule
The hard rock group Buckcherry are back on the road to bring their fast lyrics and snarling guitars to a location near you. Don't miss these old-school Los Angeles-based rock legends when they arrive at a venue in your area. If you don't see Buckcherry playing a concert in your part of the world, don't worry. Buckcherry are always updating their live schedule with new and exciting tour dates. Keep checking back for all of Buckcherry's latest concert information right here on StubHub.
Whether Buckcherry are playing at the Neighborhood Theatre in Charlotte, The International in Knoxville, Scout Bar in Houston, or any of the other exciting venues booked for their latest North American tour, they deliver one of the most unforgettable shows in the business. Get your tickets today!
About Buckcherry
Buckcherry, the L.A.-based hard rock group, formed in 1995 after guitarist Keith Nelson and singer Joshua Todd were introduced by their tattoo artist. After recording a number of demos, the pair brought on Jonathan "J.B." Brightman on bass and Devon Glenn on drums. They started playing live, quickly attracting a local listenership for their grunge-flavored, swaggering music. After the addition of Yogi Lonich on second guitar, Buckcherry got a deal with DreamWorks Records and released their eponymous LP debut in 1999. Singles like "For the Movies" and "Check Your Head" were hits on the modern rock chart, helping to raise the band's profile by the summer of 2000.
The next year, Buckcherry issued their sophomore album, Time Bomb. Though it did not earn much critical attention, AC/DC invited the band to be their opener for a series of concerts, and Buckcherry's fan base accordingly grew. In July of 2002, founding member Todd unexpectedly left the group, and the band took a years-long hiatus to regroup. They eventually came back together in 2005 with original bandmates Nelson and Todd, as well as newcomers Stevie D (guitar), Jimmy Ashhurst (bass), and Xavier Muriel (drums). The refurbished lineup entered the studio within the year to record their 2006 album 15, which generated the group's first Top Ten single, "Sorry". The album went platinum thanks to its crossover appeal, and the band returned with a fourth studio effort, Black Butterfly, in 2008. The live document Live & Loud 2009 appeared the next year, and the band got ready for their tour as KISS' opener.
Buckcherry issued their fifth full-length, All Night Long, in August of 2010. Despite entering the Billboard 200 chart at number ten, the album did not generate a hit single. Soon, the band left their Atlantic label and moved to Century Media, which issued the melodic, heavy Confessions in February of 2013. As part of their promotions for the album, Buckcherry created a number of short films. The following year, they issued the EP Fuck, a six-song effort in which every song's title contains the F-word.
Previous Hits
Buckcherry's 2006 single "Crazy Bitch" was their first from their third LP, 15, and their first to make it into Billboard's Hot 100, where it peaked at number 59. It would receive a Grammy nomination for Best Hard Rock Performance. Their fifth and final single from 15, "Sorry", was another big hit that would be released as a single and with a video after its increasing popularity on the mainstream airwaves.
The first single from 2008's Black Butterfly, "Too Drunk", was the band's last to make it into the Billboard Hot 100. Apparently, the song was leaked by Buckcherry's manager, but later the band claimed it had been pirated. On its parent album, the band dutifully hit all their signature marks – snake-dancing vocals, greasy guitar, rhythms designed for a Texas lapdancer – in such a way that the album was not different in function or form than their other full-lengths. Nevertheless, there was a significant decline in energy, as the album so lacked the gleefully stupid hooks of "Lit Up" and "Crazy Bitch" that the appeal of these tracks actually seemed accidental. Far from a raging party's soundtrack, Black Butterfly is the underside of indulgence: it is the slow sound of a slide into the tedium of addiction. Still, the album would be the band's most successful so far, making it into the Top Ten of the Billboard 200.
On 2010's All Night Long, however, Buckcherry couldn't signal a stronger comeback with the opening pair of "It's a Party" and "All Night Long". The album would be another Top Ten release and saw the band bouncing back from the miasma of Black Butterfly with yet another endless party soundtrack. It's more of what they do best – L.A. sleaze in the manner of GNR, Motley Crue, and Aerosmith, with a hint of AC/DC – but the tone is definitely lighter than the slog of their previous album, and not simply because the ballads are sweeter. There is more snap to their swagger, more swing to their rhythms, and more snarl to their guitars.
2013's Confessions was a Top 20 album with an odd title, as Buckcherry has never kept many secrets. They have been consistently unabashed in their old-school hard rock band attitude, living raucously for the good times, especially when good time are hard to find. On their sixth full-length – moving to Century Media from Atlantic in the process – the members are not exactly getting longer in the tooth. Still, they lack the hungry young energy that made their rip-offs of Guns N' Roses convincing. Now, they sound more comfortable as they cop the psychedelic confections of Stone Temple Pilots, grooving to melody rather than riffs.
Trivia
Although the name "Buckcherry" is a play on "Chuck Berry", the band claim it was taken from a drag queen they knew called Buck Cherry.
The Buckcherry Concert Experience
Prepare for one of the most indulgently greasy hard rock experiences since Aerosmith. Buckcherry have been delivering delicious and sleazy performances for decades, and they have long since perfected their unapologetic hard rocking sound. Whether you're ready to scream along to "Crazy Bitch" or interested in their new, mellower, psychedelic style, Buckcherry will give you a night of music that you will not forget anytime soon. Start planning your Buckcherry concert experience today!
Back to Top
Epic events and incredible deals straight to your inbox.