There aren't any Events on the horizon right now.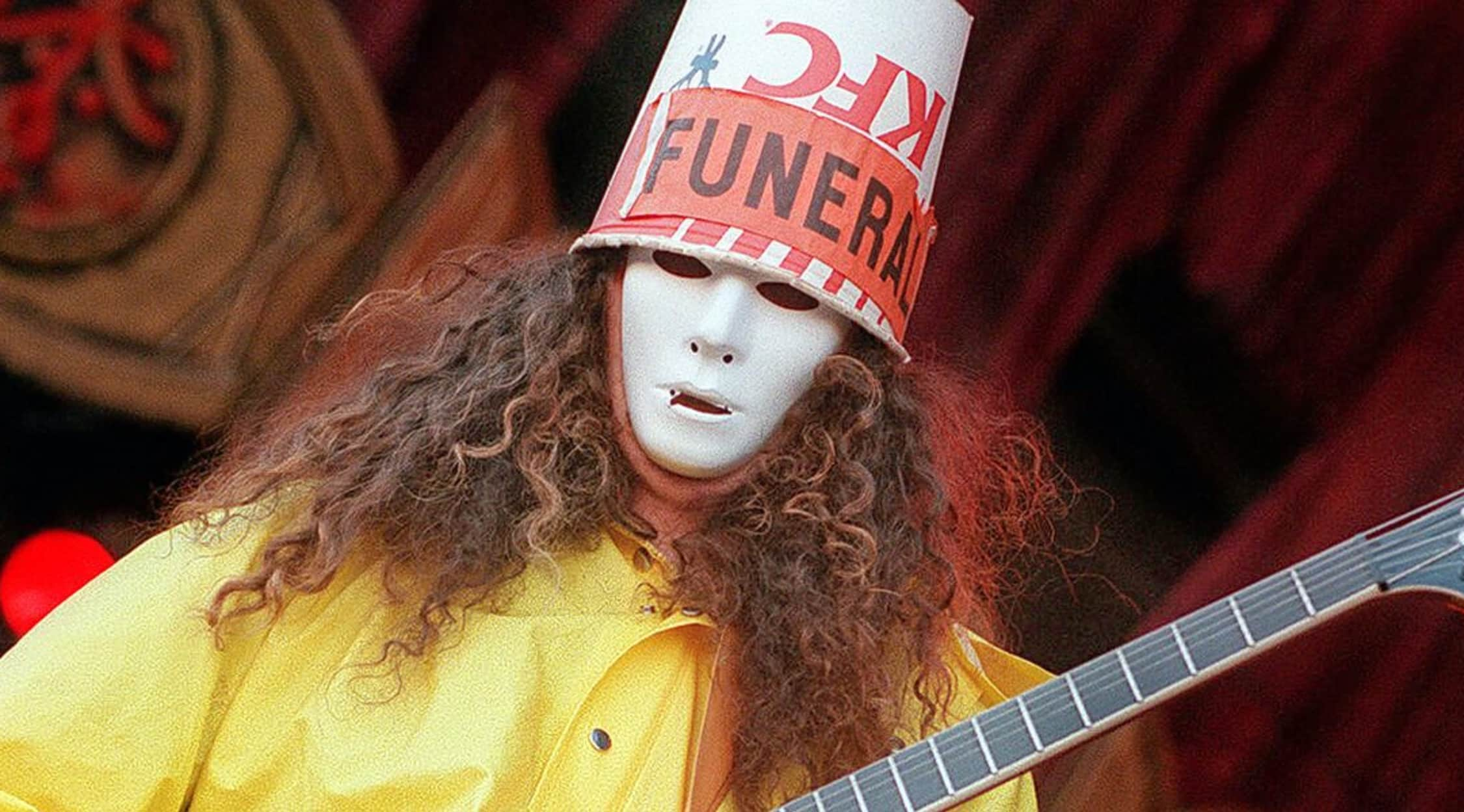 Zuma
Buckethead Tickets
Buckethead Tickets
Brian Patrick Carroll, better known by his stage name Buckethead, is a multi-instrumentalist and guitar virtuoso who has recorded music in an extraordinarily diverse range of styles, from progressive metal to funk, blues, bluegrass and experimental avant-garde music. Since the beginning of his career in 1987, he has released an astonishing 306 studio albums, 31 of which are ordinary studio albums and the other 275 of which make up his "Pike Series," each themed around a particular style and meant to mimic the numbering of comic book releases. He is known for having invented and pioneered a guitar playing technique known as nubbing, which is a variation on the two-handed tapping technique made famous by legendary guitarist Eddie van Halen. Buckethead's most well-known song to date is probably "Jordan" - a song that became popular after it was featured in the 2006 video game Guitar Hero II - but some other popular songs of his are "Nottingham Lace," "Soothsayer," "Whitewash" and "Yokohama."
A Career of Dizzying Productivity
Known for wearing a Michael Myers-like mask and a KFC chicken bucket over his head, Carroll invented his stage persona after he first watched the movie Halloween, went out and bought an identical mask to the movie's villain and decided to place the bucket of KFC chicken that he was also eating at the time over his head. Throughout his career, Buckethead has collaborated with an astonishing array of different artists on an enormous number of side projects, even serving as the guitarist for Guns 'N Roses from 2000 to 2004 and contributing music to their 2008 album Chinese Democracy. Buckethead's prodigious musical productivity, which began in earnest in 2013 when he released 31 albums, is something of an enigma as he generally tends to be quite private about his personal life. In addition to his studio albums, Buckethead has released one live album - 2018's Live From Bucketheadland - one EP, four special releases, three solo DVDs, five demos, eight singles, and three music videos. He's also found time to make an astonishing 97 guest appearances on the musical work of many other artists. All told, his studio albums run for a total of about 162 hours and 55 minutes - nearly one week.
Where can I buy Buckethead tickets?
StubHub offers you great deals on Buckethead tickets, which you can easily get through either a desktop or mobile device. Each ticket comes with a 100% guarantee of authenticity with StubHub's FanProtect program.
What are Buckethead concerts like?
Aside from being able to see Buckethead shred and play extremely complex guitar licks, fans will be in for a treat during every show. First, Buckethead enjoys playing at small venues, despite his longevity and prominence as a guitar player. It has become something of a tradition for Buckethead to hand out toys to his audience in the middle of every show. He also often lets fans touch the "Kill switch" on his guitar as he plays and has even allowed some of his fans to come on stage with him and play his guitar while he stands back and listens.
What are some of the other artists Buckethead has collaborated with?
Buckethead has collaborated with Les Claypool, founder of and bassist for the band Primus, Iggy Pop, Bill Laswell, Bootsy Collins, System of a Down, vocalist Serj Tankian, Faith No More, vocalist Mike Patton, DJ Bassnectar and even actor and sometime musician Viggo Mortensen. This, however, is very much a partial listen. The true scale of Buckethead's collaborative efforts and the number of bands that he has worked with - easily numbering in the dozens - is awe-inspiring.
What are some of the songs included in the typical Buckethead setlist?
Fan-favorite Buckethead songs like "Soothsays," "Nottingham Lace" and "Jordan" virtually always make an appearance during his concerts, especially during longer ones. "Jordan" is usually played near the end of a setlist before the encore. He is also known for throwing unexpected music into his shows, like his own rendition of themes from films like Star Wars or The Shining. Other songs like "Fourneau Cosmique" and "Big Sur Moon" are other concert staples.
How long does the typical Buckethead concert last?
Buckethead concerts can vary greatly in length. Some contain as few as five or six songs while others can have as many as 30 when accounting for encores. Since Buckethead also has a penchant for jamming, improvising and playing unplanned music during his concerts, this means that some shows can be as short as 30 minutes long while others can easily last for more than three or four hours.
Who are some other artists that are similar to Buckethead?
Some other artists who are similar to Buckethead include other guitar virtuosos like Paul Gilbert, Eric Johnson, Yngwie Malmsteen, Joe Satriani, Steve Vai, Bumblefoot, Dweezil Zappa and Michael Angelo Batio.
Back to Top