We didn't find any Events nearby, but here's what's happening in other cities.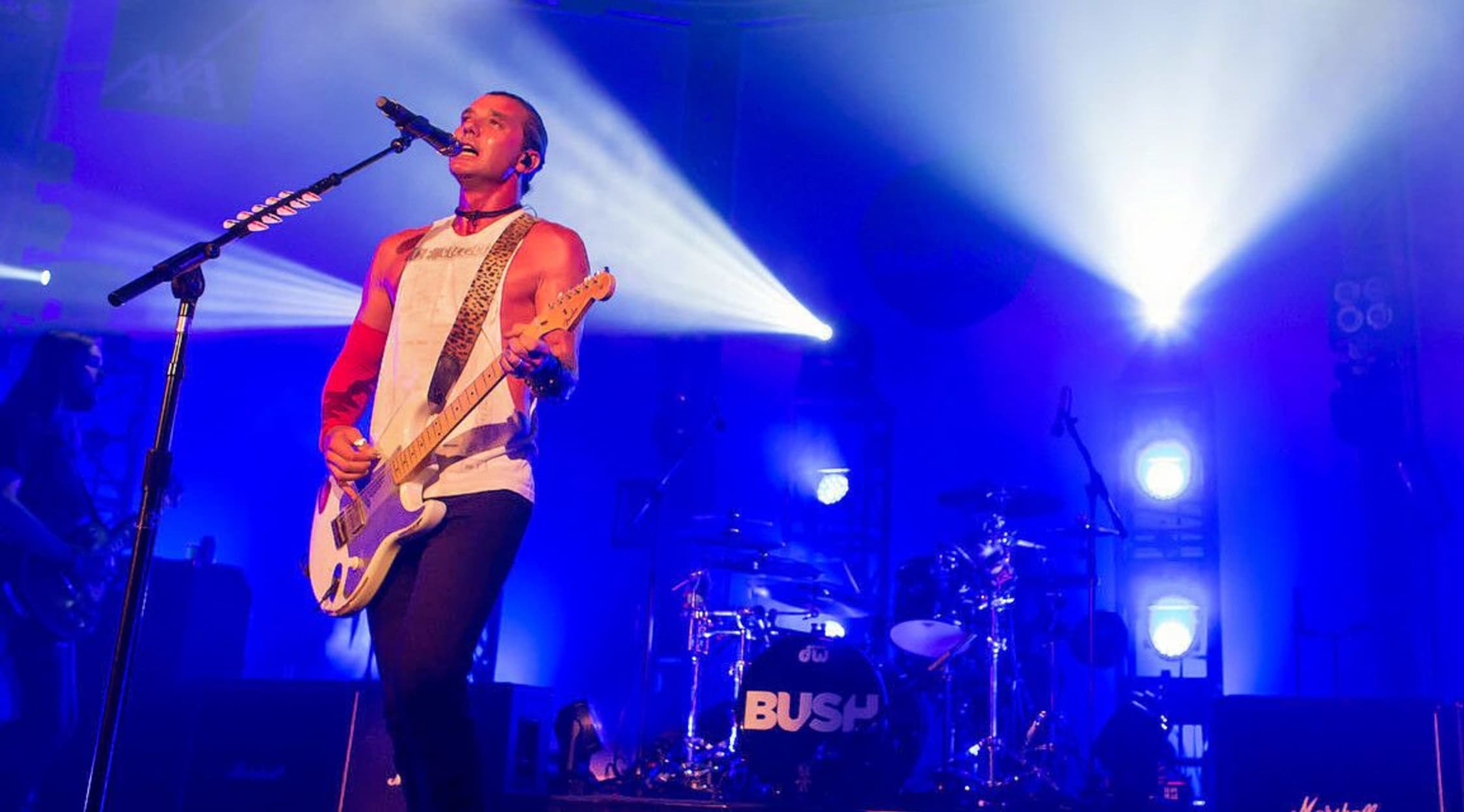 Alamy
Bush Tickets
Bush Tickets
Bush was formed in London, England, in 1992. In 1994, the band released its debut album, Sixteen Stone, which has been certified six times multi-platinum. Bush was one of the most successful rock bands in the US in the '90s. More recently, the band has made a comeback with its 2017 album, Black and White Rainbows. Its 1996 album, Razorblade Suitcase, was No. 1 on the Billboard Rock 'n' Roll Albums chart, and the band has had several No. 1 hits on the Billboard rock charts, including "Swallowed" and "Greedy Fly." Bush has sold more than 20 million records worldwide. The band has been nominated for six awards, and of those, it won the 1996 MTV Video Music Viewers Choice Award, the 1997 MTV Movie Best Song From a Movie Award and the 1998 American Music Awards Favorite Alternative Group.
Bush: Dropped by Disney
In 1992, lead singer Gavin Rossdale met Nigel Pulsford and they decided to form a band. They then recruited Dave Parsons on bass and Robin Goodridge to play drums. Rob Kahane, who had a distribution deal with the Disney-owned Hollywood Records, signed the band in 1993. When Disney executive Frank G. Wells passed away, Kahane lost his support, and the remaining Hollywood Records' executives decided that Bush's already recorded album, Sixteen Stone, was unacceptable for release. To survive, Bush members took menial labor jobs until Interscope Records decided to release the album. Kahane sent an advance copy of Sixteen Stone to a friend of his at the influential rock station KROQ-FM in Los Angeles, who added "Everything Zen" to the rotation. Despite the rejection from Hollywood Records, Sixteen Stone ended up producing two Top 40 singles and peaked at No. 4 on the Billboard Hot 200 Charts.
Where can I buy Bush tickets?
To find yourself some tickets to see Bush in concert, be sure to check out StubHub, the worlds' leading ticket marketplace. StubHub makes it easy to find tickets to see your favorite performers.
How long is a normal Bush concert?
Bush normally plays for one to two hours, with most of their performances being one-and-a-half hours.
Where is Bush playing?
Bush has performed concerts all over the world. To find a venue near you that the band will be playing at, along with upcoming tour dates, check out StubHub.
What does a Bush setlist look like?
Bush makes sure to play fan-favorite songs such as "Machinehead," "This is War," "Everything Zen," "The People That We Love," "The Sound of Winter," "Swallowed," "Chemicals Between Us" and more. For an encore, the band likes to do a cover of "Come Together" by The Beatles and "Glycerin."
Who are the members of Bush?
The band consists of lead singer Gavin Rossdale, lead guitarist Chris Traynor, bassist Corey Britz and drummer Robin Goodridge. Former members include Nigel Pulsford on lead guitar and Dave Parsons on bass. Former touring members include Sacha Puttnam on keyboards and Sibyl Buck on bass.
Where did the name Bush come from?
Bush chose its name because the band once lived in Shephard's Bush in London. For a long time, they were known as Bushx in Canada because there was a 1970s band from Canada by the same name that still had rights to it. Gavin Rossdale and the leader of the Canadian band, Domenic Troiano, worked out a solution where Bush could drop the X if they donated $20,000 to both the Canadian Music Therapy Trust Fund and the Starlight Foundation.
What other bands are similar to Bush
If you like Bush, then make sure you check out the bands Collective Soul, Our Lady Peace and Three Doors Down.
Back to Top