We didn't find anything nearby, but here's what's happening in other cities.
There aren't any events on the horizon right now.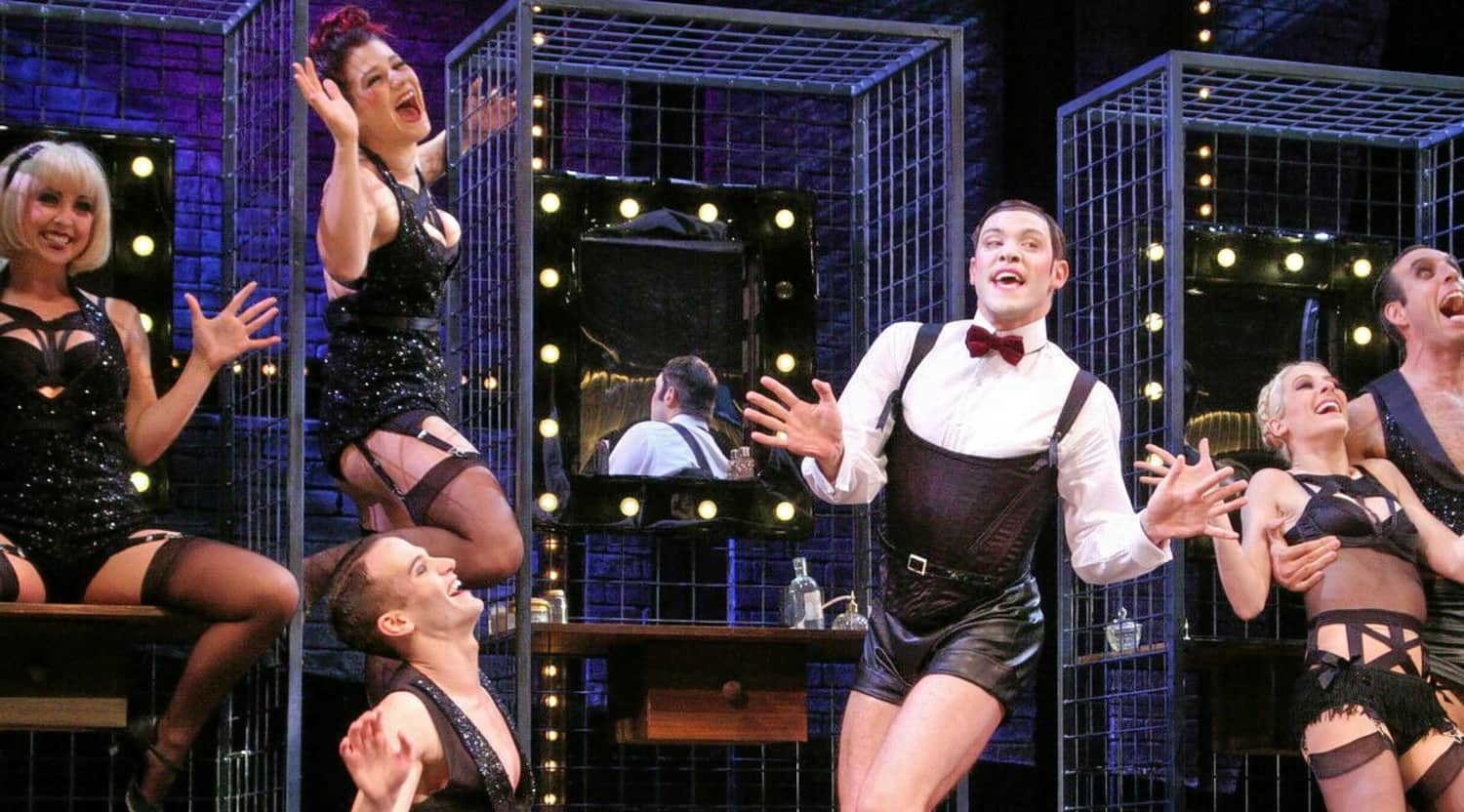 Alamy
Cabaret Cincinnati Tickets
Cabaret Cincinnati Plot
The outbreak of the Second World War led to many great changes throughout the globe, leaving some of the finest cities in Europe in ruins and scattering lives throughout the world. But while the devastating effects of this conflict would be felt for generations to come, many people first came together as a result of the massive effort to fight the Nazis. Bringing foreign troops, journalists, and workers to shores they'd never been before, the political climate in Europe during this time led to one of the most intriguing periods of world history. While this setting has been used many times in the past for many books and stage productions, there are a few key works that have risen to the top as the most beloved works that deal with this era. Come and learn more about the world during this time by taking in a quality performance of the hit show Cabaret when it comes to be performed next on a stage near you! Deep in the heart of Germany in a nightclub in the 1930's is Cliff Bradshaw, an American writer intent on seeing the many changes firsthand that Europe is undergoing through this era. While he's heard good things about the Kit Kat Club, he never expected to meet anyone as beautiful as Sally, a singer at the club. The two embark on a romance together, but how long can things last while the political climate outside of the club continues to deteriorate? Watch and see when all of the excitement in Cabaret comes to a stage near you for you to enjoy, get your tickets through StubHub while you can still find them!
Cabaret Cincinnati Schedule
Do you love theatrical shows that combine the world of dance with some of the most quality writing to reach the stage? Are you always eager to find a way to bring your friends out to share your love of the theater? Well make sure you have your tickets ready to go when you take off to see the beloved musical Cabaret when it opens for the stage at the Aronoff Center for the Arts Cincinnati in beautiful Cincinnati, Ohio! Whether you're a fan of the book that inspired it all or you're more familiar with the film adaptation, it's hard to not send praise in the direction of this riveting show that has been performed for so many theater fans over the years. It's clear that something is drawing these fans back, so if you haven't had the chance to explore the music and the magic that Cabaret has to offer, you might want to head to somewhere with an internet connection as soon as possible! So long as you can log on, you'll be able to pick up your tickets to see Cabaret on the stage, so why bother thinking about heading anywhere else this weekend? Take in a show that you'll be sure to love by buying your tickets to see Cabaret today!
Cabaret Cincinnati Cast
The original debut cast of Cabaret in the 1970's consisted of some of the finest musical performers of their day, bringing talents like Bert Convy, Jack Gilford, Jill Haworth, Lotte Lenya, Joel Grey, Peg Murray, Edward Winter, Jere Admire, Barbara Alston, Ray Baron, Bruce Becker, Steven Boockvor, Frank Bouley, Roger Briant, Kathie Dalton, Mary Ehara, Sol Frieder, Patricia Gosling, John Herbert, Howard Kahl, Tresha Kelly, Mara Landi, Miriam Lehmann-Haupt, Bert Michaels, Eugene Morgan, Jayme Mylroie, Ed Nolfi, Marianne Selbert, Robert Sharp, Bonnie Walker, Lynn Winn, Penny Fuller, and more to the stage to bring this story to life. Though different from the book that inspired it, the current cast continues their tradition of excellence on the stage as Alan Cumming, Michelle Williams, Danny Burstein, Linda Emond, Bill Heck, Aaron Krohn, and Gayle Rankin work to bring Cabaret to life. Don't miss out on your chance to see this beloved stage show and all of the amazing songs in it when Cabaret opens next at a venue near you!
Cabaret Cincinnati Author
Musicals have long been a staple of the theatrical world, with most musicals being created from a historical stand point for the people as opposed to the upper classes of royalty that were commissioning higher-brow plays. But even though this art form has been rooted in history as being less-respected by those at the top, the nature of heading to the theater has changed significantly. You no longer have rich benefactors sponsoring specific talents to create a show for them to enjoy; now, the people vote on which shows are successful with their checkbook. If you've been meaning to get out of the house this weekend to see a popular musical that'll have you on the edge of your seat singing along to every word that you know, make sure that you buy your tickets well in advance to enjoy Cabaret when this exciting stage production comes to be performed next near you! Many fans have been attracted to the allure of Cabaret on the stage, but few are familiar with the origins of this riveting story. First formed as the book Goodbye to Berlin by famous author Christopher Isherwood, this story would serve as the inspiration for the first stage adaptation entitled I Am A Camera, by German author John Van Druten. Further inspired by the work that Van Druten added to the original tale, John Kander and Fred Ebb (Flora The Red Menace, The Happy Time, and Zorba) combined forces with Joe Masteroff (The Warm Peninsula and 70, Girls, 70) to create a viable show for the stage based on this work. Thus, Cabaret was born, becoming an instant hit on the stage and going on to inspire a popular film. There's no comparing the film to the stage version though, so if you haven't yet had the chance to see Cabaret for yourself, come and form your own opinion by getting your tickets through StubHub while you still can!
Cabaret Cincinnati Trivia
Q: When did the popular musical Cabaret first debut for the stage?
A: The popular musical Cabaret first debuted for the stage in 1966.
Q: Where did the popular musical Cabaret first debut for the stage?
A: The popular musical Cabaret first debuted for the stage on Broadway.
Back to Top
Epic events and incredible deals straight to your inbox.