StubHub Launches "Live at Home" Virtual Live Event Platform to Help Emerging Music Artists and Bring More Events to Concert Fans
FIRST EVENTS: JUKEBOX THE GHOST and LISSIE, with more to be announced. Tickets on sale today for Jukebox the Ghost event on December 11th.
SAN FRANCISCO -- November 25, 2020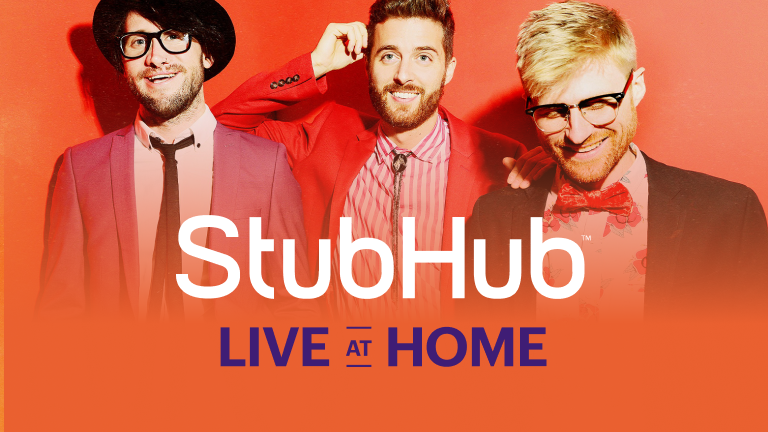 StubHub, the world's most trusted ticket marketplace, announces the launch of a new virtual live event platform, "Live at Home," that enables artists to create more live events and connect with wider audiences. Jukebox the Ghost and Lissie will be the first acts offering live events, produced by StubHub and streamed on Maestro.
These are virtual live events, more than just a live stream, produced to ensure live two-way interaction with fans, utilizing Maestro's interactive live streaming capabilities. Each act has designed their own distinct virtual live experience with uniquely engaging fan components, VIP packages, exclusive merch and more. Jukebox the Ghost will put together a special holiday set from their studio with limited VIP packages that include an exclusive, autographed poster and virtual after party. Lissie will bring in a full band for a special, intimate set from the Parkway Theatre in Minneapolis, also dedicated to the holidays, with limited VIP packages that include an exclusive autographed poster and virtual meet and greet with fans. Tickets for Jukebox the Ghost are on sale today at liveathome.stubhub.com.
"This is an exciting new endeavor for StubHub to continue to be able to deliver on our mission to bring the joy of live events to fans globally," said Arnaud Collin, global head of marketing for StubHub. "Faced with the continued COVID pandemic limiting the return of live concerts, we want to help artists who are not able to tour and fans who are craving live experiences. With "Live at Home," we have created a platform that makes it easy for artists to create truly live experiences by leveraging our global marketing reach and deep knowledge of concert fans, based on 20 years of serving them. We believe that virtual live events will become a new way for artists and fans to connect, and will continue to grow, even as in person concerts begin to return."
"We are very excited to be among the first to partner with StubHub on this series. To have an organization, with strong promotional capabilities and knowledge of the ticket buyer, offer to promote an event and reduce the risk and cost of putting on an event is appealing to us," said Luke Weber, day-to-day manager of Jukebox the Ghost. "With Stubhub's extensive reach, we will be able to reach a wider audience, while also giving Jukebox the Ghost's dedicated fans a unique live experience."
"Maestro is pleased to work with StubHub to enable the "Live At Home" series. In today's evolving live events landscape, we share a focus on empowering artists to continue to perform and do what they love," said Jordan Udko, EVP Revenue for Maestro. "Maestro's focus is to enable artists to monetize their passion through our premium live streaming capabilities. Working with a global brand like StubHub, who is further investing in the production of new events and supporting artists financially and promotionally, allows us to contribute even more to the success and viability of the live streaming events ecosystem."
As the live event landscape for concerts continues to be impacted by the COVID-19 pandemic, StubHub has explored opportunities to continue to bring live experiences to fans. In recent months, StubHub has dedicated a team within the organization – composed of marketing, product and industry specialists – to self-produce these virtual live events. Working with Maestro allows the two organizations to combine the best of their capabilities: Maestro's supreme live streaming experience with StubHub's exceptional promotional ability and reach, allowing artists the opportunity to bring live experiences to their fans, while also reaching a wider audience. This new platform is also StubHub's way of supporting the artist community. By adding guarantees and production budget to the event's promotional elements, StubHub is focused on giving artists more confidence in building these live experiences, reducing the artist's risks and investment. 
"LIVE AT HOME" VIRTUAL LIVE EVENTS LINEUP
Tickets for each event will be available at liveathome.stubhub.com
Friday, December 11th Jukebox the Ghost On sale now 
Saturday, December 19th Lissie Tickets on sale 12/4
ABOUT STUBHUB At StubHub, our mission is to bring the joy of live to fans globally. As the world's most trusted ticket marketplace spanning 44 countries, we enable fans to buy and sell tickets to tens of thousands of events, whenever and wherever fans want to be. Backed by award-winning customer care, StubHub's FanProtect™ Guarantee means every ticket is guaranteed valid or you'll receive a replacement ticket of equal or better value, or your money back. Our business partners include more than 170 properties globally across the NFL, MLB, NBA, NHL, MLS, WWE, NCAA, Matchroom Boxing, plus Paciolan, and Roundabout Theatre Company. StubHub provides the total end-to-end event going experience throughout the world. For more information visit www.stubhub.com.