Over 4,300 SFUSD Fourth Graders Across 72 Schools to Receive Gift of Music at Home with Recorders Donated by StubHub and the Mr. Holland's Opus Foundation
The gift - valued at $20,000 - makes it possible for the school district to extend a once-voluntary music program to all fourth grade students during remote learning
October 27, 2020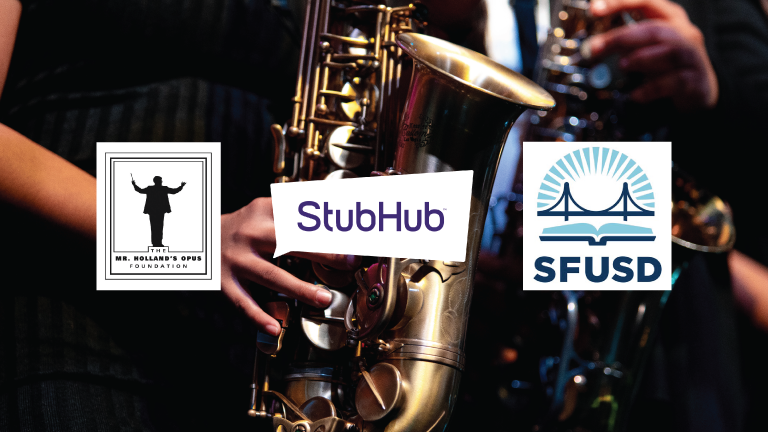 This week, more than 4,300 fourth grade students across the San Francisco Unified School District are each receiving a donated recorder that will enable the district's entire fourth grade class to participate in general music classes at home. The donation is made possible by StubHub's partnership with Mr. Holland's Opus Foundation as part of our three-year commitment to put over $3 million in music instruments into public school music programs.
"At SFUSD, we believe that cultivating our students' creativity is essential to a well-rounded 21st Century ready education," SFUSD Superintendent Dr. Vincent Matthews said. "Each and every student in grades Pre-K through 12th is provided a rigorous and meaningful arts education. As we are currently engaged in distance learning to protect against the spread of COVID-19, our arts educators have been working hard to find ways to continue connecting with students."
The donation, valued at $20,000 in instruments and shipping and distribution costs, allows the district to extend to all students what is traditionally an opt-in program. During this time of distance learning, SFUSD students continue to receive arts instruction -- including music, dance, theater, media arts, and visual arts -- from their teachers in a virtual setting, using different online platforms. The district is strengthening its partnerships with Bay Area arts partners that continue to support students' arts experiences through distance learning and artist residencies. This donation enables the district to build upon the mission of the Visual and Performing Arts Department to provide a quality arts experience for each and every student.
As district teachers and administrators began to think about teaching the opt-in program to students remotely this semester, they were able to reconsider what and how they taught instrumental music, in the absence of sufficient instruments for all students at home. 
"Since the onset of the pandemic, we have looked for ways to support our nonprofit partners with pre-existing StubHub Foundation funding already earmarked for supporting our social impact mission," said Akshay Khanna, general manager of North America for StubHub. "We were more than eager to support the SFUSD when we heard about the opportunity to expand and implement a remote music education program for their entire fourth grade class across 72 schools. This is the very reason we've supported Mr. Holland's Opus Foundation for over five years."
Music education is a core part of StubHub's social impact mission. In 2018, StubHub made a three-year commitment to put $3 million in music instruments into public school music programs from the StubHub Foundation, in partnership with Mr. Holland's Opus Foundation. This extends StubHub's giving to a total of $5MM in instruments, adding to a 2015 program that already put more than $2MM in musical instruments into over 50 public schools across the United States.
Selected school districts are chosen collaboratively between MHOF and StubHub, with awarded schools chosen by MHOF through its established selection criteria. Interested schools are invited to inquire directly through MHOF. To learn more, visit www.stubhub.com/giving-back. Music education is seeing dwindling public and private support, with low-income school students receiving the least amount of local government funding, according to the National Center for Education. Research from Mr. Holland's Opus Foundation shows that schools with music programs have an estimated 90% graduation rate and 93% attendance rate compared to schools without music education, which average 72% for graduation and 85% in attendance.
Visit Mr. Holland's Opus Foundation's site to learn more about our partner and to donate to help keep music in schools.