There aren't any Events on the horizon right now.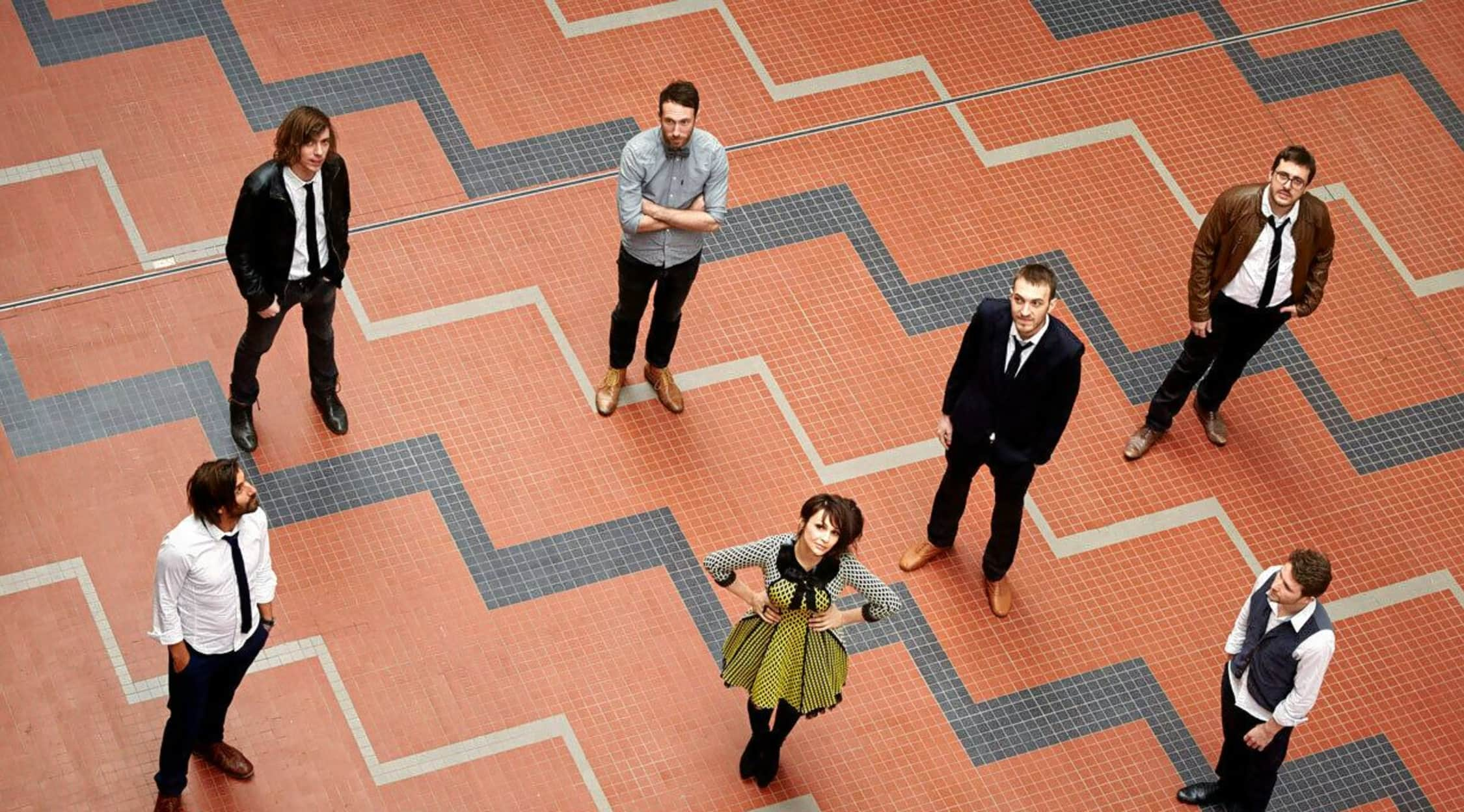 Rovi
Caravan Palace Tickets
Caravan Palace Schedule
Hailing from Paris, the pioneering Caravan Palace is a French gypsy jazz and electro swing band that has garnered applause for its penchant for traditional jazz.The band is comprised of Colotis Zoe (vocals); Hugues Payen (violin, programming); Toustou (electronics, trombone); Chapi (clarinette); Charles Delaporte (bass, programming); and Arnaud Vial (guitar, programming).Mainly inspired by Django Reinhardt, Caravan Palace also cites influences of Lionel Hampton, Cab Calloway, Vitalic and Daft Punk.This band pushes the envelope on the fairly new sound of electro-swing and serves as a must-see if you have a chance to catch Caravan Palace at a venue near you!
In 2014, Caravan Palace is headed to the Paradise Rock Club in Boston, Massachusetts; The Crofoot Ballroom in Pontiac, Michigan; House of Blues in Chicago; The Cedar Cultural Center in Minneapolis, Minnesota; Gothic Theatre in Englewood, Colorado; Rio Theatre Santa Cruz in Santa Cruz, California; and Commodore Ballroom in Vancouver, British Columbia.Sign up for event updates through StubHub to stay on top of Caravan Palace's tour schedule, so you never have to miss out on their shows again. Take a look around StubHub today!
Caravan Palace Background
Established in 2005, Caravan Palace got their start after three of the members were hired by a film production company to compose the score for the soundtrack of silent adult movies. From there, Caravan Palace proceeded to release demos and promo singles on the Internet that were acclaimed for their originality.
From 2006-2007, they took their sound to the stages of their native France, making their premiere festival appearance at the Django Reinhardt Jazz Festival. Following this debut, the group inked a deal with Wagram Music, a Paris-based independent record label. They devoted the next year to cutting their first studio album.They have since emerged to offer a new brand of much-needed sound on the music scene. Caravan Palace issued their eponymous debut album in 2008, which was lauded for its traditional jazz sound. The album landed on a number of European album charts. The album scored the No. 72 spot in Switzerland and placed No. 42 on the Belgium charts. In their home country of France, Caravan Palace did rather well, charting at No. 11 in August 2009. They held their standing on the French albums chart for nearly 70 weeks in a row!
In February 2009, the band issued their sophomore single, Suzy. Two years later, Clash, an EP, was released. Clash featured four remixes and two new songs. And, on March 5, 2012, their studio album, Panic, arrived.Today, Caravan Palace continues to work tirelessly on their original material. You can catch them on their latest tour by securing your tickets now through StubHub. Never miss another beat with StubHub's affordable prices. Check it out today!
Caravan Palace Hit Albums
The electro-swing band Caravan Palace has released two studio albums, Caravan Palace (2008) and Panic (2012). Their singles include Jolie Coquine (2008); Dragons (2008); Suzy (2009); Clash (2012); Rock It For Me (2012); and Dramophone (2012).Undeniably, the best way to experience the music of Caravan Palace is to hear it live! All you need to do is click right here on StubHub. StubHub can put you in front of all of your favorite bands, like Caravan Palace, in just an instant! And, don't forget that StubHub offers a huge inventory of tickets for just about anything you can think of - from theater tickets to musical tickets to comedy tickets to sports tickets to everything in between. So what are you waiting for?! Start browsing StubHub's vast selection of tickets now!
Caravan Palace Trivia
Did you ever wonder how Caravan Palace comes up with their unique material? According to the band's profile, "Every member of the band works in his own musical lab before exchanging files at night. The same process starts over the next day. And when the others react instinctively, it's generally a good sign..."
Caravan Palace Concert Experience
Billed as the "apostles of electro swing," the remarkable Caravan Palace merges styles and feels that are reminiscent of the swinging eras of times past.And, while this is somewhat of a new genre, Caravan Palace has been taking the nation by storm with its energetic vibe and one-of-a-kind sound that makes it near impossible not to dance to.
We all know that you can listen to music on the go and at home but nothing can take the place of hearing the songs of your favorite bands live in person!So, if you're in the mood to check out a phenomenal band that is as authentic as they are talented, then be sure to get your Caravan Palace concert tickets from StubHub before they sell out! As trailblazers in the new sound of electro-swing, tickets for this band are likely to sell out fast, so reserve yours in advance today through StubHub. And, don't forget to bookmark StubHub for all of your entertainment needs that come your way in the future!
Back to Top