We didn't find any Events nearby, but here's what's happening in other cities.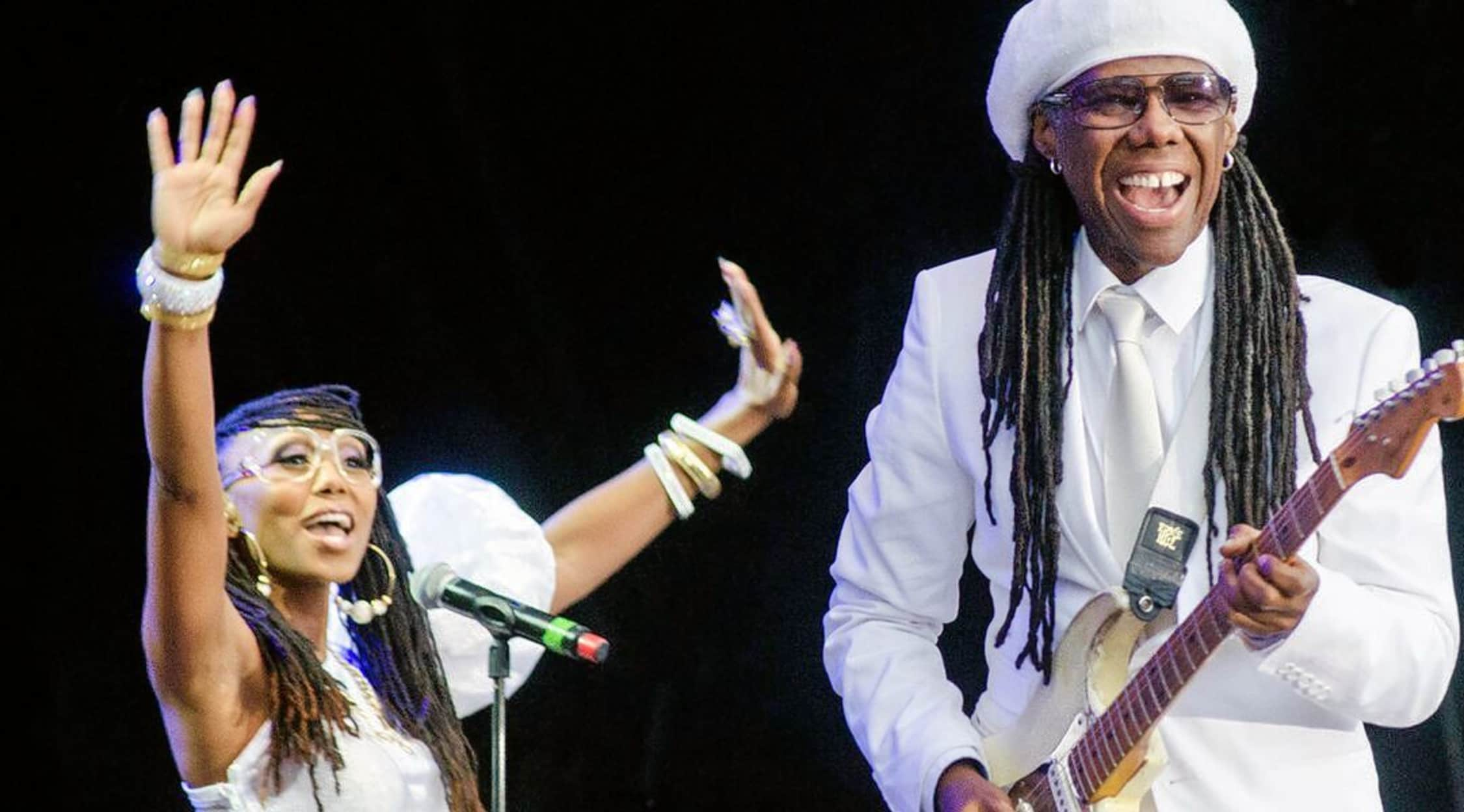 Alamy
CHIC Tickets
Chic 2014 Tour Schedule
Slip on your dancing pants because America's greatest disco band is coming back to the stage to perform some of their greatest dance hits. Chic, notably founded by Nile Rodgers and Bernard Edwards, is an eight-time nominee for the Rock and Roll Hall of Fame, and a best-selling group that always gets the crowd on their feet. Seeing a band perform live has never been so much fun, and whether you love the oldies or just want to groove to some fun dance music, you can't miss seeing Chic return to the stage!
On May 10th, Chic is scheduled to perform at the Hollywood Bowl, and their impending performance is already creating an excited buzz throughout the entire area. This is your chance to relive the past and groove to some of the hottest songs of the '70s, so make sure you don't let it pass you by! Head to StubHub to get your tickets to his once-in-a-lifetime Chic concert today!
Chic Background
Chic's roots date back to 1970, when two talented and aspiring musicians, Nile Rodgers and Bernard Edwards, met in New York City. They decided to form a rock band, which they called "The Boys", although they later changed it to "The Big Apple Band". They played gig after gig in venues all over New York City and released countless demos, yet they were never able to nab a recording contract.
Knowing they needed to make a change, Rodgers and Edwards recruited Tony Thompson to play the drums and Norma Jean Wright to be the lead singer. Together, the new band created, "Dance, Dance, Dance (Yowsah, Yowsah, Yowsah)". Luci Martin also became a second lead female singer of the group, and with this new lineup, Chic produced numerous hit songs, such as "Le Freak" and "Good Times". While the '70s was a rocking decade for the group, the '80s didn't hold the same luck for the group. Due to a prominent anti-disco reaction, the band disbanded in the early 1980s. The band members pursued different musical projects, often working together on various songs and albums. For instance, Rodgers co-produced David Bowie's 1983 album, Let's Dance, and also helped with Madonna's album, Like a Virgin, in 1984. Combined, Chic's musical accomplishments could go on for pages, as each member was so uniquely talented and driven that they became major players in the music industry.
In addition to being nominated for the Rock and Roll Hall of Fame eight times, Chic has also been inducted into the Dance Music Hall of Fame and has been cited as an influence to some of the biggest artists in the world, such as Duran Duran and Queen. To this day, Nile Rodgers remains a legend, and is widely known as one of the best producers in the music industry. Now, you have the chance to see the legendary Rodgers and the other Chic members perform live in the spectacular venue of the Hollywood Bowl. Because Chic is such a legendary group, tickets to their show are bound to be snatched up quickly, so make your way to StubHub right now and buy your tickets!
Greatest Hits
Unless you've been living under a rock for the past forty years, you have definitely heard at least one famous Chic song. Two of their hit singles reached number one on the U.S. music charts: "Good Times" and "Le Freak". Their other popular songs include "Dance, Dance, Dance (Yowsah, Yowsah, Yowsah)", "I Want Your Love", "Rebels Are We" and "My Forbidden Lover". Chic's songs were staples in the dance music scene, and were played regularly in clubs and discos. Several of their albums earned critical acclaim and top positions on the music charts, with some of their most successful albums being C'est Chic, Risque, and Real People.
Trivia
While trying to meet up with Grace Jones at a popular New York City nightclub, Rodgers and Edwards were denied entrance because the bouncer didn't believe they were members of the band Chic. Their song "Dance, Dance, Dance (Yowsah, Yowsah, Yowsah)" played frequently in the club, but the two members still couldn't get in. Something good did come of the incident, however, as it inspired one of their biggest smash hits, "Le Freak".
The Experience
Put on your most comfortable dancing shoes because you are about to spend the whole night on your feet as Chic cranks out their massive dance hits all night long! These legendary performs truly do know how to put on a great show, and you won't be disappointed by their electric energy and seamless performances that have made them such a world-famous band over the years. Don't miss out on hearing all of Chic's best songs performed live and grab your tickets on StubHub today! You can also sign up for event alerts from StubHub so that you receive updated alerts when Chic or your other favorite bands are heading your way!
Back to Top
Epic events and incredible deals straight to your inbox.