There aren't any Events on the horizon right now.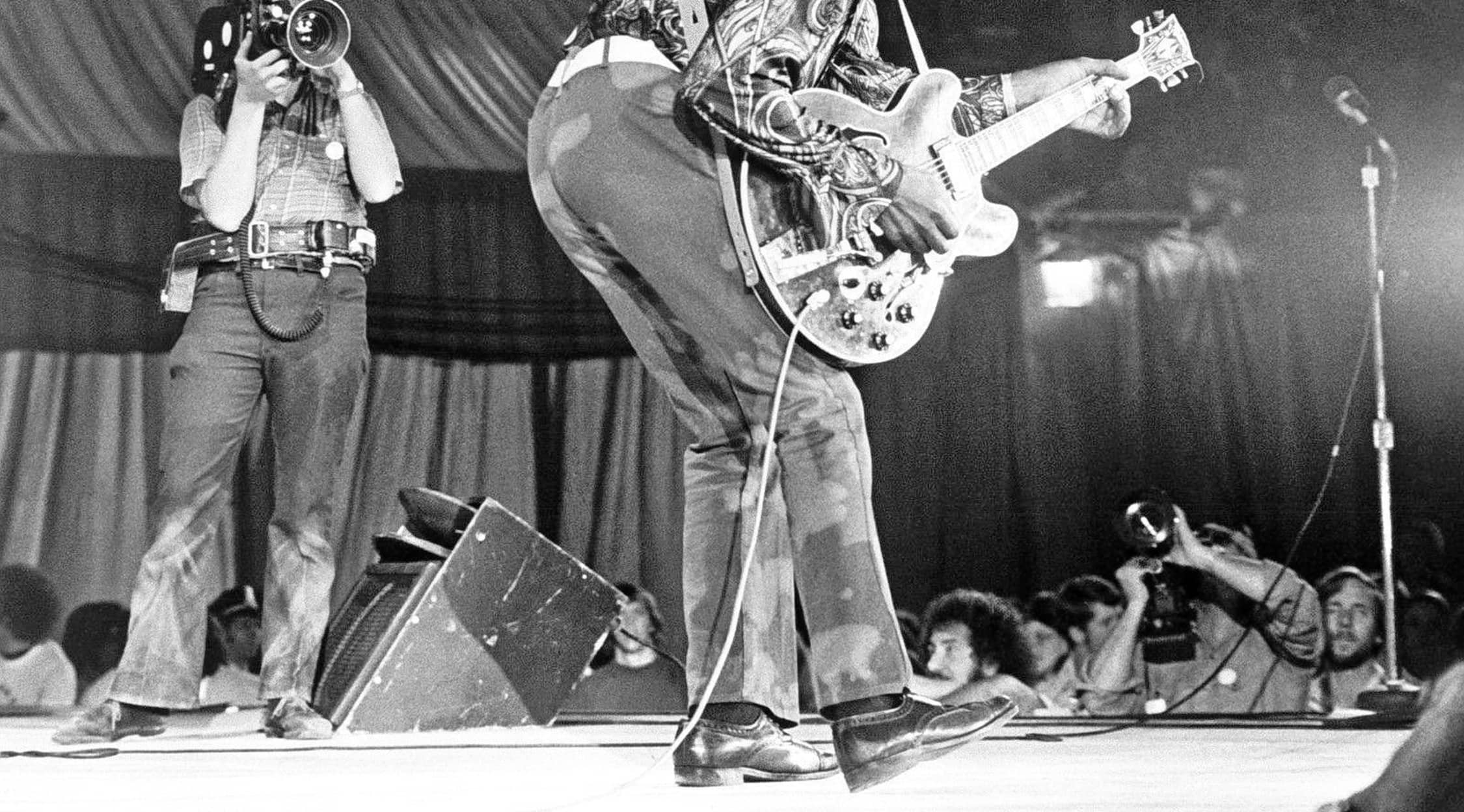 Rovi
Chuck Berry Tickets
Chuck Berry Tour Dates
Since he first burst onto the scene in 1955 there has arguably been no other artist more important to the history of rock and roll than Chuck Berry. While he crafted some of the most memorable songs in the history of rock music and developed a guitar style that would help shape and define the genre his showmanship during his live performances has had an equal influence on rock and roll performances which would come later.
At 87 years of age Chuck Berry may not tour as much as he once did but he still heads out on the road from time to time and his shows are as electric today as they were back in the Fifties. Almost every month Chuck Berry performs at Blueberry Hill, a bar and restaurant in his hometown of Saint Louis. These shows are always big draws with lovers of rock and roll music often making a pilgrimage to Saint Louis just to see this legend performing live. He has a December 11th date lined up at Blueberry Hill and this will be his last performance of 2013 so you can expect quite a show. If a trip to Saint Louis is not in your immediate future continue to check back at StubHub to see when Chuck Berry is lining up some tour dates.
About the Artist
Born in St. Louis, Missouri in 1926, Chuck Berry has not only become a legend through his music and concerts but has lived the ultimate rock star life which included two separate three year stints in prison. More than half a century after embarking on his lifelong career in rock and roll Chuck Berry's timeless songs still have as powerful an impact today as when they were first recorded and continue to inspire generation after generation of guitarists and songwriters. Other legends like John Lennon and Ted Nugent have praised Chuck Berry and insisted that without Chuck Berry rock and roll as we know it may well not exist. He has created some of the most iconic moves in rock guitar showmanship including the one-legged hop and the duck walk both of which are still performed today by guitarists of all ages. Chuck Berry has been universally acclaimed as one of the true giants in the history of rock and roll and is a real living legend who still performs to this day.
Breakthrough
The first song Chuck Berry recorded, Maybellene, was recorded with Leonard Chess of Chess Records. He contacted Chess after meeting up with Muddy Waters who suggested he set up the meeting. The song was an instant hit and went to number one on the R&B charts making Chuck Berry a legitimate star in 1955. By the time the Fifties were through he had penned and recorded several other hits and appeared in movies and was one of music's biggest superstars well on his way to becoming a legend.
The Experience
The chance to see a true living legend performing live does not come along often, and when that person is Chuck Berry it is an opportunity not to be missed. For many just being in the same room as Mr. Berry is a dream come true and when the house lights finally dim and he struts out onto the stage and picks up his guitar there is an excitement in the air that is palpable. Before you know it his legendary voice is saying hello to the crowd and he and the band bust into one of his classic songs like Maybellene, No Particular Place to Go, Johnny B. Goode, Rock and Roll Music, or Roll Over Beethoven. These are some of the most well known songs in all of music and continue to be covered by some of the best guitarists of the day. The night progresses and it is like being transported back through time and being given a history of rock and roll. Even at 87 Chuck Berry still puts on an incredible show and performs his one-legged hop and duck walk. By the time the night is over and you have been dancing along to some of the greatest songs ever written and are contemplating many trips to St. Louis to see Chuck Berry performing his monthly concert at Blueberry Hill in his hometown.
Trivia
Rolling Stone Magazine named Johnny B. Goode the number one greatest guitar song in rock and roll history and this is just one of the many honors the influential magazine has bestowed upon him. He received a Grammy Lifetime Achievement Award in 1984 and the following year he was inducted into the Rock and Roll Hall of Fame. Time Magazine named him the seventh greatest rock and roll guitarist of all time and he was honored as one of the first BMI Icons at their fiftieth anniversary awards in 2002 along with Little Richard and Bo Diddley.
Back to Top