We didn't find any Events nearby, but here's what's happening in other cities.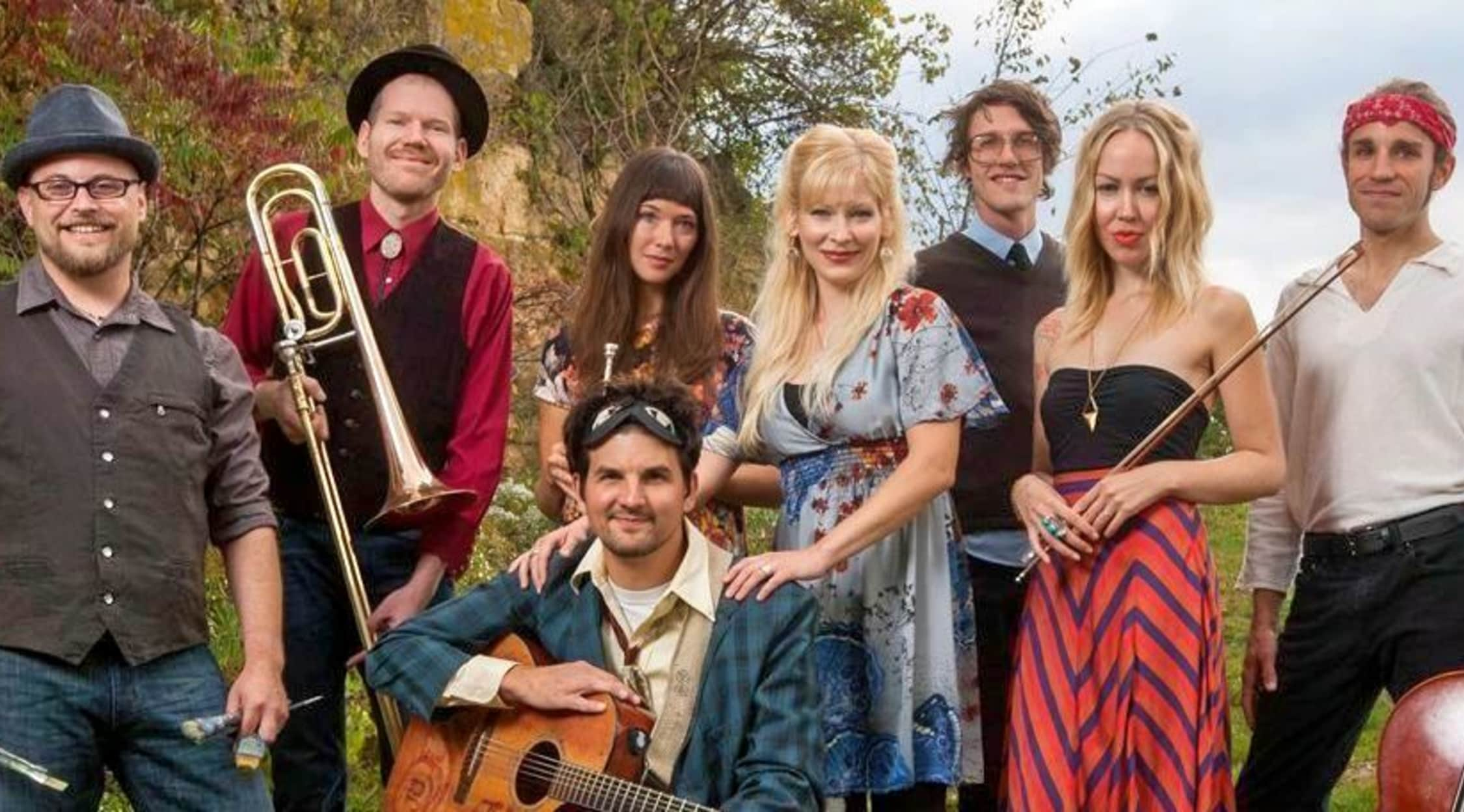 Rovi
Cloud Cult Tickets
Cloud Cult 2014 Tour Schedule
This experimental indie band may have started as Craig Minowa's solo project, but it has blossomed into so much more. With environmentally conscious undertones, Cloud Cult is one of the most progressive experimental groups around, and their confident and unique identity has endeared them to countless fans all over the globe. Cloud Cult's live shows have often been hailed as transcendent, even incorporating elements like live painting on stage alongside their go-green philosophy. For over almost two decades, Cloud Cult has been accumulating a grass roots following due to their heavy touring schedule and hypnotizing live performances. With countless catchy art rock and experimental tunes in their repertoire, there's no doubt that Cloud Cult can put on an incredible show.
Cloud Cult has several exciting shows lined up this September, and you definitely want to see this awesome indie pop group perform live when they head to a venue near you! With shows at the Bluebird Theater in Denver, the Great American Music Hall in San Francisco, and the Troubadour in West Hollywood, Cloud Cult's upcoming shows are already generating major buzz all over the West Coast. So prepare for a truly unique and exciting concert experience and grab your Cloud Cult tickets on StubHub today!
Cloud Cult Background
Cloud Cult is the brainchild of Craig Minowa, who first started it as a solo project. He soon decided that the addition of more artists would add more dimension to his work, so he recruited several musicians to perform and record with him. The band's catchy and unique indie pop tunes earned them several offers from record labels, but in order to maintain creative control over their work, the band declined all of them. Cloud Cult started to gain major attention in the underground music scene because of their unique live performances; each show, Connie Minowa and Scott West would complete a painting while the other musicians performed on stage. The paintings were auctioned off at the end of each show.
Cloud Cult also became known for its environmentally friendly philosophies. Craig Minowa started his own label, Earthology Records, which he opened on his organic farm. The label adopted an entirely green approach to business, using only recycled materials, receiving power from geothermal energy, and donating their profits to environmental charities. Tragedy struck in 2002 when Minowa's son suddenly died. Minowa grieved heavily, and spent time writing numerous songs about love and loss during his very reclusive state. When Cloud Cult resumed touring, they had an impressive new collection of deep and introspective songs.
The current lineup of Cloud Cult consists of Craig Minowa, Arlen Peiffer, Shawn Neary, Shannon Frid-Rubin, Sarah Elhardt-Perbix, Connie Minowa, Scott West, and Dan Zamzow. Together, this group of musicians has become one of the most influential environmental groups in the world. They have appeared in commercials for energy companies and have contributed their talents to various charitable organizations, all of which adhere to Cloud Cult's philosophy of bettering the world through green lifestyles and philanthropic work. While Cloud Cult may not be a household name, their wildly dedicated fans know how big of an impact this talented group has had on not only music, but also on the environment.
Now you have the chance to see Cloud Cult put on one of their exciting and mesmerizing performances in concert by heading to StubHub today! Thanks to StubHub, getting tickets to the hottest concerts of the year has never been easier! So make your way to StubHub and grab your Cloud Cult tickets right away!
Greatest Hits
Cloud Cult has released 12 studio albums over the course of their career, many of which have received incredible critical acclaim and high praise from fans. The band's grassroots approach to music has earned them a phenomenally devoted fan base over the years, and their concerts are always packed with eager and excited music lovers. Since Cloud Cult's concerts tend to sell out quickly, make sure that you grab your tickets to one of their upcoming shows while they're still available! Head to StubHub today to secure your tickets in just a few simple clicks!
Trivia
Cloud Cult's Earthology Records was the very first green record label to come into existence.
The Experience
Whether you are an avid Cloud Cult fan or just want to see an unforgettable show, you definitely shouldn't miss seeing this experimental indie band perform live this September. Cloud Cult has garnered an extremely dedicated fan base throughout the years thanks to their grassroots approach to music, and they have been one of the few bands to stay true to their creative direction instead of signing onto a commercial record label. So make sure that you are in the audience when Cloud Cult steps out on stage at one of their upcoming shows and grab your tickets on StubHub today!
Back to Top