We didn't find anything nearby, but here's what's happening in other cities.
There aren't any events on the horizon right now.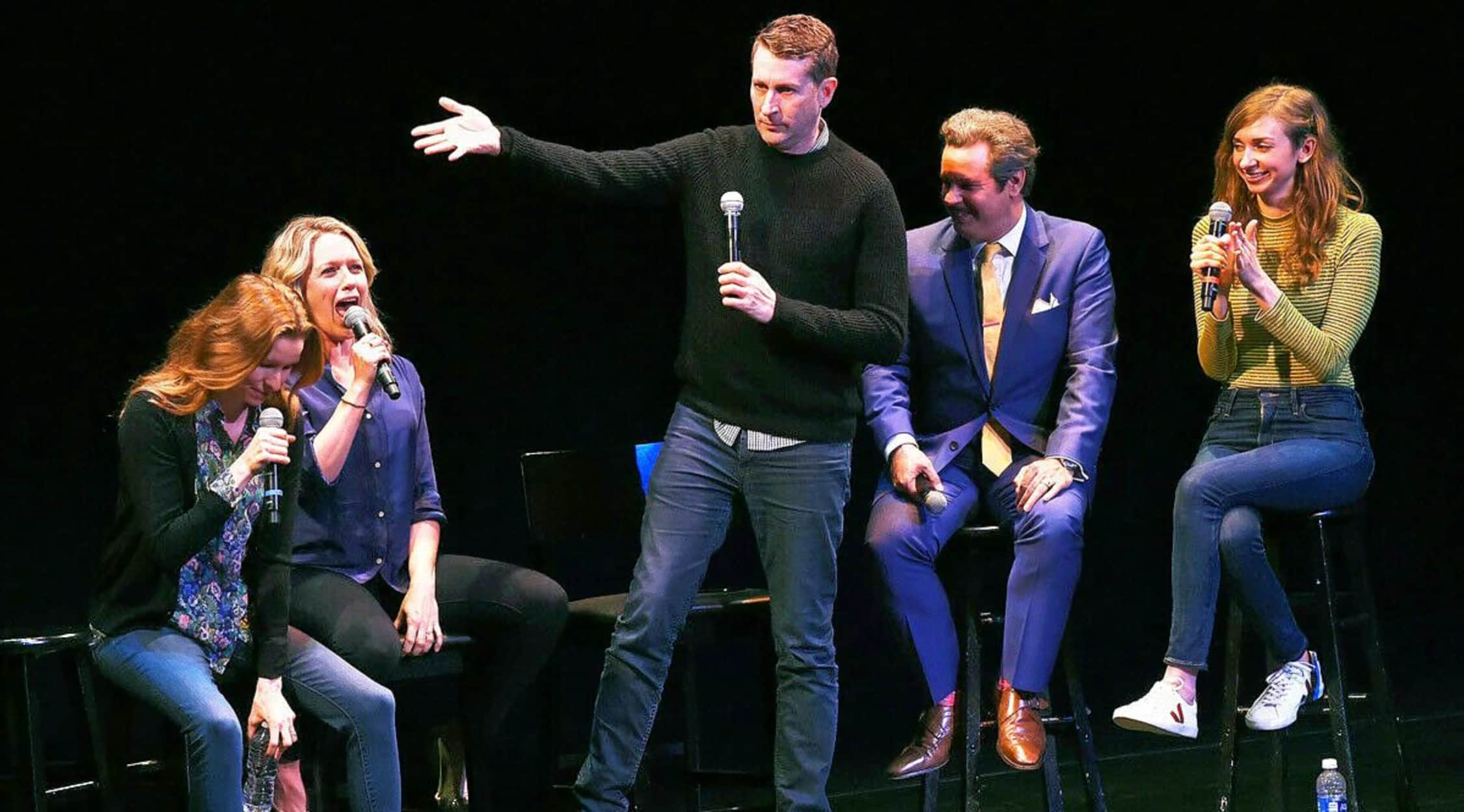 Comedy Bang Bang
Comedy Bang Bang Tickets
Comedy Bang Bang Plot
They say that laughter is the best medicine, but the world of comedy isn't something that you can have someone prescribe for you. Only you know whether you're in desperate need of some laughs or not. Well if the stress of work is finally getting to you and you just want some respite from the constant buzzings of your cellphone to keep your mind away from the coming onslaught in your inbox on Monday, be sure that you take a look at StubHub to see which of the funniest comedy shows coming to your area you'll have the chance to enjoy! For all of the laughs you're after, get your tickets early to experience Comedy Bang Bang on the stage so that you can have a hilarious evening out that you won't soon forget! Established as a talk show between Scott Aukerman, his musical guest (formerly Reggie Watts, not "Weird Al" Yankovic), and a series of inanimate objects on the stage that are capable of sentient thought, Comedy Bang Bang has quickly become a must-see show for anyone with an interest in the comedy world! Whether you can't stop laughing at things that the talking couch has to say or if you can't get enough of characters like Don Dimelo, El Chupacabra, Bob Ducca, Lil' Gary, Huell Howser, and the Cake Boss, chances are you'll have a great time out experiencing Comedy Bang Bang on the stage! Don't miss this chance to explore the comedy world by getting your tickets through StubHub while you can still find them to this popular show!
Comedy Bang Bang Schedule
If you've already taken a look at the hottest upcoming concerts, stage shows, and sporting events in your area and you've decided that a comedy production is going to be the best fit for you and your friends, be sure that you come and enjoy Comedy Bang Bang on the stage when it opens next near you at The Theatre at the Ace Hotel in beautiful Los Angeles, California or when it comes to be performed next on a stage in your area at Fletcher Hall at The Carolina Theatre Durham in Durham, North Carolina! There are a lot of fans of this show that are eager to get out there and experience Scott Aukerman's humor in person, so make sure that you arrive at the theater with your tickets ready to go or you may be disappointed to discover when this show is entirely sold out! Don't miss your chance to laugh at your favorite figures from the world of television, get your tickets to attend Comedy Bang Bang today!
Comedy Bang Bang Cast
Such hilarious celebrities and guests have been featured on Comedy Bang Bang as Paul F. Tompkins, "Weird Al" Yankovic, Reggie Watts, Aimee Mann, Jon Hamm, Aziz Ansari, Adam Scott, Patton Oswalt, Seth Rogen, Thomas Lennon, Zach Galifianakis, Ben Stiller, David Cross, Bob Odenkirk, St. Vincent, Sarah Silverman, Amy Poehler, James Adomian, Michael Cera, Tim Heidecker, Nick Kroll, Loudon Wainwright III, Matt Besser, Kevin Nealon, Andy Daly, and others! Bringing in more and more hilarious celebrities with each new season, Comedy Bang Bang continues to draw in even more fans. If you're hoping to see the live performance of this show when it comes to a stage in your area, you're going to want to get your tickets early so that you can ensure that you'll get in to this non-stop laughfest! Don't miss out on your chance to enjoy this show, buy your tickets today!
Comedy Bang Bang Author
They say that laughter first evolved as a method by early man to let others know that there was no danger present. While a rustling in the bushes could signal an attack by a jaguar or a saber-toothed tiger, discovering that instead the rustling was caused by two amorous warthogs would have prompted laughter to signal to others that everything was okay. Of course, the world of humor has come a long way since discovering amorous warthogs in a bush (though some would argue otherwise). With an established industry dedicated to humor, the role of jokes today are more rooted in exposing hypocrisies in our culture and glaring observations for things that aren't generally publicly addressed by society. Humor exists to say what most people in normal circumstances cannot. Thankfully, there are those in our society who have dedicated their lives to making us laugh, giving their fans the chance to think a little bit more about the world around them in a way that they may not have before. If you're at all interested in heading out to see a stage show this weekend that'll be sure to leave you in tears from laughing so hard, make sure that you take advantage of this opportunity to see the live stage version of Comedy Bang Bang while you still have the chance! If you can't get enough of the hilarious podcast Comedy Bang Bang or the accompanying show that's now on its fifth season, know that you have the great opportunity to see a live production by Scott Aukerman and the other comics that have made Comedy Bang Bang such a fan favorite! Getting his start on Mr. Show with Bob and David, Scott Aukerman would gain plenty of attention in the entertainment world as one of the co-founders of the Comedy Death-Ray show at the Upright Citizen's Brigade Theater. Translating his skills from the stage to a podcast and then to the screen, he's been able to garner plenty of fans with his off-beat sense of humor! Come and enjoy all that Comedy Bang Bang has to offer by getting your tickets to this show early while you can still find them!
Comedy Bang Bang Trivia
Q: When did the original podcast of Comedy Bang Bang first hit the proverbial airwaves for fans to enjoy?
A: The first airing of the podcast Comedy Bang Bang was first released on May 1, 2009.
Q: When did the television adaptation of Comedy Bang Bang first air?
A: The television adaptation of Comedy Bang Bang first aired on June 8, 2012 on the IFC network.
Back to Top