COSI FAN TUTTE - NEW YORK
Cosi Fan Tutte - New York
Cosi Fan Tutte - New York Tickets
We didn't find anything nearby, but here's what's happening in other cities.
There aren't any events on the horizon right now.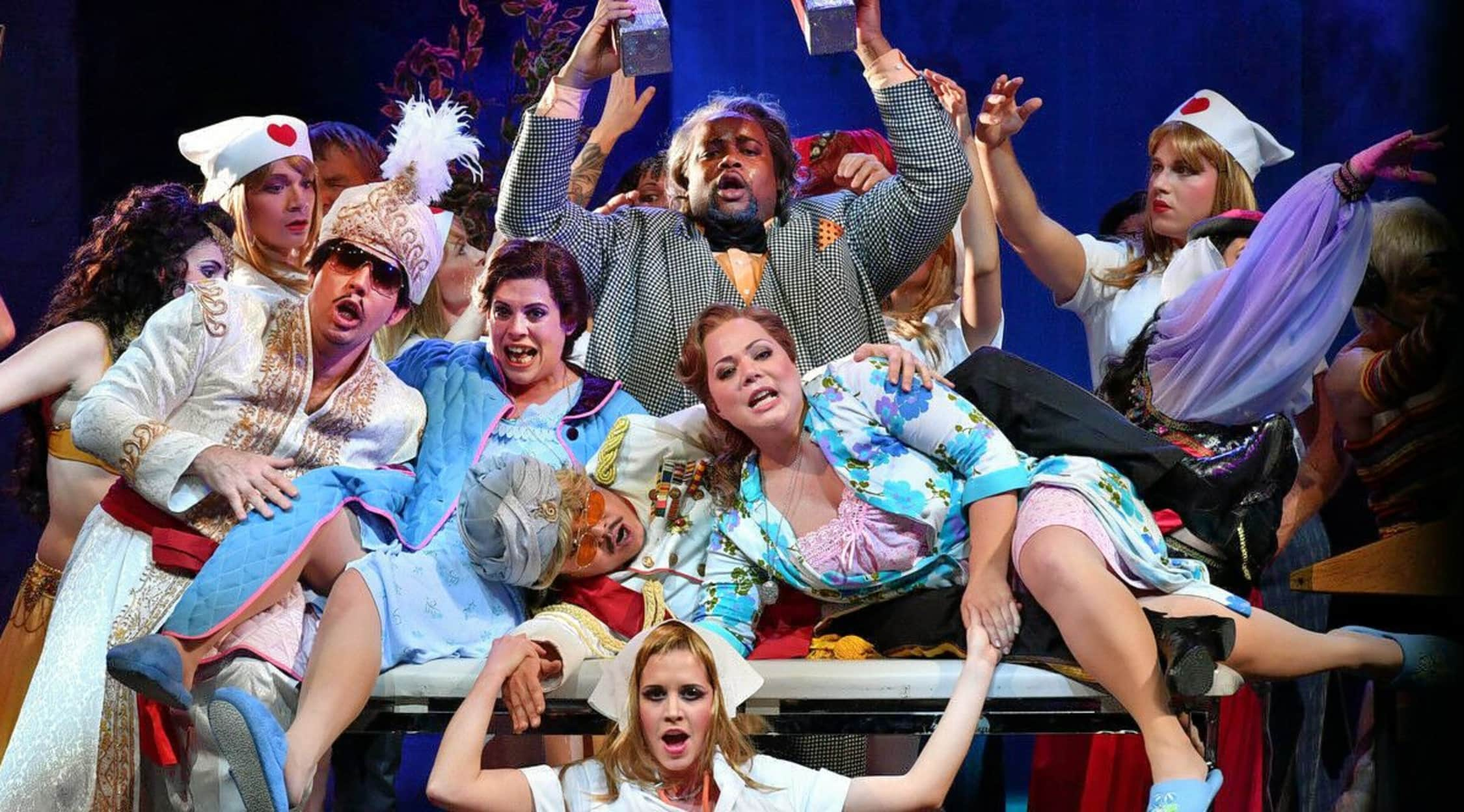 Alamy
Cosi Fan Tutte - New York Tickets
Cosi Fan Tutte New York Plot
When's the last time your family took in a little bit of culture? Sure, you can go and visit a museum or two to start to get the ball rolling, but unless you're constantly feeding your head with new types of art, you might be tempted to go back to the television set. Well why not go and see an opera this weekend to keep your streak of culture running throughout the week? That's something that's easier said than done when it comes to picking which show to go and see. There are plenty of operas that have been written over the years, but which one deserves your full attention for the several hours that you'll be there? Why, Cosi Fan Tutte of course! Cosi Fan Tutte follows the story of two soldiers as they get in an argument about whether or not their girlfriends (who are sisters) will be faithful to them if they're ever called away to war. So they make a wager and dress up as "Albanians" to appear as completely different men, and work to seduce each other's girlfriend. While it takes a lot of prodding and flirtation, the girlfriends eventually consent to marry the Albanians (who are actually their boyfriends in disguise).
Watch and see how this exciting story unfolds as the soldiers learn what it means to be faithful to the one you love and for the girls what it means to stay committed. Don't miss out on your chance to see this amazing opera when it comes to the stage next! Get your tickets to see Cosi Fan Tutte today! Even if you're not in the mood to see Cosi Fan Tutte, StubHub still gets you access to the hottest upcoming concerts, stage shows, and sporting events, so no matter what you end up doing this weekend, you're practically guaranteed to have a good time! Just don't waste any time standing in line at the box office when access to your tickets are just a few clicks away! All you need to access StubHub is a computer and an internet connection, so your entire city's entertainment is open to you to look for tickets no matter where you are! Rush out and get your tickets to Cosi Fan Tutte today and make all of your friends jealous!
Cosi Fan Tutte New York Schedule
Were you planning on being in your seat to see Cosi Fan Tutte this weekend when it opens for the stage? Great! But if you plan on being at the Metropolitan Opera in New York City, why not take the time to go and see some of the beautiful sights and sounds that surround this venue? After all, you're in the Big Apple! Having any excuse to be in America's greatest metropolis should be more than enough to motivate you to get out and see everything there is to be seen! Why not take a trip down to Central Park for a traditional carriage ride and enjoy one of the more touristy pleasures that New York has to offer? Or come and visit the new Freedom Tower and see what a modern marvel of human engineering looks like! Whether you plan on seeing some of the historical sights like Washington Square Park or Wall Street or just having a lazy day in SoHo, you can't go wrong when it comes to visiting New York City! Just make sure that once you've seen all you came to see and picked up all the souvenirs you need for your friends back home that you're in your seat at The Met waiting for the curtain to go up on Cosi Fan Tutte. Don't miss out, get your tickets through StubHub today!
Cosi Fan Tutte New York Cast
The cast of Cosi Fan Tutte is put through a serious vetting process before even the first rehearsals go forward to make sure that each vocalist is the proper one for the role. When it comes to classical opera, there's no room for mistakes and so only the most professional of singers is chosen to work on a show like this. For performers, Cosi Van Tutte isn't an easy show to do given the many different character roles there are to fill, like Fiordiligi, Dorabella, Guglielmo, Ferrando, Despina, and Don Alphonso. Don't miss out on your chance to see all of these characters being played as they were originally intended when you get your tickets to see Cosi Fan Tutte today!
Cosi Fan Tutte New York Author
Cosi Fan Tutte was written by Lorenzo Da Ponte. Though Wolfgang Amadeus Mozart is of course credited with the music, Lorenzo Da Ponte wrote the libretto for the opera. Da Ponte is actually famous for his involvement in Wolfgang Amadeus Mozart's other two most famous operas, Don Giovanni and The Marriage of Figaro. Though he was celebrated in his time, after the death of his benefactor Emperor Joseph II, he was left without a patron to fund his work and had to find a job elsewhere as King Leopold took no interest in his writing. Come and see all that this classic opera has to offer when yo uget your tickets to see Cosi Fan Tutte when it opens for the stage near you!
Cosi Fan Tutte New York Trivia
Q: When was Cosi Fan Tutte first performed for the stage?A: Cosi Fan Tutte was first performed for the stage in 1790.
Q: Which monarch is alleged to have commissioned Cosi Fan Tutte?
A: Allegedly, Emperor Joseph II commissioned Cosi Fan Tutte for his own entertainment.
Back to Top
Epic events and incredible deals straight to your inbox.