We didn't find any Events nearby, but here's what's happening in other cities.
1 Event within 150 miles from you
Dailey and Vincent tour venues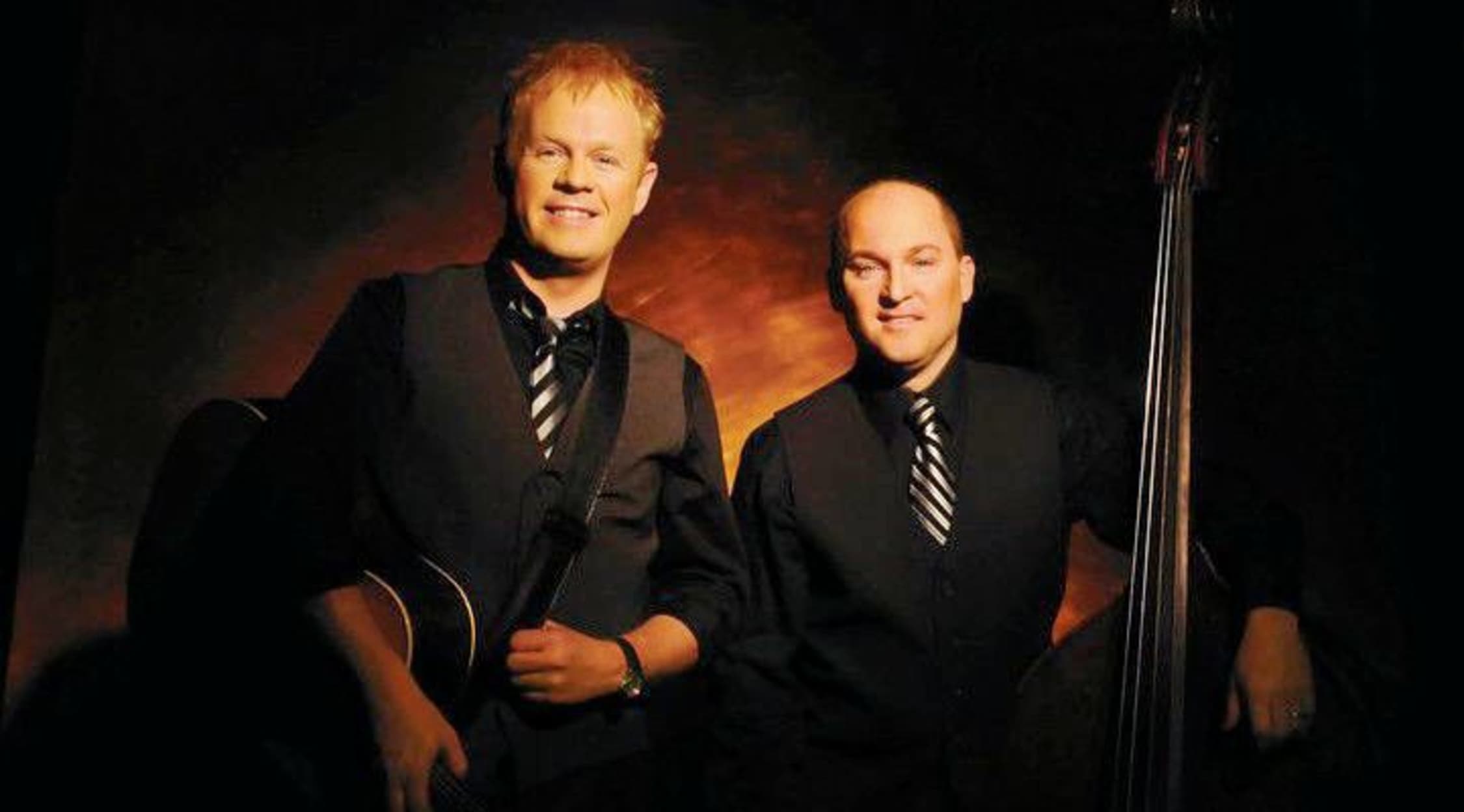 Rovi
Dailey and Vincent Tickets
Dailey & Vincent – The 2015 Tour
The most exciting and durable collaboration in twenty-first century bluegrass music is back and better than ever, bringing their extensive and impressive list of lively hits to a stage in your part of the world. Don't miss these virtuoso string players when Dailey & Vincent arrive at a premier location in your area, including: Surprise, Scottsdale, and Tucson, AZ; Lima, Nelsonville, Wooster, Chillicothe, and Kent, OH; Chicago, IL; Western Caribbean, Englewood, Palm Beach, and Palatka, FL; Asheville, Cherokee, Marion, Manteo, Stuart, and Snow Camp, NC; Stanardsville, Alexandria, Virginia Beach, and Rocky Mount, VA; Fulton, MS; Ashland, Lancaster, Grayson, Renfro Valley, and Glasgow, KY; Morristown, Gray, and Pigeon Forge, TN; Branson, Lebanon, Steelville, Chillicothe, and Conway, MO; York, New Enterprise, Hershey, and New Holland, PA; Elkins, Summersville, Cottageville, and Milton, WV; Austin, TX; Denton, MD; Morgantown, Shipshewana, and Odon, IN; Hiawassee and Bremen, GA; Lyons, CO; Egg Harbor, WI; Milan, MI; Somerville, MA; New Richmond, QC; Fort Fairfield, ME; and Myrtle Beach, SC. Clearly Dailey & Vincent live for the live circuit, so if you do not see them coming to a city near you in the near future, have no fear. Dailey & Vincent will surely be adding new stops to their busy and entertaining touring schedule soon enough, and when they do, StubHub will have all of the necessary concert ticket and venue information that you require. So set up an alert to keep up to date on all of the latest news on Dailey & Vincent right here on StubHub –your number one source for concert information and tickets on the web!
Whether the inimitable Dailey & Vincent is bringing you their highest energy string talent and most soulful bluegrass ballads to premier theaters (the Starlite Theatre in Branson, the Blue Gate Theater in Shipshewana, the Meramec Music Theatre in Steelville, the New Barn Theater in Renfro Valley), the most happening and downhome festivals (the Virginia Beach Gospel Fest, the Outer Banks Bluegrass Fest in Manteo, the Dailey Vincent Land Fest in Denton, the County Bluegrass Fest in Fort Fairfield), or the most renowned and well-appointed concert halls (Johnny D's in Somerville, the Simon J. Graber Community Building in Odon, the Peg Egan Performing Arts Center in Egg Harbor, Dollywood in Pigeon Forge), the incomparable duo will give you an amazing show that you most certainly do not want to pass up. Don't let your chance to witness one of the most incredible and well-balanced bluegrass collaborations of the new millennium live and in the flesh – get your tickets today!
About Dailey & Vincent
One of the best bluegrass duos of the new millennium, Jamie Dailey and Darrin Vincent would already be well-regarded session bluegrass players and band members before finally collaborating. Dailey had previously worked with Doyle Lawson & Quicksilver as the lead singer and guitarist, and Vincent would have been a long-time member of Kentucky Thunder with Ricky Skaggs. Vincent's musical pedigree also involves is bluegrass star sister, Rhonda Vincent. Dailey and Vincent would first meet up in 2001, quickly discovering that their high tenors meshed together perfectly. They would be signed by Rounder Records and have released six acclaimed albums to date.
Previous Hits
Dailey & Vincent's self-titled debut album would rise to number fifty-seven on the Country Albums chart. This album would see the two musicians break out of their session status as bluegrass musicians who deserve the spotlight. They would demonstrate their technical mastery of the traditions in such a way that brings out the true beauty of this American musical heritage.
2009's Singing From The Heart would be a number seven bluegrass album. Some of the album's highlights include "Hide Me, Rock Of Ages" by Bratley C. George, "I Am Resolved" by Palmer Hartsough, and the traditional "Moses Smote The Water". Later that year, Brothers From Different Mothers would top the Top Bluegrass Albums chart. The duo would come into their own with a natural camaraderie and well-matched tenor vocals. Their masterful background instrumentals would be well balanced with their soulful harmonies, as exemplified by "Years Ago" by the Statler Brothers and "You Oughta Be Here With Me" by Roger Miller.
Their second album to top the bluegrass charts would be Dailey & Vincent Sing The Statler Brothers and would come out in 2010. It would be the duo's first to reach the Billboard 200, and their novel take on the classic Statler hits would result in the beautiful nostalgia that bluegrass was made for.
In 2012, Dailey & Vincent would come out with The Gospel Side Of Dailey & Vincent, which would be a Christian crossover hit. The album would remain at the top of the bluegrass charts and at number three on the Christian charts for two years, as well as rising to number sixty-one on the Billboard 200. Highlights from the album include their original tunes "Until At Last I'm Home" and "Living In The Kingdom Of God".
2013's Brothers Of The Highway would stay high on the bluegrass charts at number two for two years. This album would show that Dailey & Vincent are only becoming more musical and technically accomplished every year. Their string playing would be brighter and more graceful than ever before, and their vocal harmonies would be wonderfully nuanced.
Trivia
Dailey & Vincent's Statler Brothers cover album and gospel album would only be sold at locations of the Cracker Barrel Old Country Store.
The Dailey & Vincent Concert Experience
Get out your boots, neckerchiefs, or whatever bluegrass country outfit you prefer, and prepare yourself for an epic night of string-based bluegrass mastery. After decades of performing and recording as solo artists, Dailey & Vincent have come together to bring you their incredible catalog of new millennium bluegrass hits right to your ears. Whether they are strumming out their latest and greatest new tracks or bringing it back with some of their earlier hits from their eponymous 2008 album, Dailey & Vincent will always give you a bluegrass concert experience that you simply cannot afford to miss out on. Be a part of something truly American – start planning your Dailey & Vincent concert experience today!
Back to Top