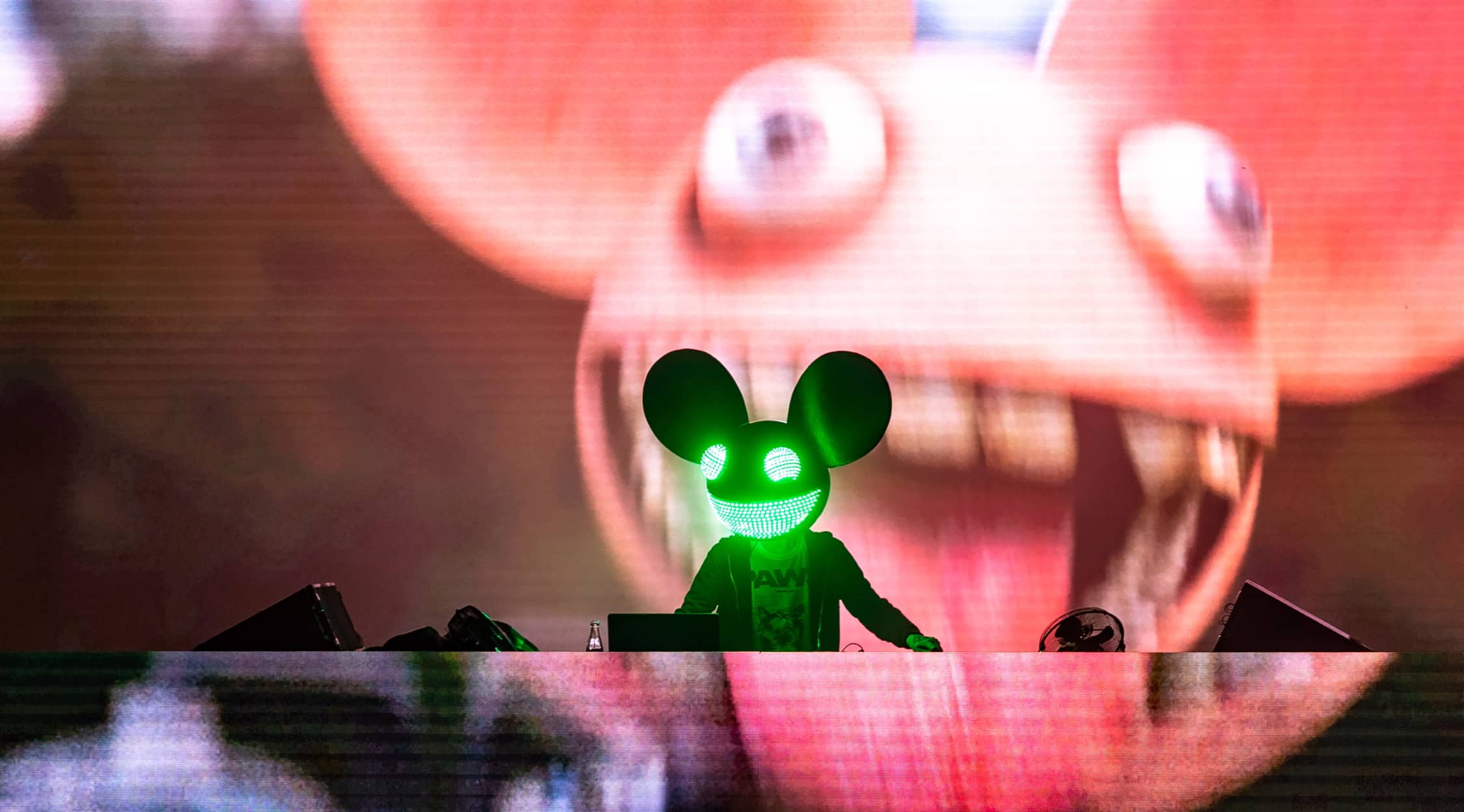 Zuma Press
Deadmau5 Tickets
Deadmau5 Tickets
A producer of electronic house or dance music, Joel Zimmerman's work has been included in various compilation albums and films. Although he had produced a single some years prior to 2005, his first solo album came with the release of Get Scraped. Previously, this Canadian artist worked as a DJ. After his first solo album, he continued to work on his solo career, with Vexillology hitting the scene in 2006. Thanks to the success of these first two albums, Deadmau5 got his mainstream EDM breakthrough in 2008 with Random Album Title. The work went gold in Canada and silver in the UK. With only brief breaks in between, he has released eight studio albums as of 2016.
The Mau5 Persona
Zimmerman received an electronic keyboard for Christmas one year, and he promptly began playing around with various sound effects and demo tunes, creating his own unique sounds and beats. Although he started creating chiptune tracks in the late '90s, he began working online as a programmer for a music licensing company. While working on his personal computer one day, Zimmerman found that a mouse had somehow crawled inside and died. This occurrence sparked the idea for the stylized "Deadmau5" stage name, and the rest is history.
Where can I buy Deadmau5 tickets?
You can purchase Deadmau5 concert tickets at StubHub. Renowned as the largest online ticketing venue, StubHub allows you to purchase tickets through its online portal or its convenient mobile app, and the FanProtect guarantee ensures all ticket sales are secure and protected.
Is there a Deadmau5 tour planned?
Deadmau5 is currently conducting a tour that is expected to go through the 2020 concert season.
Is Deadmau5 performing near me?
Deadmau5's current Cube V3 live tour crosses several countries and includes a variety of large and small venues. Several venues in the UK have booked Deadmau5 performances, and he will make a stop in South Korea as well. Once finished with his Cube V3 tour, he has planned a US concert schedule that includes locations in Texas, California, Arizona and Colorado.
What can I expect from a Deadmau5 setlist?
Setlists for Deadmau5 live events can vary, but fans can expect to hear some of his most popular work no matter which concert they choose to attend. Notable songs you can usually expect to hear at every concert include tracks such as "Raise Your Weapon," "Tiramisu," "Strobe" and "The Veldt." Some other songs you might hear include "Ghosts 'n' Stuff," "Some Chords," "Not Exactly," "Hi Friend," Monophobia" and "Faxing Berlin."
What is a Deadmau5 live concert like?
Deadmau5's main specialty is creating electronic music, and his usual niche within this category is progressive house music. Although many subgenres within the electronic music scene can blend together, progressive house usually includes notable elements of drum rolling and anthemic choruses throughout. Deadmau5's particular brand and style make his live events loud, raucous and frequently exciting. These performances sometimes include the use of special stage lighting or effects to enhance the music and give everything a rave party atmosphere.
Has Deadmau5 received any awards or nominations?
Over the course of his musical career, Deadmau5 has been the recipient of six Grammy nominations in various categories. Awards that he has won include several categories of the Beatport Music Awards, DJ Awards and International Dance Music Awards.
What other artists has Deadmau5 worked with?
Zimmerman usually works with performers who create the same kind of electronic music. In the past, he has collaborated with producer and electronic music artist Wolfgang Gartner. His breakthrough Random Album Title includes a collaboration with fellow artist Kaskade titled "I Remember."
Back to Top