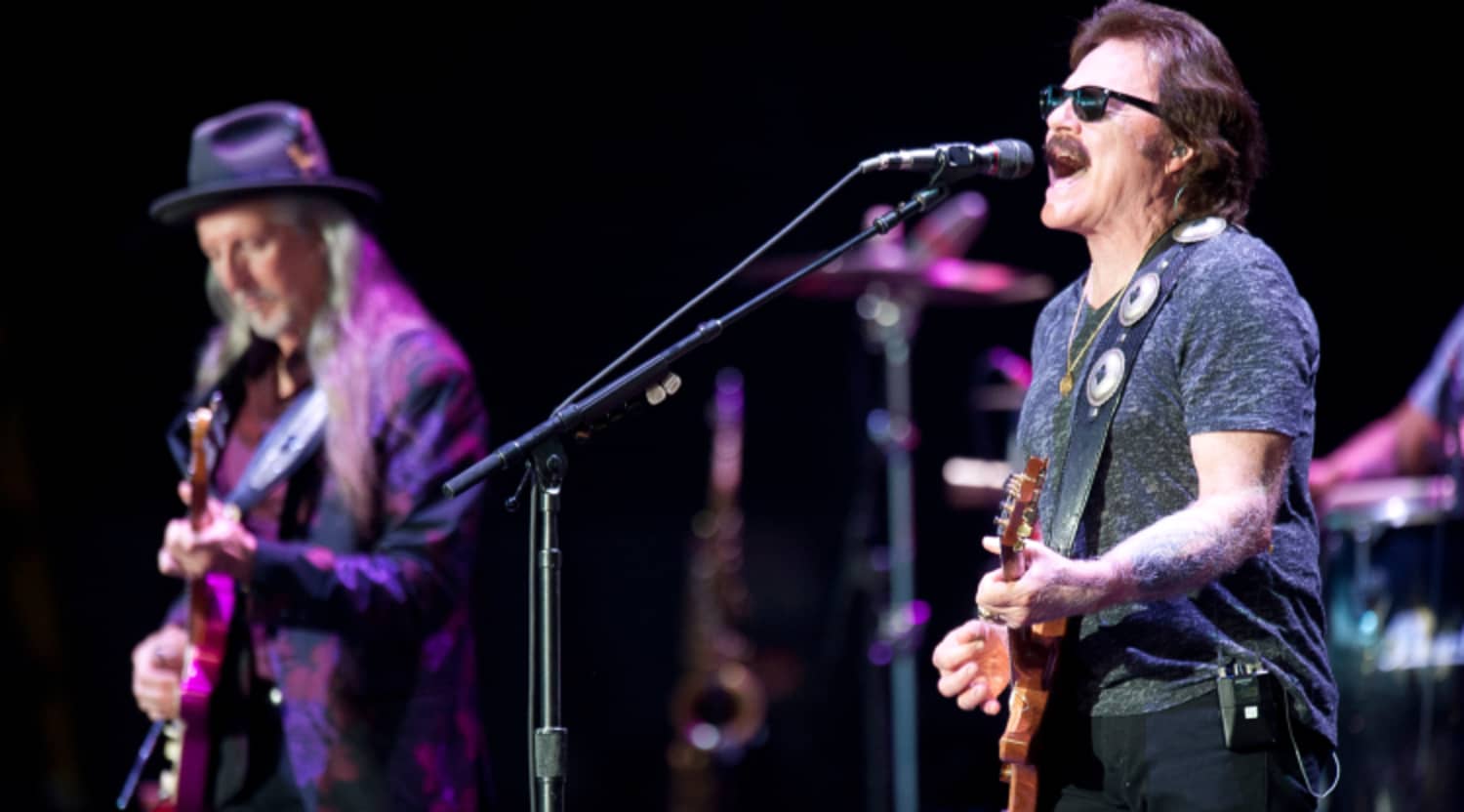 Zuma
Doobie Brothers Tickets
Doobie Brothers Tickets
The Doobie Brothers, sharing the spotlight with Santana on their 2019 North American tour, offer their Doobie Brothers: Live From the Beacon Theatre album for sale with an exclusive metallic ink lithograph for fans. The Doobie Brothers, a rock band from San Jose, Calif., reached their pinnacle during the '70s. From 1970 to 1975, Tom Johnston sang rock and roll mixed with folk, country and R&B. Michael McDonald replaced Johnston with soul music in 1975 and remained lead vocalist until the band broke up in 1982. In 1987, the Doobie Brothers reunited.
Takin' It to the Streets
In 1976, the Doobie Brothers still emphasized vocal harmonies, but they released the light jazzy platinum album Takin' It to the Streets. After Minute by Minute held No. 1 on the charts for five weeks in 1979, they released One Step Closer in 1980. Then, the Doobie Brothers announced their final "Farewell Tour" in 1982. Not able to stay away for good, the Doobie Brothers lead singer Michael McDonald and Jennifer Nettles joined Hillary Scott of Lady Antebellum to play together at the 48th annual CMA Awards in the Bridgestone Arena during November 2014 in Nashville, Tenn.
Where can I buy Doobie Brothers tickets?
Buy your Doobie Brothers tickets online at StubHub to get your choice of seats and a premium parking space for the event. Your tickets will be immediately transmitted through your email.
Are there Doobie Brothers concerts near me?
The Doobie Brothers, touring the United States during 2019, will perform at the Bethel Woods Center for the Arts in Bethel, N.Y.; Northwell Health at Jones Beach Theater in Wantagh, N.Y.; Hollywood Casino Amphitheatre Tinley Park in Tinley Park, Ill.; Riverbend Music Center in Cincinnati, Ohio; Spectrum Amphitheatre in Bakersfield, Calif.; and Majestic Theatre San Antonio in San Antonio, Texas. Look for Doobie Brothers concerts near you at StubHub.
What are some popular Doobie Brothers songs?
A few of their most popular albums are Livin' on the Fault Line released in 1977, Rockin' Down the Highway: The Wildlife Concert released in 1996, Sibling Rivalry from 2000 and Looking to the East released in 2013. "When You're in Love With a Beautiful Women," "Black Water," "25 or 6 to 4," "Lotta Love," "Takin' It to the Streets," "China Grove" and "Jesus Is Just Alright" are some timeless Doobie Brothers' singles.
What's on Doobie Brothers' 2019 - 2020 concert agenda?
Playing as they did 50 years ago at the Woodstock Music Festival, Carlos Santana and the Doobie Brothers played their guitars just as powerfully in their 70s as they did in their 20s. After "Soul Sacrifice," they joined forces for two hours to play "Oye Como Va," "Black Magic Woman," "She's Not There," "Spill the Wine" and "Shotgun." The Doobie Brothers Tom Johnston and Carlos Santana played "Evil Ways/A Love Supreme," "(Da Le) Yaleo," "Put Your Lights On," "Gypsy Queen," "Hope You're Feeling Better," "Love of My Life," "Breaking Down the Door," "In Search of Mona Lisa" and "Maria Maria." For an encore, they impressed with "Smooth" and "Love, Peace and Happiness."
How many awards have the Doobie Brothers won?
The Doobie Brothers have won two Grammy Awards: Pop Vocal Performance by a Group for their album Minute by Minute and Song of the Year for "What a Fool Believes." Minute by Minute was also nominated for Album of the Year but lost out to Billy Joel's 52nd Street. The Doobie Brothers were inducted into the Vocal Group Hall of Fame in 2004.
Which artists are similar to the Doobie Brothers?
Fans of the Doobie Brothers may also enjoy Sugarland, Bad Company and Celine Dion.
Find out more about the upcoming Doobie Brothers 2020 tour
Curious as to whether the Doobie Brothers' 50th anniversary tour will be coming to a city near you? Check out Live by StubHub's article 'Doobie Brothers and Michael McDonald Reunite for 50th Anniversary Tour'.
Back to Top
Epic events and incredible deals straight to your inbox.