There aren't any Events on the horizon right now.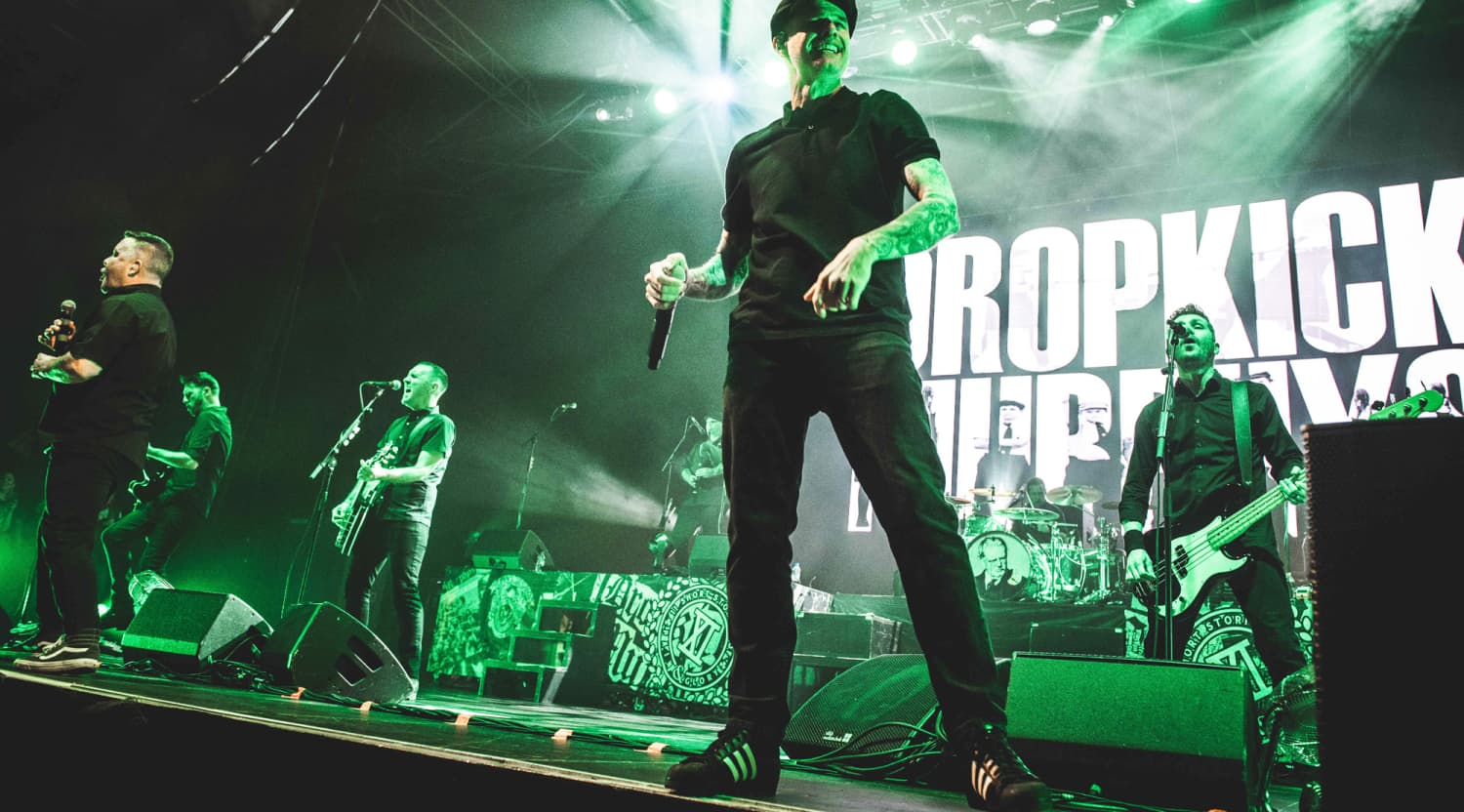 Zuma
Dropkick Murphys Tickets
Dropkick Murphys Tickets
Formed in 1996 in Quincy, Mass., Dropkick Murphys is a unique blend of Celtic and punk music, and fans love the band for its energetic and loud shows. The band members began their career doing constant touring and performing annual St. Patrick's week shows yearly in the Boston area. In 2004, the band released "Tessie," and it became its first mainstream hit. Dropkick Murphys had the song "I'm Shipping Up to Boston" featured in 2006's Academy Award-winning movie, The Departed, which became the band's first platinum-selling single. They have had three albums in the Top 10 and are also known for their political activism and volunteer work.
Dropkick Murphys: From Barbershop Basement to Bosstones Openers
Dropkick Murphys got their start playing in a barbershop basement that belonged to a friend of theirs. They began to play at small places after this but got their serious break when the Mighty Mighty Bosstones asked them to be their opening act during their 1997 tour. Subsequently, Dropkick Murphys released a series of EPs and caught the attention of Hellcat Records, which soon signed them. After some initial success, the Dropkick Murphys' original lead singer, Mike McColgan, left because he did not have the same passions for the political stances and volunteerism the other members held to. Since they felt this activism was an inherent part of who they are as a band, they amicably parted ways. They recruited Al Barr, who at that point was the lead singer for The Bruisers, to become their lead singer, and he has gone onto become the voice of Dropkick Murphys. Continuing with its activism, in 2016, the band was awarded the Robert F. Kennedy Children's Action Corps' Embracing the Legacy Award to honor the years of charity work the group has done with military veterans and children.
Where can I buy Dropkick Murphys tickets?
To see the Dropkick Murphys in action, check out the world's leading ticketing marketplace, StubHub. It's simple to purchase tickets anywhere in the world with StubHub's mobile and desktop platforms.
How long is a normal Dropkick Murphys concert?
Dropkick Murphys concerts usually last between one hour and 90 minutes.
Where are the Dropkick Murphys concerts playing?
Dropkick Murphys have played at venues around the world and the band continues to tour every year. At StubHub, you can find concert dates near you.
What does a Dropkick Murphys setlist look like?
Dropkick Murphys has a setlist that includes its brand of Celtic punk as well as some traditional Celtic songs. They play favorites such as "Johnny I Hardly Knew Ya," "First Class Loser," "I'm Shipping Up to Boston," "The Boys Are Back," "The Walking Dead" and "Out of Our Heads." They also like to include Celtic classics such as "The Irish Rover."
Who are the members of Dropkick Murphys?
Dropkick Murphys' current members include lead singer Al Barr, bassist Ken Casey, drummer Matt Kelly, guitarist James Lynch, accordion and mandolin player Tim Brennan and banjo and mandolin player Jeff DaRosa. They have two current touring members as well that include bassist and guitarist Kevin Rheault and Lee Forshner on the bagpipes. Former members include Jeff Erna, Mike McColgan, Rick Barton, Spicy McHaggis, Ryan Foltz, Marc Orrell, and Scruffy Wallace. Former touring members include Joe Delaney, Mark Geanakakis, and Stephanie Dougherty.
Where did the name Dropkick Murphys come from?
People have two theories as to where the Dropkick Murphys got its name. The most accepted one is that the group took it from a wrestler named Dr. John "Dropkick" Murphy. The second theory is that they named themselves after an alcohol rehabilitation center near Boston owned by "Dropkick" Murphy.
What other bands are similar to Dropkick Murphys?
For music similar to Dropkick Murphys, check out Flogging Molly, The Dubliners and Social Distortion.
Back to Top
Epic events and incredible deals straight to your inbox.