There aren't any Events on the horizon right now.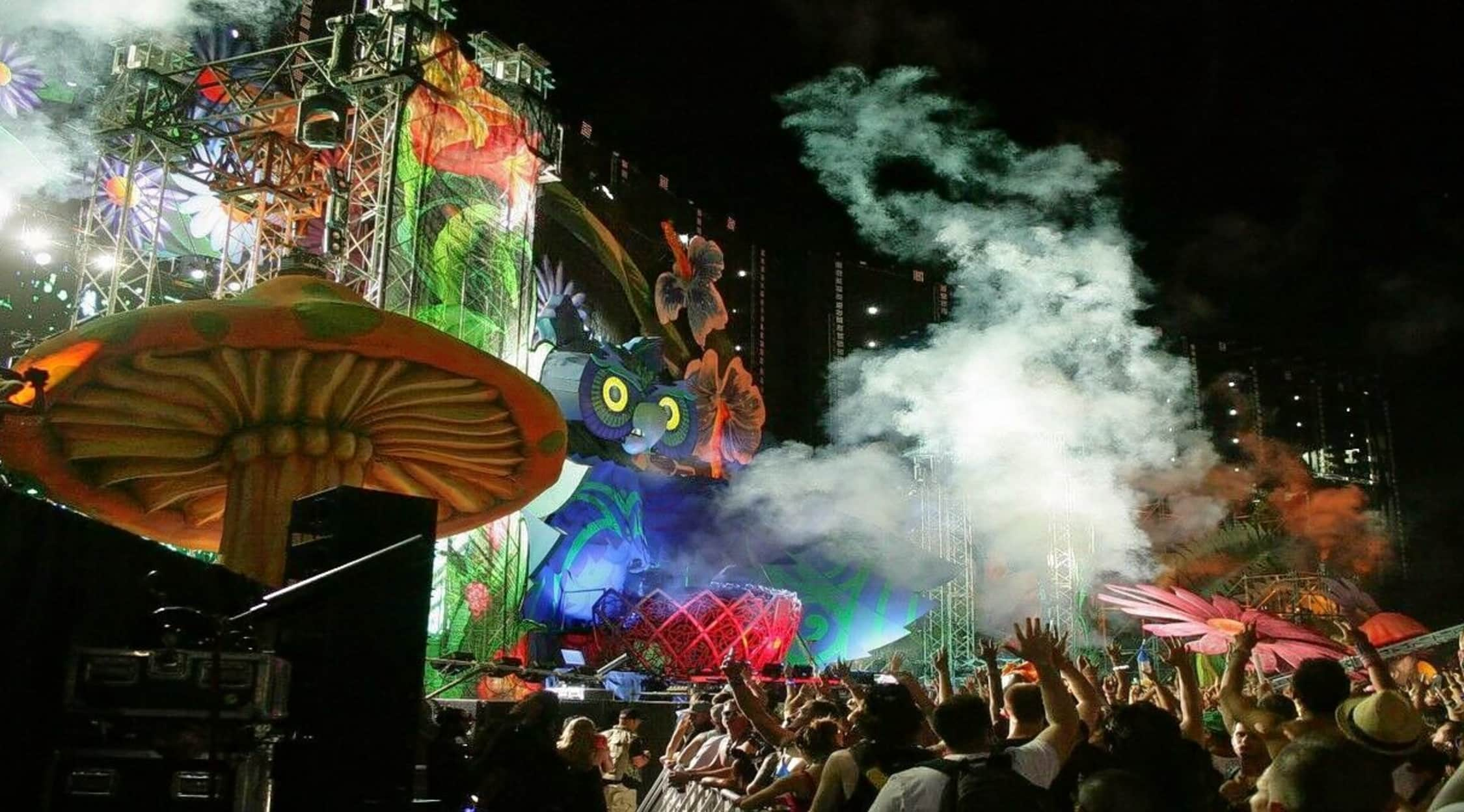 Alamy
Electric Daisy Carnival Tickets
Electric Daisy Carnival (or EDC) has long been the pre-eminent electronic music event in the US. EDC started as a rave, but over the years, has grown to a three-day festival with hundreds of thousands of attendees and big name performers, like DJ Khaled, Calvin Harris, Armin van Buuren, Kaskade, Afrojack, and Martin Garrix. In 2017, it was named the Festival of the Year at the Electronic Music Awards. Not too shabby for a festival that got its start as a rave in a warehouse. EDC takes place annually on the Las Vegas Speedway and even though music and dancing are the stars, it's about so much more than just a good time — Promoter Insomniac Events has also donated over $2 million to causes like the Nevada Childhood Cancer Foundation, Rock the Vote, and the Boys and Girls Club of Southern Nevada over the years. At the end of the day, the Electric Daisy Carnival is all about sharing love. If you're ready to take in an amazing festival, then snag your EDC tickets at StubHub today!
Electric Daisy Carnival FAQs:
What Is Electric Daisy Carnival's COVID Policy?
You can find up-to-date COVID policies for EDC here.
When Is Electric Daisy Carnival This Year?
The next EDC will take place from May 20, 2022 to May 22, 2022. There's always a chance EDC tickets will sell out, so be sure to get your passes early right here at StubHub!
Where is EDC Held?
Electric Daisy Carnival takes place at the Las Vegas Speedway every year. Much like Coachella or Stagecoach, most people camp out for the duration of the festival. This desert rave is a unique experience and a must see for anyone who loves electronic music and dancing.
Can I Sleep in My Car or Van During EDC?
No. Because of the desert heat, sleeping in cars can pose a health risk. However, you can stay in an RV, and Camp EDC offers a power hookup, RV water refills, and pump-outs (for an extra charge).
What Can I Expect at EDC?
The Electric Daisy Carnival brings some of the best DJ talent in the world together in one place. In addition to great music, it's a good idea to expect the unexpected at EDC. Food and beverage stands and the Insomniac Shop have everything festival-goers need. Water refill stations keep festival goers hydrated for free. The desert environment is hot during the day and cool at night. Pack layers and bring a water bottle. Hydration is key at EDC!
How Many Days Is EDC?
Electric Daisy Carnival is a three day event with performances held every day. Past performers have included Kaskade, Afrojack, A$AP Rocky, Steve Aoki, and Diplo.
Is There Food Available at Electric Daisy Carnival?
You bet! Food and beverage stands are located throughout the event, and if you just need a quick pick-me-up, you can find roaming vendors offering snacks and water. Plus, there are plenty of tasty vegetarian and vegan options available.
What Time Does Electric Daisy Carnival Start and End Each Day?
Electric Daisy Carnival starts at 5:00 PM with an opening ceremony. The full grounds open at 7:00 PM and will remain open until 5:30 AM, so expect some pretty late nights. Note that ins and outs are not allowed, so once you enter the grounds, be ready to stay.
What Is and Isn't Allowed at Electric Daisy Carnival?
There's a lot to know before you attend EDC, so be sure to study up here to ensure you have a smooth experience.
How Can I Find Affordable Electric Daisy Carnival Music Festival Tickets?
StubHub makes it easy to find the Electric Daisy Carnival tickets you want at a price you'll love. Simply set a price alert and we'll notify you the moment tickets in your budget are available.
Where Can I Purchase Electric Daisy Carnival Tickets?
You can buy EDC tickets right here at StubHub! We make it easy for you to get the best deal around. Set a price alert to find tickets in your budget and score the best tickets the moment they're available.
How Do I Sell Electric Daisy Carnival Tickets?
Can't make the event? We've got you covered. Just click right here, upload your tickets to StubHub, select a price with the help of our Pricing Assistant™, and then kick back and relax as buyers come to you. It's quick, easy, and secure, and you'll receive payment directly from StubHub.
How Much Are Electric Daisy Carnival Tickets?
Ticket prices vary, but typically, you can expect to find Electric Daisy Carnival tickets starting around $500.
What Happens if My Event Is Canceled?
If an event is canceled, we'll give you a StubHub credit for 120% of the amount you paid. You can use it for any live event on our site in the same currency.
Prefer a cash refund instead? No problem. Simply go to your StubHub Wallet and click the 'Request cash refund' button on the appropriate credit. We'll process the refund to your original payment method within 30 days. Read more about our event cancelation policy.
What Happens if My Event Is Rescheduled?
If an event is rescheduled or postponed, your ticket will be good for the new date. If you can no longer attend the event, you can relist your tickets and we'll waive the sell fee.
Back to Top