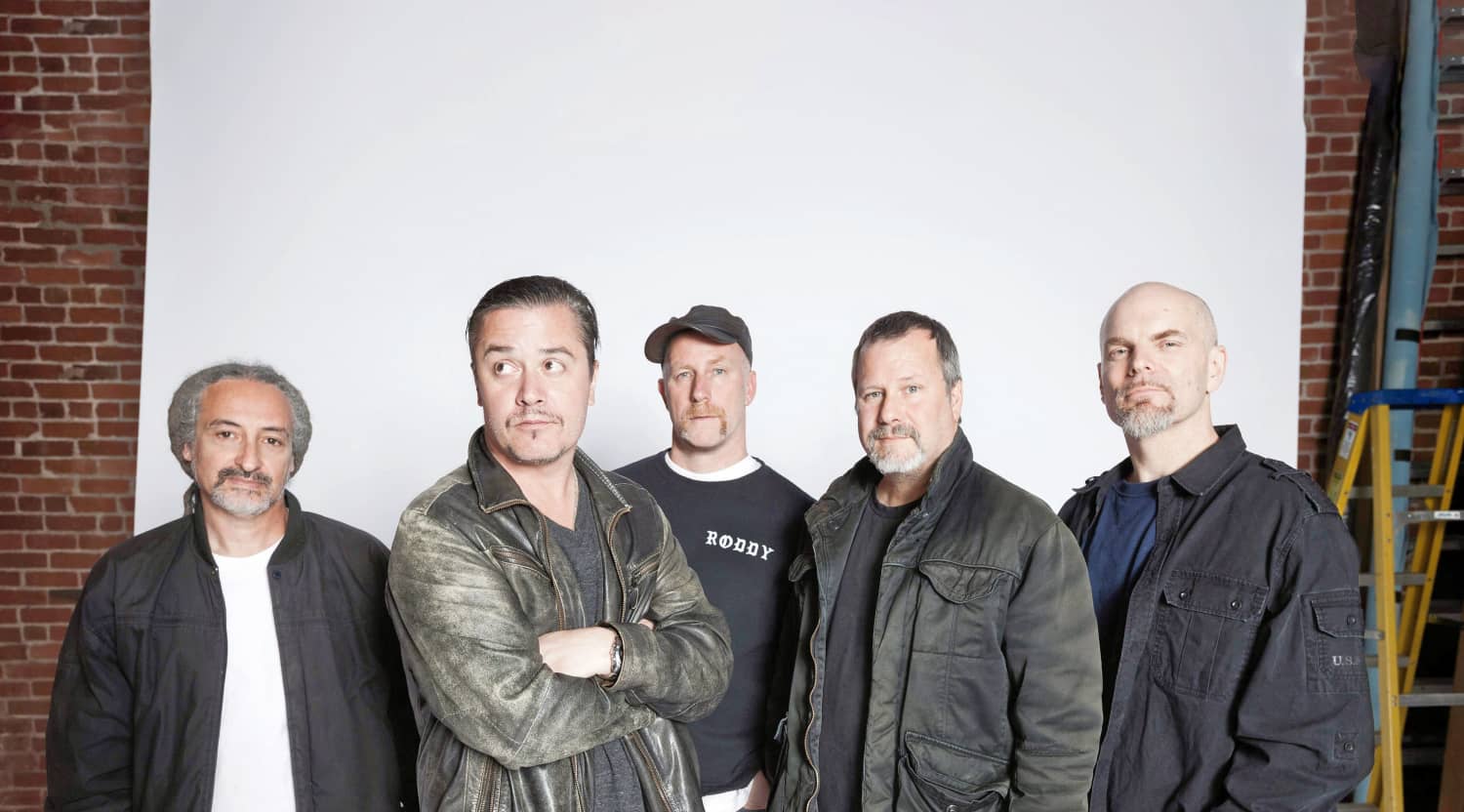 Rovi
Faith No More Tickets
Faith No More Schedule
Faith No More provide a killer live show that you do not want to miss. Whether they are rocking the biggest amphitheaters or the coolest dives, Faith No More are guaranteed to make memories to last a lifetime. Set a StubHub alert to score Faith No More tickets as soon as they are on sale!
About Faith No More
With their mixture of prog rock, hip-hop, funk, and heavy metal, Faith No More have won a sizeable cult following. Their 1985 debut album, We Care a Lot, featured the abrasive vocals of Chuck Mosley but was driven by the metallic guitar of Jim Martin. The band's follow-up, 1987's Introduce Yourself, was a more impressive and cohesive release; for the first time, the metal and rap elements started interacting intelligibly.
In 1988, Mosley was fired by the other members and replaced by Bay Area singer Mike Patton while they were recording their third studio album, The Real Thing. Patton was more skilled as a vocalist, able to switch effortlessly between singing and rapping, as well as bringing a much more bizarre twist to the lyrics. Besides the addition of a new vocalist, Faith No More had focused its attack and the product was the genre-defying hit "Epic", which proved their status as a major hard rock band.
It was not easy to follow up such a hit, however. The band's subsequent album was Angel Dust in 1992, one of the more confounding and complex albums ever issued on a major label. Although it enjoyed respectable sales, it did not have the crossover appeal of We Care a Lot. When Faith No More toured to support the release, tensions between Martin and the band began to escalate, and rumors began to circulate that his guitar had been deleted from some of the final cuts of Angel Dust. As the group was laying down its fifth full-length early in 1994, it was confirmed that the band had fired Martin.
Faith No More brought in guitarist Trey Spruance of Mr. Bungle for King for a Day, Fool for a Lifetime. During preparations for the supporting tour, Dean Menta replaced him. Menta lasted only for the duration of the following tour to be replaced by Jon Hudson for Album of the Year in 1997. After completing the supporting tour for the album, the band announced that they would be disbanding in April of 1998. Patton, who had earlier been the frontman of Mr. Bungle and had avant-garde collaborative projects with John Zorn, established a new group called Fantomas with guitarist Buzz Osborne (the Melvins), bassist Trevor Dunn (Mr. Bungle) and drummer Dave Lombardo (Slayer). Roddy Bottum would continue with his group Imperial Teen, who issued their album debut, Seasick, in 1996. Who Cares a Lot, a posthumous Faith No More best-of, arrived late in 1998.
After 11 years of disbandment, in 2009, Faith No More held a reunion tour, performing scattered American dates and at festivals in Europe; Jim Martin did not take part, but Jon Hudson and the other members of the group's 1988 lineup participated. As Faith No More continued to play concerts, speculation grew about the potential for a new studio record. In November of 2014, the band would confirm these rumors with the release of a single entitled "Motherfucker", emblematic of their habitual cheek. In May of 2015, they would release Sol Invictus, their first record since 1997, on Reclamation Records, a distribution imprint of Patton's Ipecac label. Faith No More supported the album with an extensive tour of South America, Europe, and the United States.
Previous Hits
Opening with the headlong "From Out of Nowhere" driven by the energetic, doomy keyboards of Roddy Bottum, Faith No More rebounded in style with 1990's The Real Thing after the firing of Chuck Mosley. Given that the group had almost finished the recording of the music and Mike Patton was recruited last minute, he adjusts well to the proceedings. His wide-ranging, insane musical interests would not be properly integrated until the band's next album, but they already displayed enough of his work to make it an inspired collaboration. Bottum especially remains a wild card, answering Jim Martin's nuclear riffs and the rhythm slams of Mike Bordin/Bill Gould with everything from pristine synth sheen to quirky hooks.
"Land of Sunshine" opens 1992's Angel Dust in a vein similar enough to The Real Thing, but the vocal role-playing of Patton comes out smarter and more skilled as the lyrics trash a completely smug bastard with inspired, pure mockery. From there, the album cranks up the meta-metal of the band's earlier work with the expected blend of other inspirations, further enhanced by an almost filmic sense of stormy atmosphere. The fact that the set ends with a cover of "Midnight Cowboy" by John Barry perfectly suits the mood, and the tense, elongated moments of "Caffeine" and the charged soar on "Everything's Ruined" provide other good examples.
Although 2015's Sol Invictus is less aggressively eccentric and more unified than Angel Dust, Faith No More's first album since their live reunion in 2009 definitely captures the same spirit of "anything goes" of their best album, and the result captures the feel of their best work. The group's deliberately twisted take on hard rock is softened a bit here, due to the continued absence of original guitarist Martin, but the six-string work of Jon Hudson is more than suited to this album's shape-shifting attack, and Roddy Bottum's keys shine as the tracks swing from arty to suffocatingly intense, visionary in the melodic structures while unafraid to hit hard.
Trivia
By the time Faith No More issued their album debut in 1985, the group had already been through a number of lead singers, including Courtney Love.
The Faith No More Concert Experience
Hot off the release of their reunion album Sol Invictus, Faith No More will give you a concert experience crackling with their usual snark and skill. Founded over 30 years ago, the members of Faith No More have all the raw energy, talent, and panache they showed off in their first incarnation. Get ready to rock out all night long because you are guaranteed to lose yourself in their unique funk/metal/rock material. Don't miss out on this epic opportunity to see Faith No More together again.
Back to Top
Epic events and incredible deals straight to your inbox.