We didn't find any Events nearby, but here's what's happening in other cities.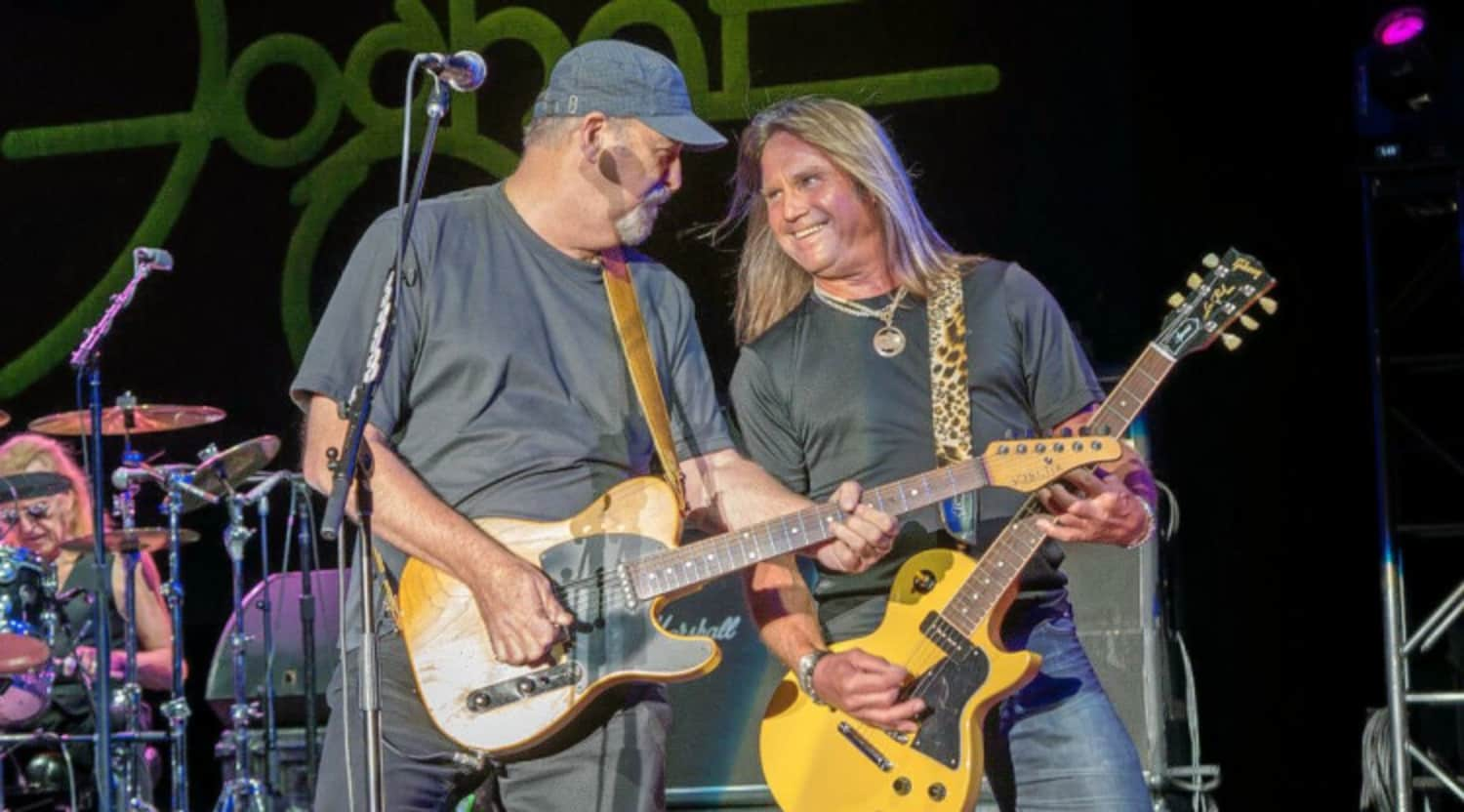 Alamy
Foghat Tickets
Foghat – The 2015 Tour
Boogie rock stalwarts Foghat are back on the live circuit, thriving on the enthusiasm of their audiences all over the nation. Don't miss out on seeing these blues rockers when they head to a city in your part of the world. Their tour this season is one of their most highly anticipated to date, and you should do your best to see them if you have the chance. Don't see Foghat coming to a venue near you? Have no fear! StubHub will keep you up-to-date on all of Foghat's future tour stops.
Foghat will be rocking the continental United States, performing at the most iconic stages in concerts that are filled with high-energy fans. Don't miss Foghat at state-of-the-art venues across the country, including the Pacific Amphitheater in Costa Mesa, the Saban Theatre in Beverly Hills, and Cactus Pete's Amphitheater in Jackpot. Foghat always delivers a lively show that is a once-in-a-lifetime experience. Don't miss out on your chance to see Foghat live – get your tickets today!
About Foghat
Foghat's speciality was hard-rocking, simple blues-rock, and they released a string of top-selling records in the mid-seventies. Although the band's basic boogie never varied, they attracted a massive audience 'til 1978, playing for sold-out crowds all over the States and earning a number of platinum and gold albums. Upon the arrival of disco and punk, the group's market would dramatically dip.
With their straightforward, three-chord stomps, the group's style was clearly American in origin, but the members were all Englishmen. Foghat had its roots in the British blues group Savoy Brown with "Lonesome" Dave Peverett on guitar and vocals, Tony Stevens on bass, and Roger Earl on drums. These three parted ways with the band in the early 'seventies. After this departure, they would establish Foghat with the addition of Rod Price on guitar. Foghat would relocate to the United States, landing a record deal with Bearsville Records, a recent label helmed by Albert Grossman. Their debut record, Foghat, would arrive in summer 1972, and the set would become a rock hit – even their cover of "I Just Want to Make Love to You" by Willie Dixon would make it into the lower reaches of the singles charts. On their sophomore album, the band stuck to the exact same formula – in fact, they did not even alter the name of the record. Like their debut album, the second was also christened Foghat and was distinguished by cover art picturing a rock and a roll. This second Foghat would be their first record to go gold, and it would cement their reputation as a hugely popular arena rock band. Their following six releases – 1974's Energized, 1974's Rock and Roll Outlaws, 1975's Fool for the City, 1976's Night Shift, 1977's Foghat Live, and 1978's Stone Blue – would all be bestsellers that would at least attain gold status. Fool for the City's single "Slow Ride" would be the band's biggest tune, rising to number 20 on the Billboard 100. Their most successful album would be Foghat Live, which would sell more than two million copies. Starting in 1975, the group would see a rotating door of bass players – in 1981, Price left the group and would be replaced with Erik Cartwright.
As the 'eighties waxed, Foghat's sales would rapidly decline. Their last record, Zig-Zag Walk (1983), would barely make the album charts. The band would break up shortly afterwards when Peverett retired from the road. The rest of the band members (Craig MacGregor, Erik Cartwright, and Roger Earl) would keep playing together under the name the Kneetremblers. After a few changes in lineup, they decided to reclaim the name of Foghat. The group would tour through the rest of the decade and into the 'nineties. Lonesome Dave was perhaps getting antsy in his early retirement and in 1990 established his own incarnation of Foghat to take on the road. After patching over their differences, the original Foghat (Earl, Peverett, Price, and Stevens) reunited in 1993 and spent years on the live circuit, issuing 1994's Return of the Boogie Man and 1998's Road Cases. The original group would part ways for good when Peverett passed away from cancer in February of 2000. After a period of some mourning, the group would soldier on with a new roster that included vocalist Charlie Hunn and, after two years on the road, they issued Family Joules in 2002. The band would tour for the next several years and would regularly release records of the live show: 2004's The Official Bootleg DVD, Volume 1 and 2007's Foghat Live II. By 2010, Foghat would be on their own label and would return to form with the bluesy Last Train Home. This set of original material and covers of several of their favorite blues tunes also included two tracks recorded with their pal Eddie Kirkland. To this day, Foghat continues to perform and record.
Previous Hits
In 1973, Foghat made it into the mainstream with their self-titled album and its lead single, "What a Shame". Subsequent hit singles include "Slow Ride" (1976), "Fool for the City" (1976), "I'll Be Standing By" (1977), "I Just Want to Make Love to You" (1977), "Drivin' Wheel" (1977), "Stone Blue" (1978), "Third Time Lucky (First Time I Was a Fool)" (1980), and "Stranger in My Hometown" (1980).
Foghat's other hit albums include Rock and Roll Outlaws (1974), Energized (1974), Night Shift (1976), Fool for the City (1976), Foghat Live (1977), Stone Blue (1978), Boogie Motel (1979), Tight Shoes (1980), Girls to Chat & Boys to Bounce (1981), In the Mood for Something Rude (1982), and Zig-Zag Walk (1983). Suffice to say, their run of success was long and laudable.
Trivia
The band takes its name from a nonsense game that guitarist and singer Dave Peverett played as a child.
The Foghat Concert Experience
After almost 45 years since their formation, Foghat is still on the live circuit, bringing you their danceable and hard-rocking boogie catalog on stages all over the United States. Whether they are playing their biggest classics like "Slow Ride" or their newest material from Last Train Home, Foghat will give you a classic rock experience that you cannot afford to miss.
Back to Top
Epic events and incredible deals straight to your inbox.