There aren't any Events on the horizon right now.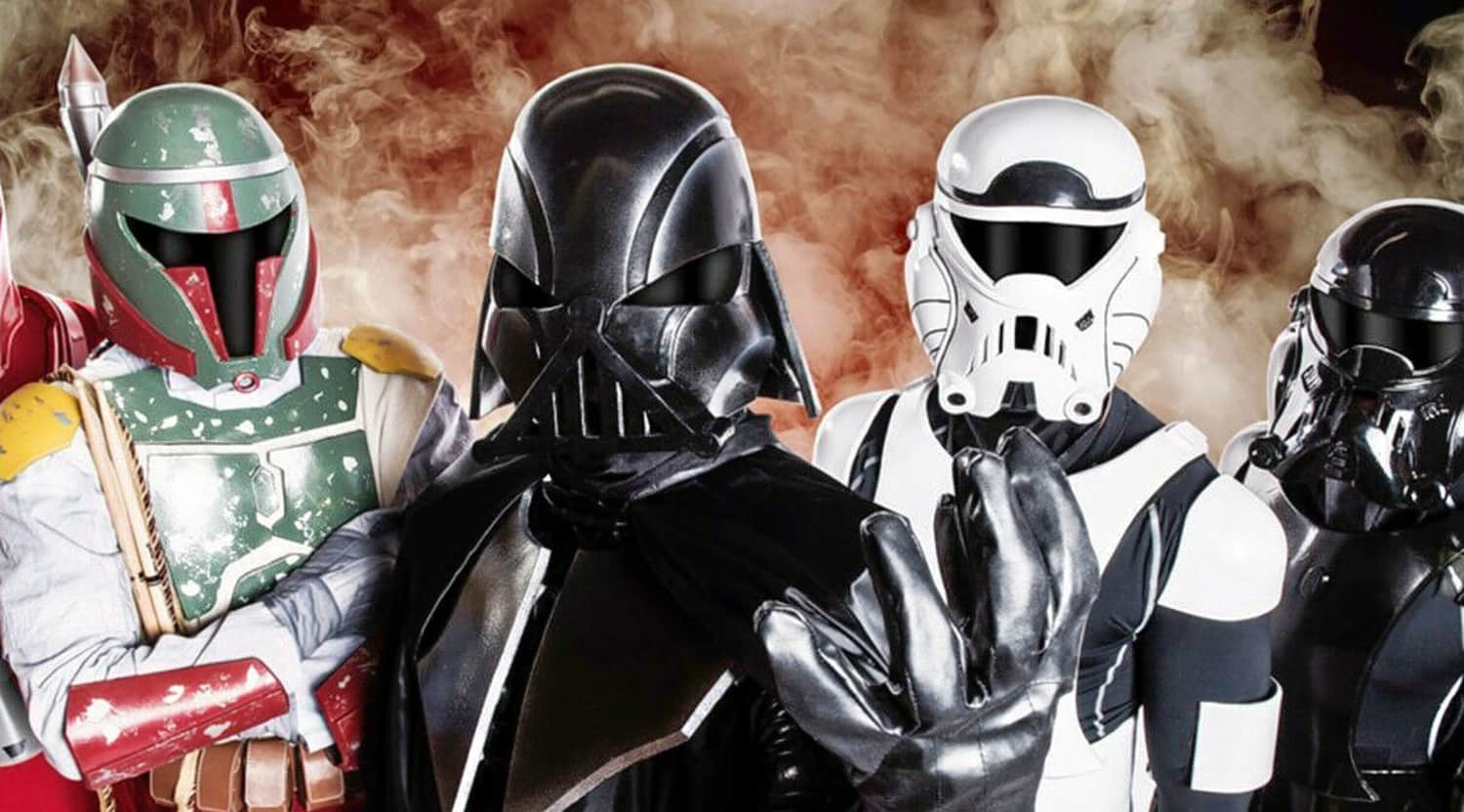 Rovi
Galactic Empire Tickets
Taking their cues from the earliest trilogy in the Star Wars franchise of movies, Galactic Empire is a heavy metal band with a difference. Not only did the group manage to crowdfund their budget needed to record their first album, but the band perform in highly accurate costumes that are taken almost directly from the set of The Empire Strikes Back or Return of the Jedi. The band used the Kickstarter crowdsourcing platform in order to raise the funds they wanted to record an entire LP of Star Wars-themed music, having initially recorded a demo version of John Williams' famous opening theme.
Galactic Empire's members and music
Galactic Empire is a five-piece metal/heavy rock band. The frontman and guitarist is Chris Kelly, who plays his crunching chords in a full Darth Vader costume, mask and cape. Grant McFarland, who dresses as the bounty hunter Boba Fett, plays the drums. It was he who first got the project going, having recorded himself playing the drums to one of the Williams-penned tunes from the film's "The Imperial March". The idea of adding guitars and bass came about and the project snowballed. Soon the band had arranged enough material for an album and set about raising the money needed to make the band work.
Much of the arranging required to alter Williams' full orchestrations into something that would work for a rock band was undertaken by bassist Carson Slovak. He takes the alias Bass Commander, in another reference to the films. With just a few musicians recreating the sound of a symphony orchestra, Slovak has worked diligently to produce music that is genuinely metal in its nature but which also includes many of the deft touches of Williams' original orchestrations. In short, the music of Galactic Empire has found appeal with fans of Williams' score as well as hard rock enthusiasts. Their self-titled album was released in February 2016, put out by Rise Records and Velocity Records.
Galactic Empire's live work
Having initially been a recording project, Galactic Empire began a UK-wide tour in 2016 to promote their album. Dates included shows in London, Glasgow, Milton Keynes and Manchester. During their live performances, the band used an evocative light show to help them bring some of the atmosphere of the original movies to their gigs. Indeed, the band members have also been known to encourage members of the audience to attend in costume, just like the performers.
Similar to Galactic Empire
Fans of epic soundtracks being performed live can find tickets for Jeff Wayne's War of the Worlds at StubHub. As an alternative, look for gigs by Periphery, a US-based heavy metal group.
Back to Top
Epic events and incredible deals straight to your inbox.