We didn't find any Events nearby, but here's what's happening in other cities.
1 Event within 150 miles from you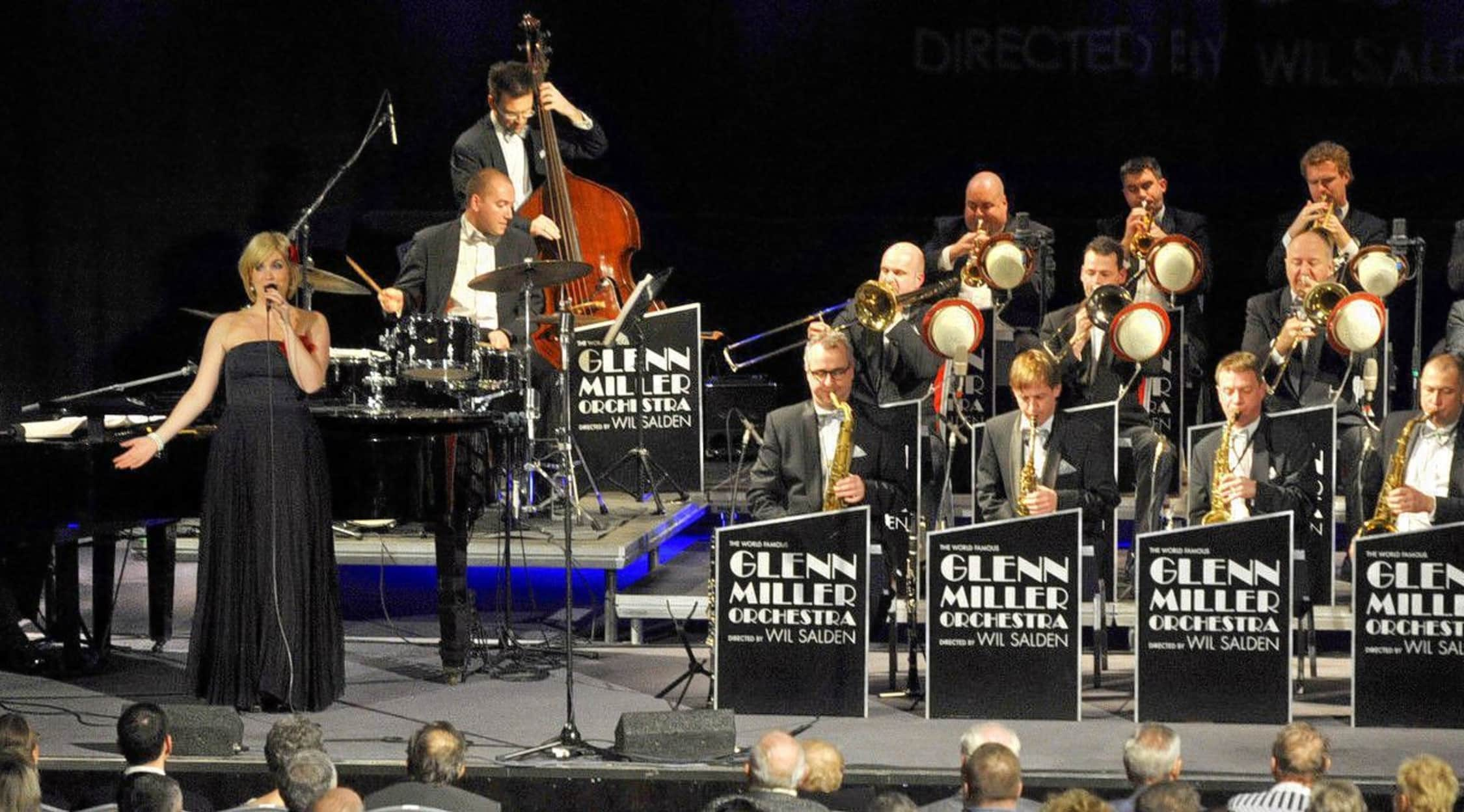 Alamy
Glenn Miller Orchestra Tickets
The Glenn Miller Orchestra – The 2015 Tour
The world renowned Glenn Miller Orchestra is back on the road with their upbeat symphonic catalog. Don't miss these top class musicians when they arrive in a city near you, including: Walhalla and Fountain Inn, SC; Elyria and Cincinnati, OH; Greensburg and Clarksville, IN; Bartlesville and Ada, OK; Grand Island, Clarkson, and Lincoln, NE; Woodward, Coralville, Clarinda, and Allison, IA; St. Charles, MO; Three Rivers and Peshawbestown, MI; Batavia, IL; Sioux Falls and Rapid City, SD; Fort Morgan, Boulder, and Rifle, CO; and Taos, NM. Don't see the orchestra arriving in your part of the world? Do not be dismayed. StubHub will have the Glenn Miller Orchestra's future tour dates posted up to the minute.
The Glenn Miller Orchestra will be dazzling audiences across the United States. Don't miss them at some of the most iconic concert halls across the nation, including: the Boulder Dinner Theater, Main Street Square in Rapid City, the Music Hall Ballroom in Cincinnati, and more. The Glenn Miller Orchestra always delivers high energy concerts that really are once in a lifetime. Don't miss your chance to see one of the most popular orchestras in the world! Get your tickets today.
About the Glenn Miller Orchestra
Alton Glenn Miller was born in 1904 in Clarinda, Iowa. It would be in North Platte, Nebraska, however, that he became involved with music after his dad brought a mandolin home. Miller immediately exchanged it for on old horn, which he practiced constantly. His parents, ironically, used to worry that his passion would get in the way of a successful life.
Miller enrolled at the University of Colorado in 1923, but spent most of his time playing and traveling to auditions. He would flunk three of his five courses in a single semester, and so decided to drop out to pursue a musical career.
Miller worked for a number of orchestras, ending up in Los Angeles. There, he became part of Ben Pollack's band along with Benny Goodman. The band gave Miller the chance to do some musical arranging. He then moved to New York City and convinced Helen Burger, his college sweetheart, to move with him and get married. He would then spend three years working as an arranger and freelance trombonist.
Miller recorded and played with the likes of Jimmy and Tommy Dorsey (who featured the then-unknown Bing Crosby on their records), Coleman Hawkins, Eddie Condon, and Gene Krupa. During that time, Miller also worked for radio conductors like Jacques Renard, Carl Fenton, and Victor Young. Miller became the musical director of the Dorsey Band in 1934, and later organized the Ray Noble Orchestra.
The following year, Miller recorded under his own name for the first time. The tracks were "A Blues Serenade" and "Moonlight on the Ganges". They did not sell well, so he kept his position at the Noble Orchestra.
Miller formed his own band in 1937. They made a few recordings and played a few gigs, but it didn't pan out. On New Year's Eve at York, Pennsylvania's Valencia Ballroom, Miller gave his musicians their notice. Broke and depressed, Miller returned to New York.
It would be during this dark interim, however, that Miller created a unique and easily recognizable style that could set his band apart. He realized that if he emphasized the reed section by having the clarinet hold the melody while the tenor sax holds the same note, three other saxophones could harmonize and create a new sound.
Founded in March of 1938, the next Glenn Miller Orchestra began filling up concert halls all over the East Coast. It attracted the biggest dancing crowd in the history of Syracuse at the New York State Fair. It also set a new record at Pennsylvania's Hershey Park Ballroom. The Orchestra was invited to play at Carnegie Hall along with Benny Goodman, Fred Waring, and Paul Whiteman.
The Second World War arrived and took away many of the Orchestra's musicians. Miller joined the Army in 1942. He was appointed a Captain in the Army Specialist Corps after convincing his superiors that modernizing the army band would improve morale. After training, Miller was sent to the Army Air Corps, and put together the Glenn Miller Army Air Force Band. A year later, he was entertaining the troops in England.
In less than a year in England, the Army Air Force Band gave over eight hundred performances. Five hundred of these were broadcast around the world. Miller did not take part in the last six months of this success, however. Towards the end of 1944, the Army Air Force Band was scheduled for six weeks' touring in Europe, to be stationed mainly in Paris. Miller went on ahead to make the arrangements. After boarding a plane to Paris, however, he was never seen again.
Previous Hits
The Glenn Miller Orchestra released record-breaking recordings, such as "Pennsylvania 6-5000", "In the Mood", and "Tuxedo Junction". In 1940, it was announced by Down Beat Magazine that Miller had topped the Sweet Band Poll. Miller's radio series "Moonlight Serenade" was used by Chesterfield cigarettes. In 1941, the Orchestra went to Hollywood for their first film, Sun Valley Serenade, from which came the platinum selling "Chattanooga Choo Choo".
Trivia
George Simon, in his book Glenn Miller & His Orchestra, wrote that Damon Runyon was Miller's favorite author, and the Bible was his favorite book. His favorite actors were Olivia de Havilland and Spencer Tracy. He loved playing baseball, trout fishing, sleep, money, and good music. He hated the words "goodbye now", phone calls in the early morning, and bad swing. His favorite quotation was "It don't mean a thing if it ain't got that swing" from Duke Ellington.
The Glenn Miller Orchestra Concert Experience
The Glenn Miller Orchestra is back to bring you their catchy collection of songs and pure talent on stages across the country. Whether they are playing the oldest classics or giving a new take on Miller's biggest hits, the Glenn Miller Orchestra delivers a concert experience that is not one to miss. Don't pass up this chance – start planning your Glenn Miller Orchestra concert experience today!
Back to Top
Epic events and incredible deals straight to your inbox.