We didn't find any Events nearby, but here's what's happening in other cities.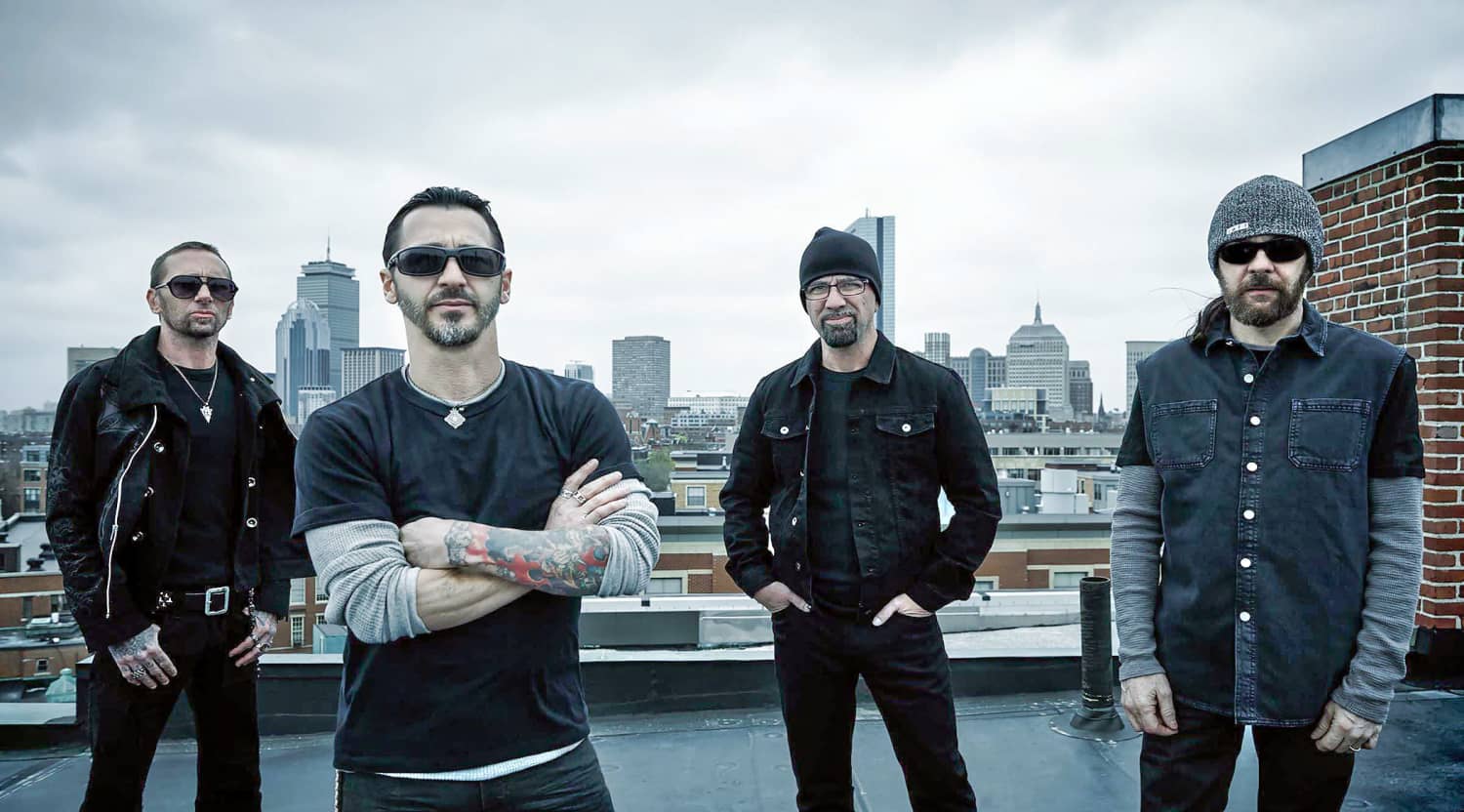 Rovi
Godsmack Tickets
Godsmack Tickets
Formed in 1995, Godsmack is an American band from Lawrence, Massachusetts, and its members include Sully Erna, Robbie Merril, Shannon Larkin and Tony Rombola. The band has released seven studio albums, a live album, four DVDs and a compilation album. Godsmack has charted three consecutive No. 1 hits on the Billboard 200. Along with this honor, the band has had 25 songs on the Billboard Mainstream Rock charts. In celebration of their sixth studio album, August 6 was declared "Godsmack Day" in Boston.
When Legends Rise: The Beginnings of Godsmack
In 1995, Sully Erna wanted to move away from playing the drums to a vocalist position. The band was originally known as The Scam, and it had Erna, Robbie Merrill, Tommy Stewart and Lee Richards as members. After recording their demo record, the band changed their name to Godsmack. Godsmack played small bars throughout Boston and started to build a loyal fan base. Their songs "Whatever" and "Keep Away" hit the top of the charts in the New England area. The lineup changed in 1996 when Tony Rombola and Joe D'Arco joined the band and Stewart and Richards left for personal reasons. That same year, Godsmack entered the recording studio to make their first album, All Wound Up, for only $2,600. After a few years, the demo landed in the hands of a local radio personality. "Keep Away" was entered into heavy rotation and quickly shot up the charts in the area. By 1998, Godsmack was signed by Republic Records, and the band recorded their first self-titled major-label album.
Where can I buy Godsmack tickets?
If you need Godsmack tickets, you can get the best seats at StubHub, the world's largest ticket seller. With the FanProtect guarantee, you can be assured that your purchase is secured.
How many albums has Godsmack released?
Godsmack has released several albums throughout the years. In 1998, Godsmack was released and entered the Billboard 200 at No. 22. It was certified 4x platinum by the Recording Industry Association of America (RIAA). The band returned to the studio in 2000 and released Awake. It debuted at No. 5 on the Billboard 200 with a 2x platinum certification. Faceless debuted at No. 1 on the Billboard 200 in 2003. Godsmack has also released several other albums, including IV, The Oracle, 1000hp and When Legends Rise. Live & Inspired was their collection of live performances, and The Other Side was the only EP released by the band.
How many Grammy Awards has Godsmack won?
Godsmack has been nominated for three Grammy Awards, including Best Hard Rock Performance for "I Stand Alone" and "Straight Out Of Line" as well as Best Rock Instrumental Performance for "Vampires." The band has not won a Grammy Award as of 2019.
What are some popular Godsmack songs?
Throughout the years, Godsmack has produced several hit songs, including "I Stand Alone," "Voodoo," "Straight Out of Line," "Keep Away" and "Bulletproof."
What is the musical style of Godsmack?
There have been many labels for the artistic style of Godsmack. It has been described as heavy metal, nu-metal, post-grunge, alternative metal and hard rock. You can hear the influences of Alice in Chains, Aerosmith, Led Zeppelin, Metallica, Black Sabbath and Pantera in their music. Sully Erna has mentioned former Alice in Chains vocalist Layne Staley as his primary influence. In fact, the band's first two albums sound similar to those released by Alice in Chains.
What bands have toured with Godsmack?
Godsmack has been a popular act throughout their career. It was a favorite band on the OzzFest tour. In addition to that, Godsmack has gone on the road with large tours and festivals in support of their album releases. The band has also toured with Halestorm and Volbert.
Back to Top
Epic events and incredible deals straight to your inbox.