We didn't find any Events nearby, but here's what's happening in other cities.
Goo Goo Dolls tour venues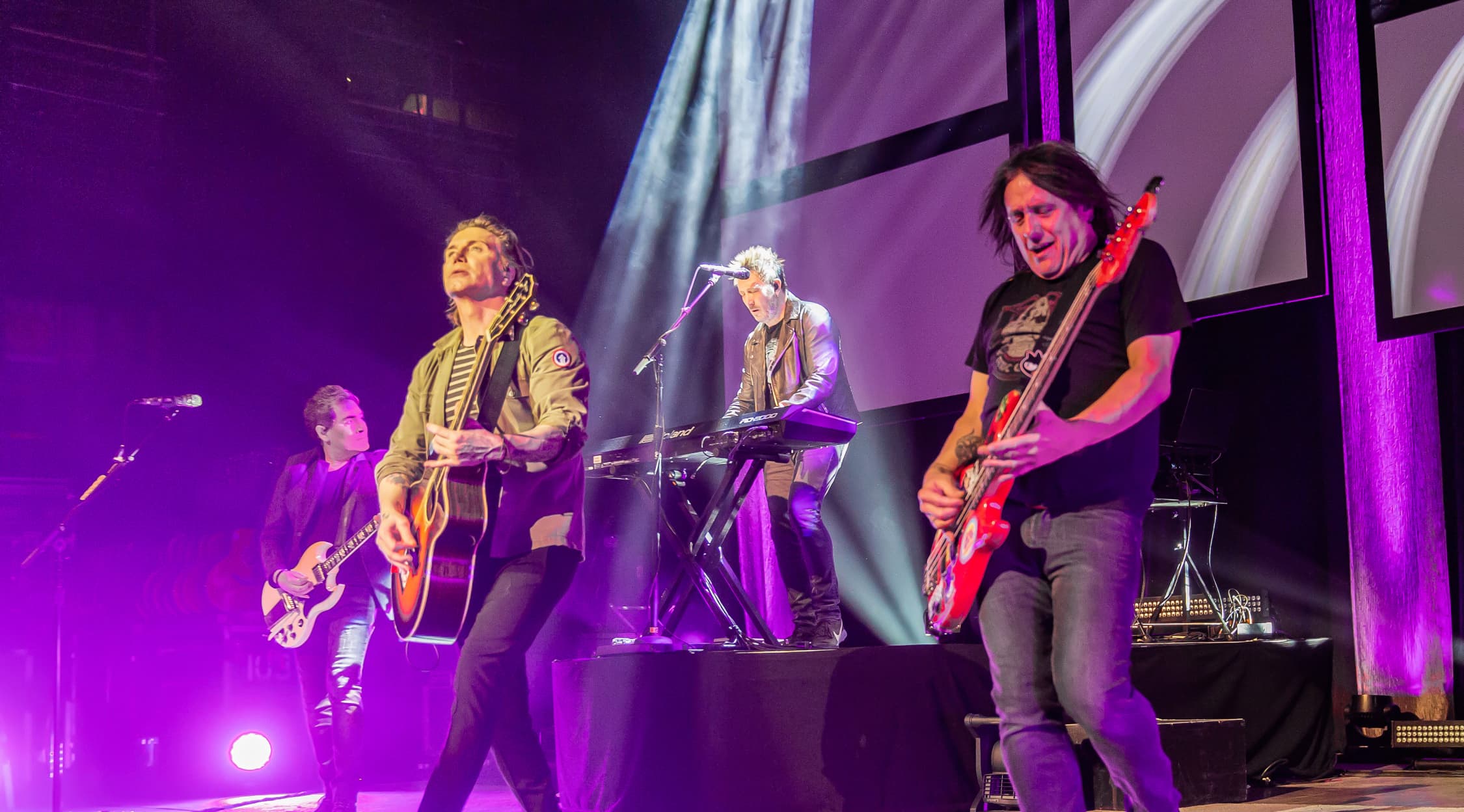 Zuma Press
Goo Goo Dolls Tickets
Goo Goo Dolls Tickets
Goo Goo Dolls were slingshotted to stardom with the release of their song "Iris," which was honored as the No. 1 pop song between 1999 and 2012 by Billboard. The same list also included two of the group's other songs, "Slide" (No. 9) and "Name" (No. 24). The poppy rock band, which formed in 1986 in Buffalo, N.Y., seamlessly made the transition into the 2000s, thanks in part to the inclusion of its songs on movie soundtracks, and has remained culturally relevant for over three decades. When not playing arena shows, Goo Goo Dolls play alongside musical contemporaries such as Train, Dave Matthews Band, and Foo Fighters.
Popularity Accompanied by Charity
Some fans might be surprised to learn that early Goo Goo Dolls music was greatly influenced by grunge and the punk that came before it. Even as electronic influence increased in pop music, the boys of Goo continued to create music that relies on guitars while their lyrics and vocals express vulnerability and emotion. It's that quality that makes the music of Goo Goo Dolls the perfect accompaniment to films such as City of Angels, Finding Neverland, and Transformers. However, the band has never taken their success for granted. In fact, its members have often worked with organizations such as USA Harvest and the Food Bank of Western New York to provide food to needy individuals. They also created a scholarship in honor of frontman John Rzeznik's nephew.
Where can I buy Goo Goo Dolls tickets?
Don't miss a single Goo Goo Dolls concert. Buy your tickets at StubHub, the world's largest ticket marketplace, today.
Who are the members of Goo Goo Dolls?
The band's current lineup consists of singer John Rzeznik and bassist Robby Takac with whom he formed the band. A third founding member, George Tutuska, played drums until he was kicked from the band in 1995. He was replaced by Mike Malinin in 2013; however, the band no longer has an official drummer. Brad Fernquist (since 2006), Jim McGorman (since 2018), and Craig Macintyre (since 2014) join the band as touring members on guitar, keyboard and guitar, and drums, respectively. Previous members of Goo Goo Dolls were vocalist Lance Diamond, guitarist Nathan December, keyboardist Dave Schulz, keyboardist Jason Freese, guitarist Greg Suran, drummer Rick Woolstenhulme Jr., keyboardist Scott Olivier, keyboardist Korel Tunador and keyboardist Paul Gordon.
Are Goo Goo Dolls touring in 2019?
Yes, the band has joined rockers Train for a North American your. Then, Goo Goo Dolls will join Bon Jovi to play several South American shows, including Rock in Rio.
Will Goo Goo Dolls play in a city near me?
The band's current tour takes them, along with Train, to various medium-sized cities in the United States, such as Cincinnati, Ohio, and Scranton, Pa. After that tour, the band will join Bon Jovi for several shows in Brazil along with one August show in Ate, Peru, at the Estadio Monumental "U" stadium.
What is a Goo Goo Dolls set list like?
While Goo Goo Dolls are currently promoting their newest album, Miracle Pill, the band also plays fan favorites such as "Broadway," "Slide," "Here Is Gone," and "Black Balloon." The set list is similar for the band's most recent tour, with about 15 songs per show.
How many albums have Goo Goo Dolls released?
The band released four albums before striking it big with Dizzy Up the Girl in 1998: Goo Goo Dolls, Jed, Hold Me Up, Superstar Car Wash and A Boy Named Goo. Their releases continued throughout the 2000s with Gutterflower in 2002, Let Love In in 2006, Something for the Rest of Us in 2010, Magnetic in 2013, Boxes in 2016 and the most recent, Miracle Pill, in 2019.
Back to Top
Epic events and incredible deals straight to your inbox.