We didn't find any Events nearby, but here's what's happening in other cities.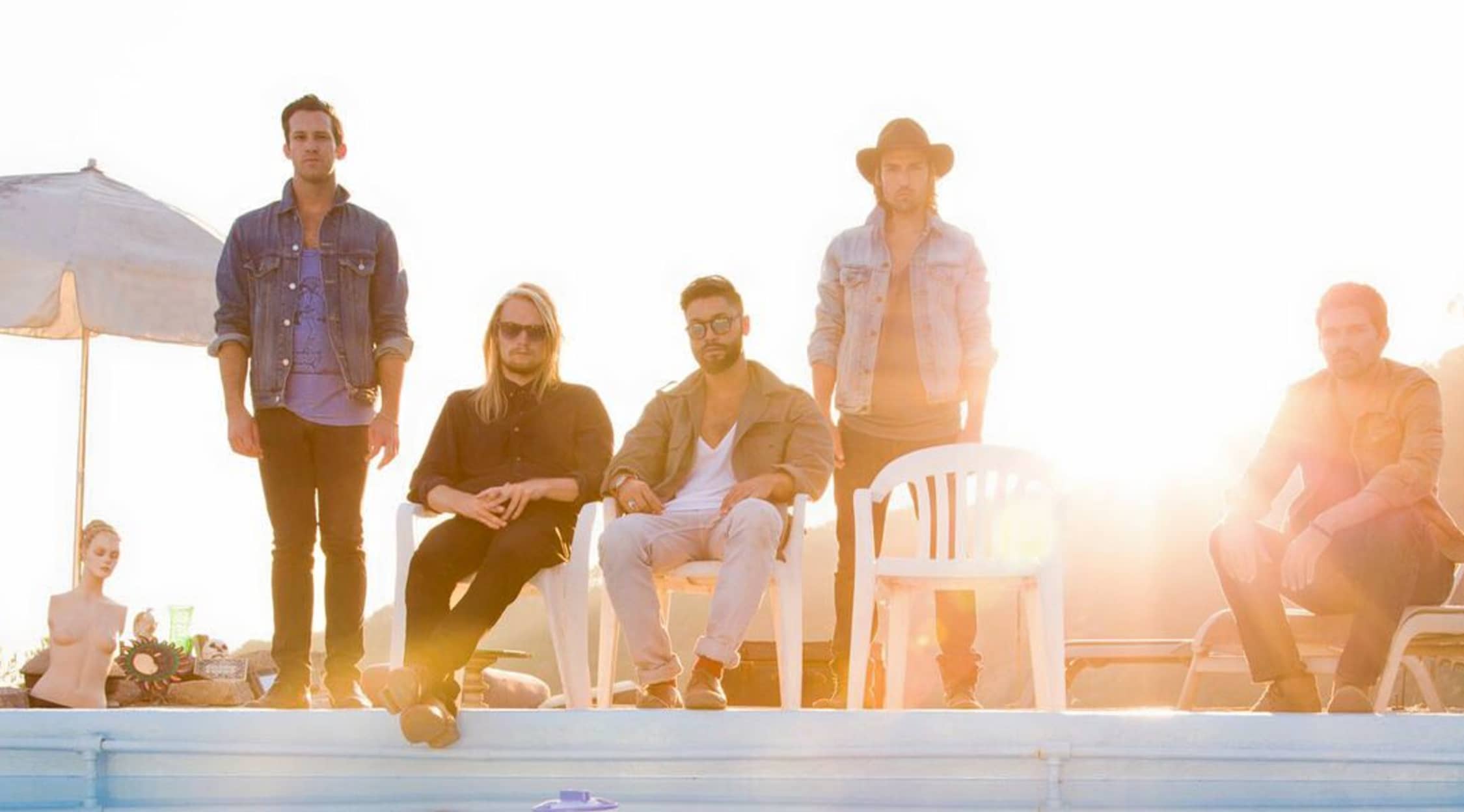 Rovi
Grizfolk Tickets
Grizfolk – The 2016 Tour
Grizfolk, the up-and-coming electro-folk five-piece from Los Angeles, are all set for their 2016 Troublemaker tour. Whether they are playing at The Crocodile in Seattle, The Garrison in Toronto, The Gramercy Theatre in New York, or any of the other ultra-hip venues booked for their latest live circuit, Grizfolk will deliver an unforgettable show that you and your friends will be raving about for months afterwards. Tickets are going fast, so don't wait – get yours today!
About Grizfolk
Grizfolk, the Los Angeles-based electronic folk band, is set for their biggest year to date. The band consists of Bill Delia, Brendan Willing James, Fredrik Eriksson, Sebastian Fritze, and Adam Roth. The members met each other in Los Angeles, but they hail from locations all around the world – Pennsylvania, Los Angeles, Florida, and Sweden. Eriksson, Fritze, and Roth met while they were working on various projects, and initially formed as a songwriting and production team. After one of their compositions went viral, they realized they were capable of becoming of full-fledged band, and recruited Willing James and Delia.
In October of 2013, Grizfolk played for an in-studio audience on Morning Becomes Eclectic on KCRW. The Santa Monica-based station also promoted the band as one of their "Artists You Should Know". The following day, the band played at the station's yearly Masquerade Ball alongside Dave Sitek, Dale Earnhardt Jr. Jr., Glasser, and others.
The band's first big break came with their single "Vagabonds", which featured guest vocals from Nikola Bedingfield. The song started getting radio play in the Los Angeles scene after being released on Indian Summer, a digital-only EP. Shortly afterwards, Virgin Records signed Grizfolk to a deal; the group's first single for the label, "The Struggle", dropped in December of 2013. It was followed by Grizfolk's first modern rock track, "Hymnals". Remix legend RAC then released his reworking of "Hymnals", which topped The Hype Machine charts. Other remixes of From the Spark tracks were released by Dawn Golden, Tyde, and Saint Pepsi.
Fritze comes from a hip-hop background, and had been crafting beats before becoming part of Grizfolk. Roth's background is in Americana, Eriksson has electro and rock experience, and Delia and Willing James had also made their own pre-Grizfolk music. Although the members' musical backgrounds are rather disparate, their different genres blend together quite naturally.
All of the members use their laptops to create music, and are constantly pitching each other ideas and passing around their computers. Fritze might make a beat and give it to Eriksson, who would add a melody, after which Roth would sing on top of it. Another key element of their creative process is their near-constant touring. Every night and every crowd feels different, which triggers the members' motivations and ideas. They have five portable studios, which means that they can write music almost whenever they want. The actual process of writing varies from song to song, so a composition can begin with an acoustic guitar, a beat, or a lyric. It's important to Grizfolk that, although they do a lot of composing on the computer, the songs still sound good when played with organic instruments or sung a cappella.
For almost the entirety of 2014, Grizfolk opened for Bastille. They were first introduced through their label, and decided to play a few shows together. Grizfolk initially played with Bastille in Boston, New York, and Detroit. Soon, Bastille asked Grizfolk to join them on their European tour – a plum engagement that any band would jump at. This was followed by a national tour, which included two stops at Radio City Music Hall in New York. Grizfolk learned a lot from Bastille during this time, including their work ethic and their process.
They released a four-track EP, From the Spark, in 2014. Each track has a very different sound. From the Spark represents everything Grizfolk is trying to accomplish in a short set, and their upcoming full-length Waking Up the Giants has the same kind of approach. Although listeners won't know what to expect from one song to the next, Waking Up the Giants will no doubt be as engaging as their EP. The band put together their full-length while maintaining a busy tour schedule, and they worked on the album in airplanes, in hotels, and in the van. The recording process took just over a year, and Grizfolk is excited for its 2016 release. Grizfolk got another big career boost when their track "Way Back When" was included on the soundtrack of the hit animated movie Mr. Peabody and Sherman.
Previous Hits
Combining their love of roots music and Americana with a heavy electro-pop feel, Los Angeles five-piece Grizfolk dropped their debut set for Virgin Records in 2014, a four-track EP titled From the Spark. Helmed by Florida native and singer-songwriter Adam Roth, the group delivers a sort of wide-open folk-pop that is enhanced by the felicitous electronics of producers and bandmates Fredrik Eriksson and Sebastian Fritze, both of who moved from Sweden to Los Angeles. The EP includes "The Struggle", a single that initially earned the group regional attention and eventually led to their record contract with Virgin. Falling somewhere between the desert grandiloquence of the Killers and the dusty landscapes of Blitzen Trapper, Grizfolk's collaborative, genre-spanning spirit offers a singular interpretation of contemporary American pop. Recently, Grizfolk have landed another hit with their single "Troublemaker".
Trivia
Grizfolk originally called themselves by their SoundCloud handle, Griz Adams (in reference to Grizzly Adams, the rugged outdoorsman in the popular '70s U.S. television program). Never intended to be a band name, the group soon reworked the moniker to Grizfolk.
The Grizfolk Concert Experience
Best enjoyed with fellow fans of roots rock, electronic music, and pioneering sounds, a Grizfolk concert will be one of the most exciting you'll see all year. Grizfolk consists of five stylistically diverse musicians who have brought together elements of Americana, hip-hop, rock, and electronica in a way that is a lot catchier than it sounds. In fact, Grizfolk are so addictive that they're likely to become your new favorite band. Don't miss out on your opportunity to see this hot up-and-coming Los Angeles quintet on the ground floor of their career.
Back to Top
Epic events and incredible deals straight to your inbox.