There aren't any Events on the horizon right now.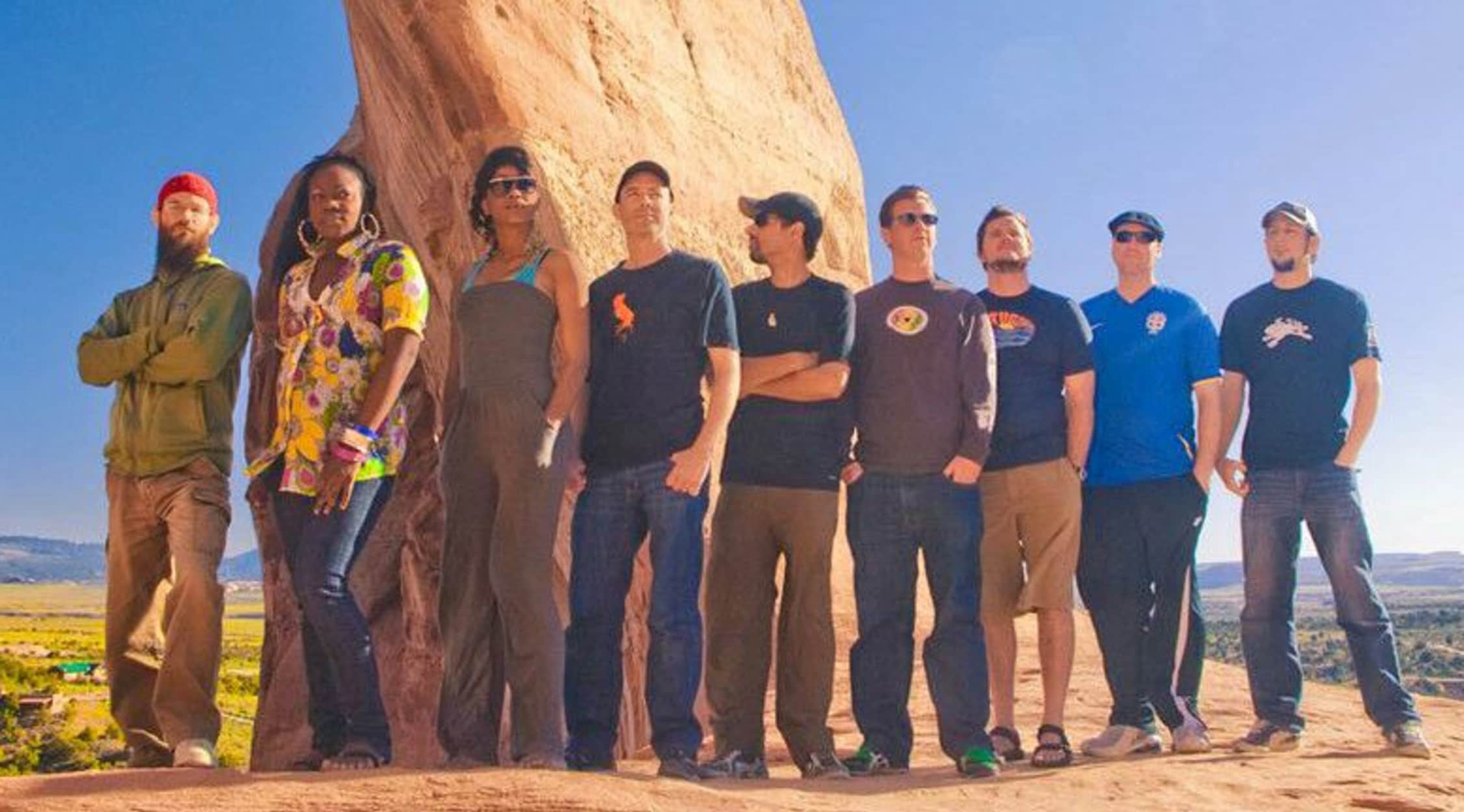 Rovi
Groundation Tickets
Groundation - The 2014 Tour
Come get real with soulful reggae fusion ensemble Groundation as they wind their way across North America, building on husky Latin and African beats with tight, jazzy harmony in their Coming Home Summer Tour. The internationally-renowned Rasta rockers are bringing their groove to Chillicothe, IL; Monterey and Hermosa Beach, CA; Dallas, Austin, Houston, and Corpus Christi, TX; New Orleans, LA; Orlando and Jacksonville, FL; Wilmington, NC; Floyd, VA; Charleston, SC; New York, NY; Boston, MA; Montreal, QC; Toronto, ON; Loveland, CO; and Harmony Park, MN. If you don't see your city here, remember that this list is not exhaustive and that StubHub keeps on top of all the latest bookings. Keep checking back!
Groundation regularly rocks the funkiest festivals, such as Shangri-La and Arise, and can be seen at the coolest concert halls, including House of Blues and Lee's Palace. Lauded as "perhaps the best reggae roots band in California" by Allmusic, they are guaranteed to elevate and entrance. Get your tickets now!
About Groundation
In 1998, the three founding members of Groundation would find each other in the jazz program of Sonoma State University. Harrison Stafford, Marcus Urani, and Ryan Newman (on vocals and guitar, b3 and keyboards, and bass, respectively) would form the core of one of the most intelligent and progressive reggae roots bands today. The band's name would be based on the Rastafarian holy day Grounation, which celebrates Haile Selassie's visit to Jamaica in 1966.
In 1999, Stafford and sound engineer Kris Dilbeck would found Young Tree Records. The first Groundation album would be released under the same name and set the precedent for their inventive, soul-stirring sound. More concerned with producing quality music than with commercial success, Groundation would dedicate themselves to regular touring and music production. Its members have released no less than eleven reggae-rific albums since the band's inception, and regularly bring in reggae legends (such as Israel Vibration, Apple Gabriel, and The Congos, to name a few) as guest musicians. Stafford stays true to the original reggae style by using strictly analog recording equipment.
The Groundation roster would fluctuate over the years, but the group would always stay true to its vision of bringing the world together with positive vibrations and head-of-the-pack jazz/reggae fusion. In 2000, jazz trumpeter David "Diesel" Chachere would add some brass to Groundation's solid roots foundation. Drummer Te Kenawa "Rufus" Haereiti is based in the Polynesian style but skillfully dispatches himself in all manners of fusion percussion. Kim Pommel, of Jamaica's Ashe performing arts school, has been a part of the ethereal chorus since 2006. Newest members Daniel Wlodarczyk (trombone) and Jason Robinson (saxophone and flute) bring the soaring repertoire even higher. Past members include drummers Mingo Lewis, Jr., son of Santana's percussionist Mingo Lewis, and Paul Spina of Les Claypool and Will Bernard fame.
Previous Hits
The peak of Groundation's mainstream appeal thus far would come with the release of their seventh album Building an Ark. The album featured a singular, stirring mix of Latin, dub and funk strains masterfully woven together, and successfully communicated the energy and skill of their improvisational live performances. The album rose to number five on the Top Reggae Albums chart in 2013.
The true key to their success, however, lies in their electric live performances and continual touring. The group, true to their jazz influences, delivers stellar collective improvisation at their shows. A foremost feeling at their shows is one of communion, where audience members feel as connected to each other as to the band. This inclusive, healing mission makes these shows an emotionally rewarding experience and plays a major role in their ever-broadening international fan base. Whether you're fired up for a weekend festival or pumped for a one-night performance, Groundation will show you some of the most creative and cultivated reggae jammin' today.
Trivia
Founding member Stafford owes his fascination with reggae at least in part to his Jewish heritage. His older brother was a fan of the music, and six-year-old Harrison was bewitched by the stout rhythms and powerful harmonies coming from his room. Even more compelling than the sound were the references to figures from the Torah, such as Moses and Aaron. As one of the few Jewish children in his area, young Stafford quickly developed an affinity for the genre.
The Groundation Concert Experience
Don't miss your chance to discover reggae like you've never heard it before! A Groundation show is a high-energy experience that will expand your mind and buoy your soul. The passion and dedication of this band to their craft truly comes to light in their live performances. Highlights include Robinson's all-embracing sax solos and Chachere's ardent trumpet arias, not to mention the band's mastery of collective improvisation. Prepare to be borne away by the outfit's flawless execution of dub-infused undulations, sonorous vibes and breezy grooves. Join the communal spirit of Groundation – buy your tickets today!
Back to Top