We didn't find any Events nearby, but here's what's happening in other cities.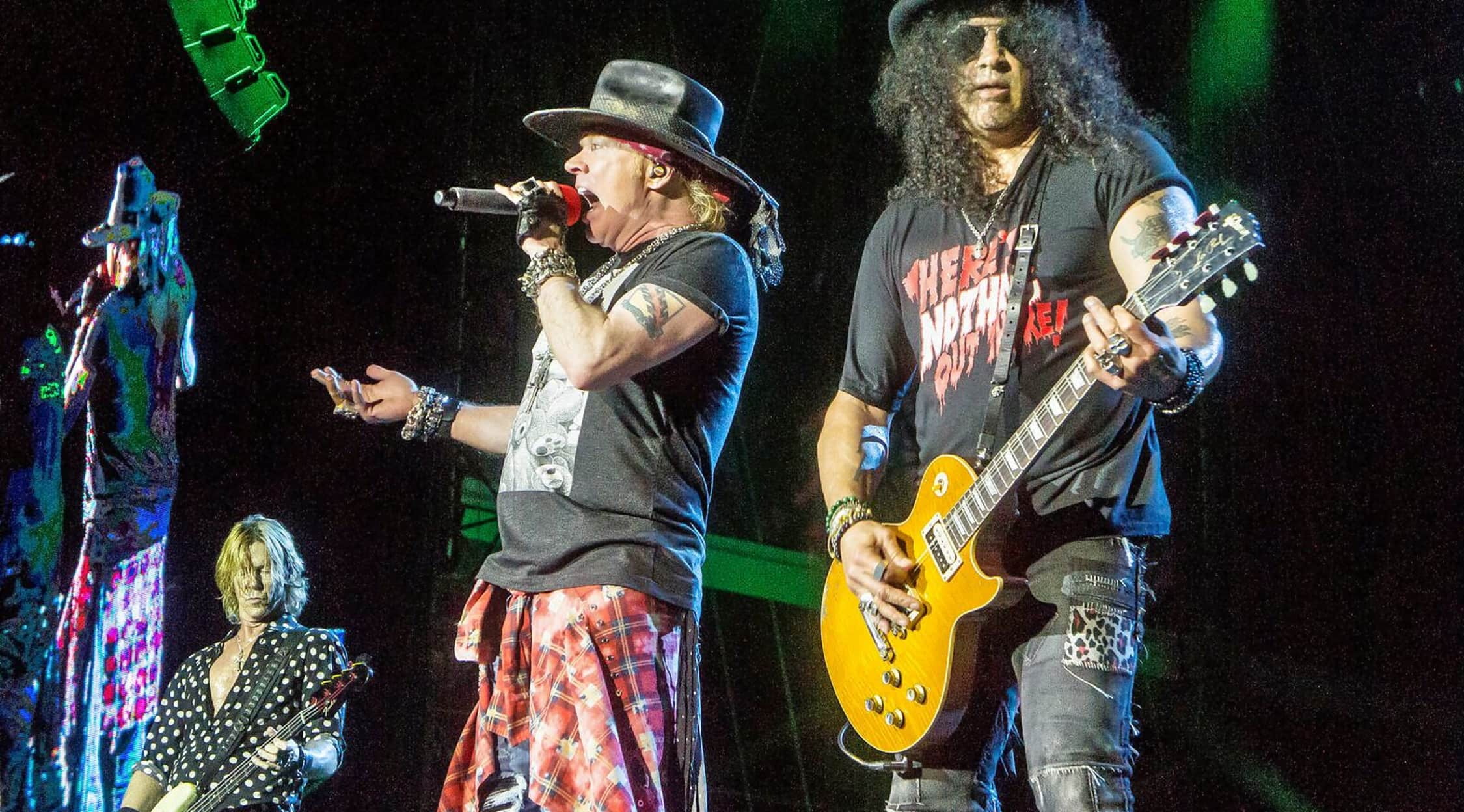 Alamy
Guns N Roses Tickets
Guns N' Roses Tickets
In 1985, few bands were bigger than Guns N' Roses. This LA hair metal quartet blasted onto the Sunset Strip with the serpentine dance moves of frontman Axl Rose front and center. With his incredible range and the unmatched guitar riffs of axe master Slash, Guns N' Roses became a club fixture and, eventually, a worldwide phenomenon when Appetite for Destruction became the bestselling US debut album of all time in 1987. This record featured the singles "Paradise City," "Welcome to the Jungle" and the Billboard Hot 100 hit "Sweet Child O' Mine." In 1988, they released GNR Lies, featuring the top-5 hit "Patience." The 1991 follow-up was a never-before-attempted feat - two albums, Use Your Illusion I and Use Your Illusion II, released on the same day. The occasion was marked with several expensive music video productions and a world tour that lasted from 1991 to 1993.
The Road to Modern GNR
Guns N' Roses was known in its heyday for unbelievable live shows. Beset by Rose's personal chaos and a drug-fueled lifestyle that earned them the moniker the Most Dangerous Band in the World, the band released an album of covers in 1993, The Spaghetti Incident?, before Slash and bassist Duff McKagen left the band. After years of legal battles, Rose carried on the GNR name alone and went on to make Chinese Democracy, the most expensive rock album of all time. After feuding with Rose for decades, Slash and McKagen returned to the band in 2016 for the Not in This Lifetime Tour, which also featured keyboardist Dizzy Reed, guitarist Richard Fortus, drummer Frank Ferrer and keyboardist Melissa Reese. The reunion of the three key members of this legendary rock band became the second highest-grossing tour of all time.
Where can I buy Guns N' Roses tickets?
If you've always wanted to see GNR take the stage or you were lucky enough to see the band in their glory days, now's your chance to catch them in 2019 and beyond. Grab your tickets for these sought-after shows at StubHub, your source for incredible seats to Guns N' Roses performances all over the world.
Is Guns N' Roses touring in 2019?
Fans who want to grab Guns N' Roses tickets have plenty of chances to see the band live in 2019. Get your seats for the resurrection of the Not in This Lifetime tour, which includes US festival dates through the end of the year.
Will Guns N' Roses be featured at any festival dates?
Catch GNR live at the Louder Than Life festival in Louisville, Kentucky, in September; the first and second weekend of the Austin City Limits music festival in October; the Voodoo Music Festival in New Orleans just before Halloween; and several other stadium dates.
How long is a typical Guns N' Roses show?
Fans who have been dreaming of seeing Guns for decades will be thrilled by their upcoming shows if reports from the 2018 tour are any indication. The average setlist for Not in This Lifetime shows ran to more than 30 songs, including touchpoints from every era of the band's storied career.
What can I expect from the Guns N' Roses setlist?
From searing sing-along anthems like "Rocket Queen" from Appetite for Destruction and "You Could Be Mine" from Use Your Illusion II to epics like "Civil War" and heartfelt ballads such as "Don't Cry," even the most casual GNR fan will appreciate this trip through rock history. The setlist also includes covers from some of Rose's biggest inspirations, including songs by The Misfits, Wings, Velvet Revolver, Pink Floyd, Soundgarden, Bob Dylan and The Who.
Who plays in Guns N' Roses?
The current touring iteration of the band includes original members Axl Rose on vocals and guitar, Slash on lead guitar and Duff McKagen on bass. These founders are joined by Dizzy Reed, who played keyboard during the Use Your Illusion era; guitarist Richard Fortus, who has been with GNR since Chinese Democracy in 2002; Frank Ferrer of Psychedelic Furs on drums; and newcomer Melissa Reese on keyboards.
Back to Top