There aren't any Events on the horizon right now.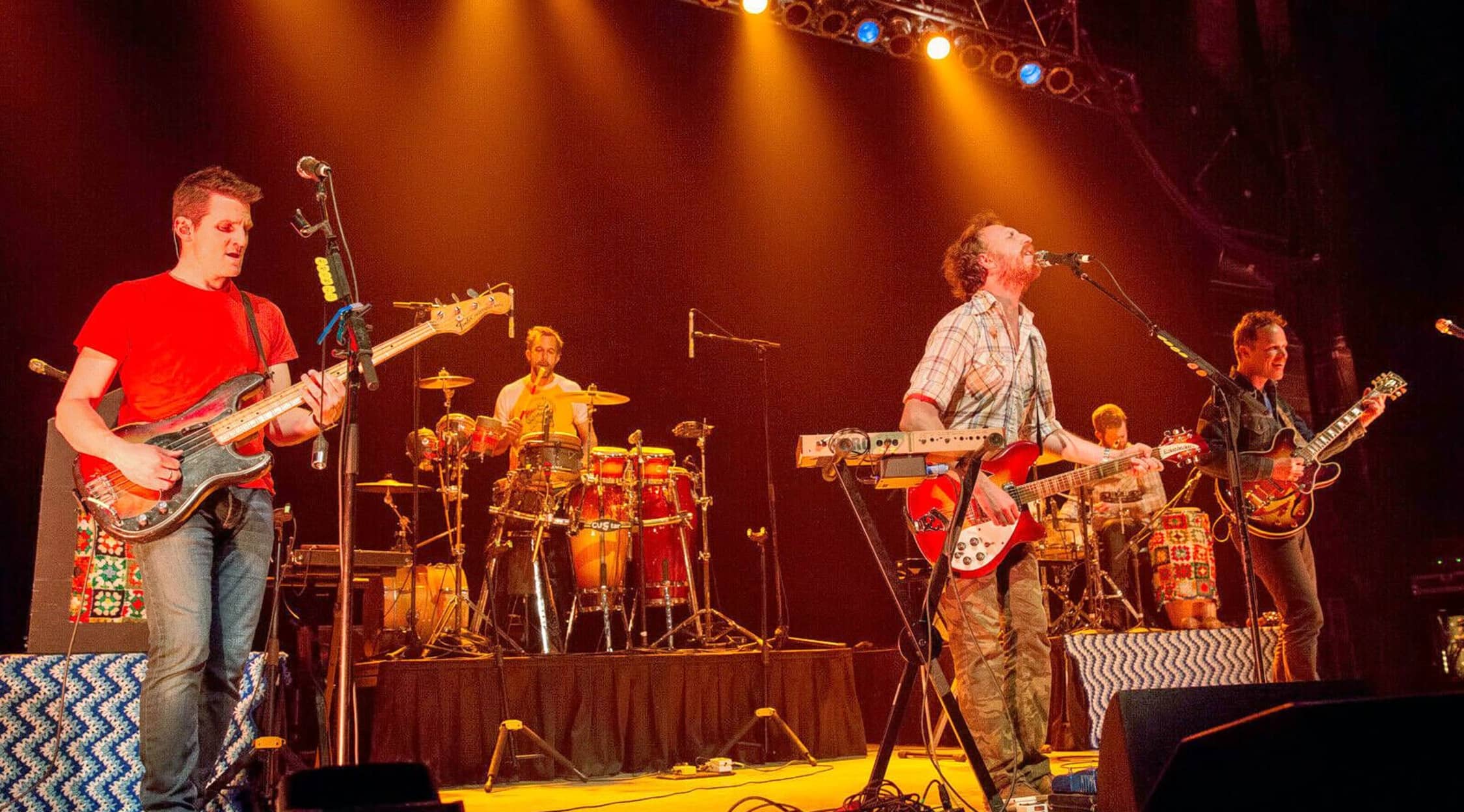 Zuma
Guster Tickets
Guster Tickets
Guster is a rock band hailing from Boston, Massachusetts. The four-piece group got their start in 1991 after meeting at Tufts University near Boston. Despite their auspicious beginnings, the alternative rockers achieved mainstream success in 1999 with their hit album, Lost and Gone Forever. This was the first album Guster didn't release independently after they signed a record deal with Sire Records. Guster has toured regularly both around the United States and internationally since their rise to fame on the backs of hit songs like Fa Fa and Amsterdam. Guster is still active in writing and recording new alternative rock music well into their career.
Quirky
One of the most interesting things, outside of their songwriting, about Guster is their quirky style. The band features Ryan Miller and Adam Gardner both on acoustic guitars while Brian Rosenworcel plays percussion instruments with only his bare hands. Interestingly, Gardner will take the role of a traditional bassist on the acoustic guitar. Rosenworcel is the centerpiece to the band's quirkiness as he will often step out front during shows and sing hilarious versions of off-kilter cover songs. The fans are even in on the action with gags related to some of Guster's songs. Famously, diehard fans will toss ping pong balls at the stage during "Airport Song" because you can hear ping pong being played on the song's recording.
Where Can I Buy Guster Tickets?
Those interested in Guster tickets can find them at the internet's largest inventory of concert and event tickets, StubHub. Stubhub.com makes purchasing tickets easy by providing both a desktop store and a mobile application.
What is a typical Guster concert like?
Expect the unexpected at a Guster concert. The band doesn't take themselves or their fans too seriously and are often known to throw in hilarious covers. The show is interactive and engaging. Make sure you stick around for encore because the percussionist, Brian Rosenworcel, may step out front and give you his own take of an unexpected cover.
Who are the members of Guster?
Guster tours as a four-piece. Two of the members, Ryan Miller and Adam Gardner, play acoustic guitar and sing. Brian Rosenwrocel plays drums and provides backing vocals. The band is rounded out the only non-founding member of the group, multi-instrumentalist, Luke Reynolds.
Will Guster be touring near me this year?
Guster is known to tour consistently throughout the calendar year. They have announced shows for the rest of 2019 in iconic venues like the National in Richmond, VA. They also have a unique concert performing along the Oregon Symphony in Portland, OR. Expect the band to consistently announce new concerts in the future.
Has Guster ever experienced success on the charts?
Yes. Guster's 2006 album Ganging Up on the Sun reached #25 on the Billboard top 200 list. They also saw some success on the Adult Contemporary charts with their album Lost and Gone Forever. Ganging Up on the Sun also won "Album of the Year" at the 2007 Boston Music Awards. A couple of the band's songs have also been featured in films. This includes, >One Man Wrecking Machine, featured in the 2007 thriller Disturbia and Tomorrow is Like Today, which was featured in the comedy Wedding Crashers.
How long is a Guster concert?
A typical Guster concert is two sets with an encore. One exception to this is at festivals where the band commonly plays just one set with no encore. This could also change if they are touring as a co-bill with another act.
Who are some acts similar to Guster?
If you enjoyed the Guster concert, check out other quirky rock bands like The Flaming Lips, Tenacious D, Rubblebucket.
Back to Top