We didn't find anything nearby, but here's what's happening in other cities.
There aren't any events on the horizon right now.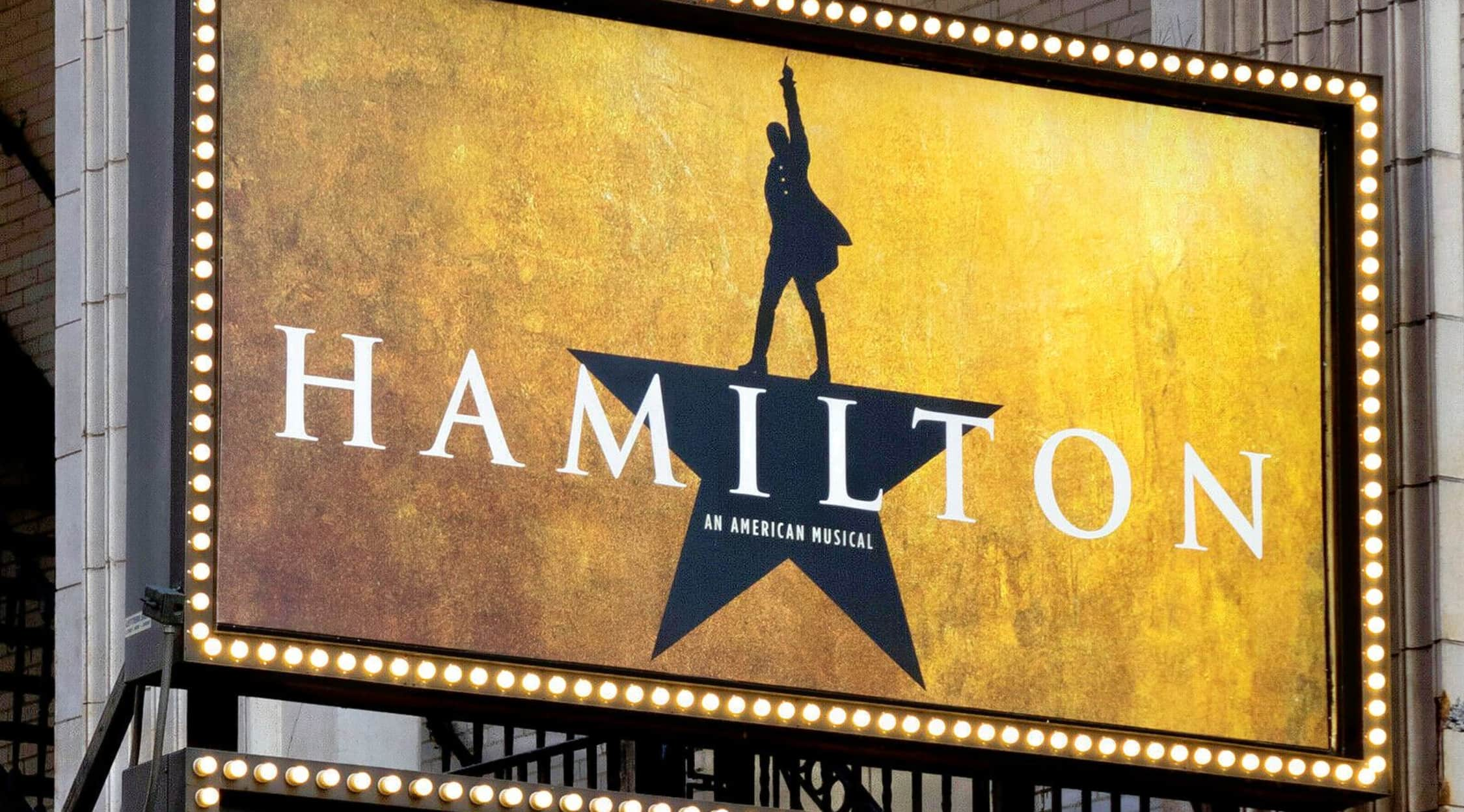 Alamy
Hamilton Chicago Tickets
Show Name: Hamilton
Composer: Lin-Manuel Miranda
Lyricist: Lin-Manuel Miranda
Year Premiered: 2015
Every once in a while, a Broadway show comes along that captures the public's imagination and transcends to "sensation" status, filling the Great White Way with a sort of electric anticipation and buzz. Hamilton, the two-act, sung-through musical created by Lin-Manuel Miranda, is one such smash hit. Inventive, engrossing, and even educational, Hamilton tells the improbable story of Alexander Hamilton, a man who started life as a Caribbean orphan and went on to become a revered statesman and Founding Father of the United States. In addition to Alexander Hamilton, other notables like George Washington, Aaron Burr, Eliza Hamilton, James Madison, Thomas Jefferson, and the socialite Angelica Schuyler figure prominently in the story. Miranda first workshopped the production in 2013 at Vassar College and by early 2015, it had found an off-Broadway home at the Public Theatre and garnered rave reviews. On August 6, 2015, Hamilton opened on Broadway in the Richard Rodgers Theatre, where it continues to delight audiences today. Over the years, the musical has racked up countless awards and accolades, including Tony Awards, Grammy Awards, and a Pulitzer Prize. Don't throw away your shot to see why everyone is raving — get your Hamilton tickets at StubHub today!
Hamilton Chicago FAQs:
Where Can I Learn More About Hamilton's COVID Policy?
Chicago's production of Hamilton plays in the CIBC Theater in Chicago, Illinois, which requires guests to show proof of vaccination and to wear masks. You can find up-to-date information for the CIBC Theatre here.
If you're seeing the Hamilton tour, be sure to check the respective venue's website for up-to-date COVID information.
Is Hamilton Currently on Tour?
Hamilton is a bonafide worldwide sensation. In addition to New York, there are currently productions in London, Sydney, Melbourne, Los Angeles, and Hamburg, all of which pack seats weekly. In addition to these productions, a Hamilton touring company is on the road in North America, so no matter where you live, you have a chance to see this Tony Award-winning smash.
What Broadway Theater is Hamilton Currently Running In?
Since 2015, Hamilton's Broadway home has been the Richard Rodgers Theatre on West 46th Street in New York City, New York.
Who Is Currently Starring in Hamilton?
In the original production, Lin-Manuel Miranda played Alexander Hamilton, Leslie Odom Jr. took on the role of Aaron Burr, and Phillipa Soo wowed as Eliza Hamilton. But today, there are multiple productions of Hamilton currently being staged around the world, in addition to a touring company. For the latest in casting news, check out the musical's website.
Who Wrote Hamilton?
Lin-Manuel Miranda, a notable Broadway performer known for In the Heights, Moana, and Bring It On, wrote the book, music, and lyrics for Hamilton. He was inspired to write the multi-award winning production after reading Alexander Hamilton, a biography written by Ron Chernow.
How Long Is a Production of Hamilton?
Hamilton runs two hours and forty-five minutes with one intermission.
What Are the Most Popular Songs From Hamilton?
Ask any ten Hamilton fans to list their favorite songs from the musical, and you'll get ten different answers. However, according to Spotify statistics, the five most-listened-to tracks from the soundtrack are "Alexander Hamilton," "My Shot," "Satisfied," "The Schuyler Sisters," and "You'll Be Back."
Is Hamilton Appropriate for Kids?
Hamilton is a musical about the Founding Fathers, but it's filled with PG-13 content, including an illicit love affair storyline, overt political sentiments, and some racy language. We'd suggest listening to the soundtrack and reading up on the story before buying tickets for any younger kids.
How Can I Find Affordable Hamilton Tickets?
StubHub makes it easy to find the Hamilton tickets you want at a price you'll love. Simply set a price alert, and we'll notify you the moment tickets in your budget are available.
Where Can I Purchase Hamilton Tickets?
You can buy Hamilton tickets at StubHub! With our help, you'll get the best seats in the house. Set a price alert to find tickets in your budget, check out the view from each seat before you buy, and score the best tickets the moment they're available.
How Do I Sell Hamilton Tickets?
Can't make the performance? We've got you covered. Just click here, upload your tickets to StubHub, select a price with the help of our Pricing Assistant™, and then kick back as buyers come to you. It's quick, easy, and secure, and you'll receive payment directly from StubHub.
What Happens If My Event is Canceled?
If an event is canceled, we'll give you a StubHub credit for 120% of the amount you paid. You can use it for any live event on our site in the same currency.
Prefer a cash refund instead? No problem. Simply go to your StubHub Wallet and click the 'Request cash refund' button on the appropriate credit. We'll process the refund to your original payment method within 30 days.
Read more about our event cancelation policy.
What Happens If My Event is Rescheduled?
If an event is rescheduled or postponed, your ticket will be good for the new date. If you can no longer attend the event, you can relist your tickets and we'll waive the sell fee.
Back to Top