We didn't find anything nearby, but here's what's happening in other cities.
There aren't any events on the horizon right now.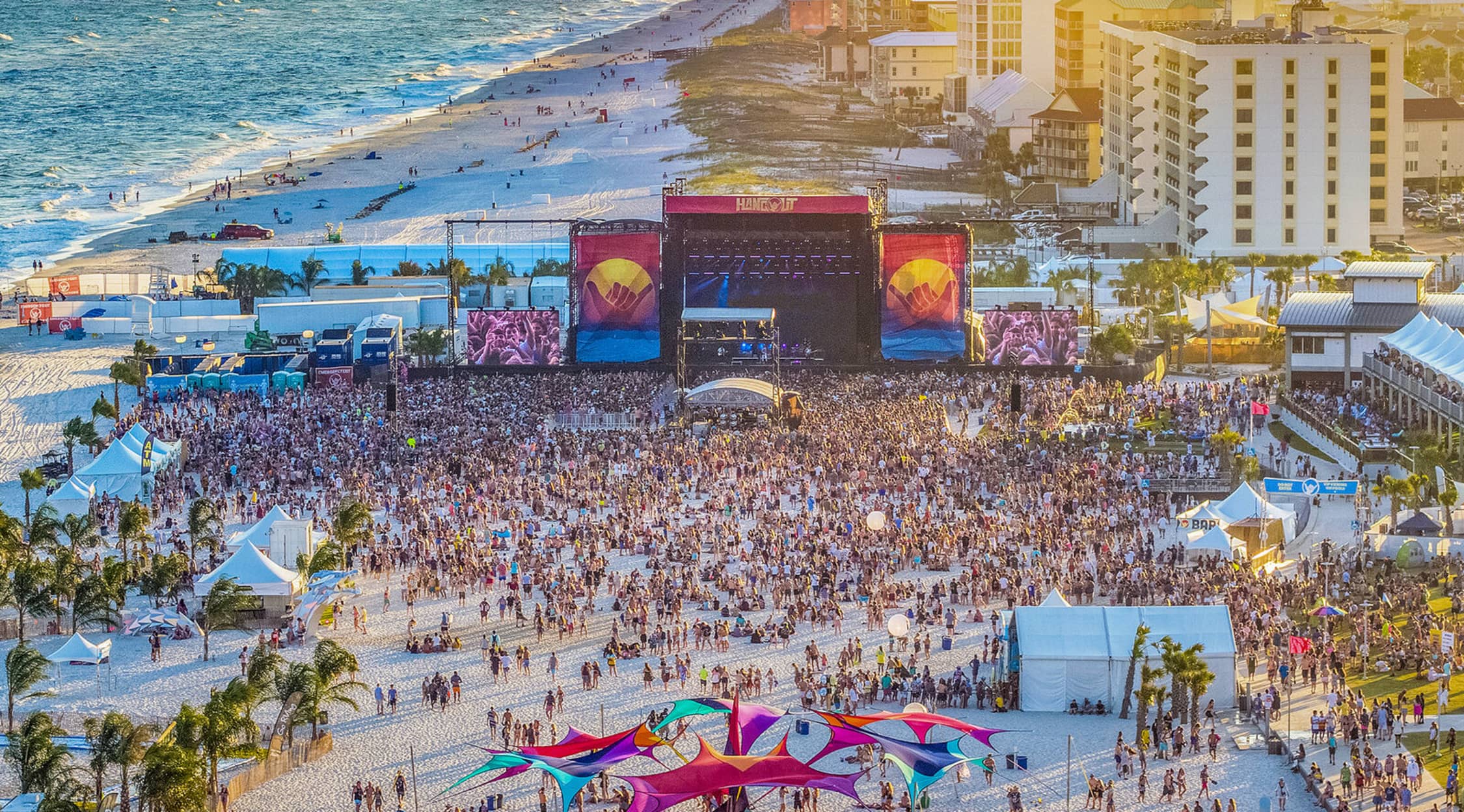 Hangout Music Festival
Hangout Music Festival Tickets
Hangout Music Festival Experience
Commonly known as either Hangout Fest or simply Hangout, this music festival is a three-day event held annually at the beach area of the Gulf Shores resort in Alabama. Live acts at Hangout encompass genres such as rock, indie, electronic house music and dance. Some notable past or repeat performances include Vampire Weekend, Bebe Rexha, Welshly Arms and The Killers.
Hangout Fest Impact and Recognition
The festival is named after a restaurant owned by Lilly and Shaul Zislin, two of the event's three founders. Although the inaugural performance met a somewhat low turnout due to an oil spill shortly before the opening, the city had to cap the following year's attendance for safety reasons. The 35,000 patrons made the sophomore year of Hangout an unprecedented one for such a young festival. For its third year, Hangout Fest tickets sold out completely several months in advance. An economics study conducted at Auburn University found the proceeds from Hangout live performances added over 30 million dollars to the local economy. The 2012 version of Hangout won Pollster's award for "Festival of the Year."
Where can I buy Hangout Music Festival tickets?
StubHub makes it easy and convenient for you to purchase the Hangout Music Festival tickets of your choice. You'll find an easy-to-use online portal at stubhub.com, or you can take advantage of the streamlined mobile app to order your festival tickets on-the-go no matter where you are.
Can anyone attend the Hangout Festival?
Anyone over the age of 18 is welcome at Hangout provided they have a valid festival ticket. If you are 17 or under, you will need to have your own ticket for Hangout Fest and be accompanied by an adult. Any guardian will need to hold their own Hangout ticket as well.
Can I leave Hangout Fest and come back?
Festival management offers wristband passes for any event patron who wishes to leave the festival grounds and come back at a later time. Note that in order to get in and out of the festival without issue or purchasing another ticket, your wristband must be securely fastened and show no signs of tampering.
I would like to attend Hangout Fest from out of town. How do I get there?
Florida's Pensacola airport is approximately 45 minutes away from the festival grounds at the Gulf Shores in Alabama. You'll find direct service to Pensacola from locations such as Miami, Chicago, Atlanta and Nashville, just to name a few. If you are driving to the live event, it is on 101 E. Beach Boulevard in Gulf Shores, and digital maps can provide you with an expedient route based on your location.
Are there places to stay while I attended Hangout Fest?
Yes. Gulf Shores and Orange Beach are the two towns along the island where the music festival takes place. In either town, you will find dozens of fine hotels that are willing to accommodate you. Some condominiums and houses are also available for rent leading up to the festival. If you are planning to attend the live event with a group of friends, you may find it more convenient to rent a house or condo and split the overall costs. Note that houses available for rental at Hangout also include equipped kitchens.
Does Hangout provide food?
Yes. The Hangout is known for its burgers, salads and other classic American dishes. You will also have access to food options that include vegetarian or vegan dishes in addition to standard fare. Drinks will be available for purchase as well. Please don't bring outside foods or beverages with you. They will be taken at the security gate.
Back to Top