There aren't any Events on the horizon right now.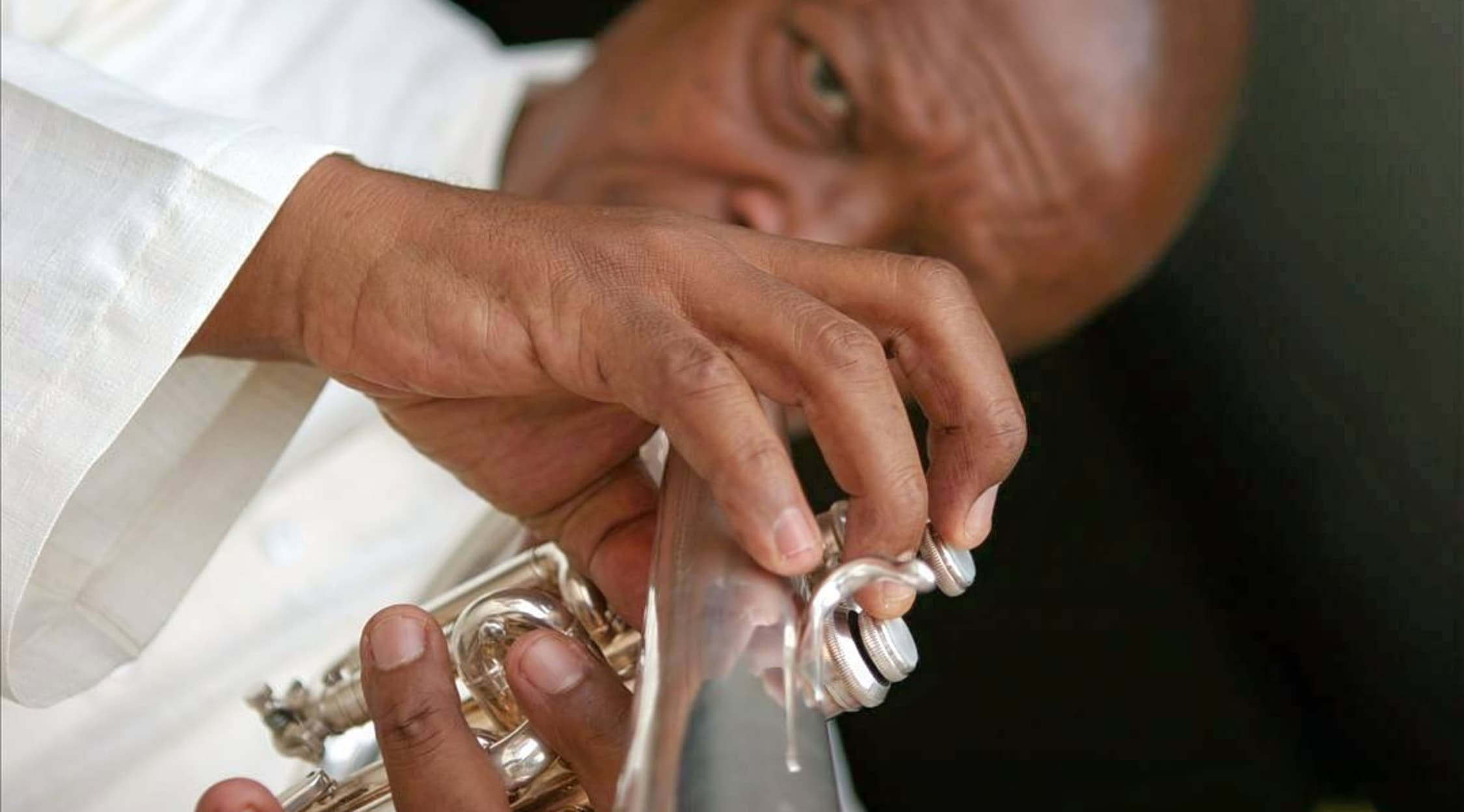 Rovi
Hugh Masekela Tickets
Hugh Masekela Schedule
Highly regarded trumpeter, composer, flugelhornist, singer and bandleader Hugh Masekela has been on the music scene since the early 60s and is credited with an incredible and impressive resume. For instance, in June 2010, Masekela opened the FIFA Soccer World Cup Kick-Off Concert; he earned a Lifetime Achievement award at the WOMEX World Music Expo hosted in Copenhagen in 2011; in March of 2011, the U.S. Virgin Islands declared "Hugh Masekela Day" and more!
Hugh Masekela is scheduled to perform at high-profile venues like the Carnegie Hall - Stern Auditorium in New York, New York; and John Van Duzer Theatre in Arcata, California.
Hugh Masekela Background
Born in South Africa, Hugh Masekela was given a trumpet at the age of 14. The gift came from Father Trevor Huddleston, an esteemed equal rights advocate. Eventually, the Huddleston Jazz Band was founded. It was around the late 50s that Masekela started to polish his now trademark Afro-jazz sound by lending his talents to efforts like the King Kong musical (1959). By 1960, Masekela migrated to New York from his native South Africa and pursued studies at the Manhattan School of Music. This intersected with jazz music's golden era. It was a time when Masekela embraced the New York jazz scene every evening and was fortunate enough to be exposed to jazz heroes like Max Roach, Miles Davis, Charlie Mingus and Thelonious Monk. Masekela was also privy to the guidance of icons Louis Armstrong and Dizzy Gillespie, who nudged him to perfect his own authentic style, dipping in the well of African inspirations rather than American ones. He issued his first album, Trumpet Africaine, in 1963. Later on in the 60s, Masekela pulled up stakes again and headed for L.A. It was there he met luminaries like Dennis Hopper, David Crosby and Peter Fonda. Masekela played the Monterey Pop Festival in 1967, sharing the bill with Jimi Hendrix, Janis Joplin, Ravi Shankar, The Who and Otis Redding. A year later, his "Grazin' in the Grass" single landed at No. 1 on the pop charts in the U.S. and was also a monster hit globally. The instrumental single catapulted him into international stardom. For half a century, Masekela worked on his solo career, dropping over three dozen albums. He also collaborated with a variety of talents like The Byrds, Paul Simon, Fela Kuti, Harry Belafonte, Stevie Wonder and more. At the dawn of the 90s, Masekela went back home to South Africa. In 2004, Still Grazing: The Musical Journey of Hugh Masekela was published. These days, Masekela is using his star power for good, taking his message about heritage preservation in Africa to the public. "My biggest obsession is to show Africans and the world who the people of Africa really are," Masekela said.
Hugh Masekela Albums
Hugh Masekela's discography is comprised of: Trumpet Africaine (1963); The Americanization of Ooga Booga (1966); Hugh Masekela's Next Album (1966); Grrr (1967); The Emancipation of Hugh Masekela (1967); Hugh Masekela's Latest (1967); Hugh Masekela Is Alive and Well at the Whisky (1967); The Lasting Impression of Hugh Masekela (1968); The Promise of a Future (1968); Masekela (1969); Reconstruction (1970); Hugh Masekela & Union of South Africa (1971); Home Is Where the Music Is (1972); Introducing Hedzoleh Soundz (1973); I Am Not Afraid (1974); The Boy's Doin' It (1975); Colonial Man (1976); Melody Maker (1976); You Told Your Mama Not to Worry (1977); Herb Alpert/Hugh Masekela (1978); Main Event - Live (1978); Techno-Bush (1984); Waiting for the Rain (1985); Tomorrow (1987); and many, many more!
Hugh Masekela Trivia
Did you know that Hugh Masekela worked with the Dave Matthews Band in Johannesburg, South Africa? Yes, it's true. Masekela took the stage with Rashawn Ross on stage for "Grazing in the Grass" and "Proudest Monkey."
Hugh Masekela Concert Experience
Ever since he rocketed to superstar status, Hugh Masekela has been drawing fans from around the globe, and now's your chance to see him illuminate the stage at a venue closest to you!
There has never been a better time to head out to an exciting concert packed with moments that you'll be talking about with friends long after it's over. We all know there are a variety of ways to get your music in today's day and age, but to see one of your favorite artists perform live on stage gives you a completely different perception and experience! Why miss out on the chance to feel the beats coarse through your veins surrounded by hundreds of other fans who share in your passion for the music?
The Hugh Masekela concert experience is nothing short of spectacular, as any fan can confirm, but it's still something that you have to embrace if you want to truly appreciate what he has to offer. When a gifted musician like Hugh Masekela takes the stage, the vibe is ever-present, giving you plenty of reasons to click off the big-screen and head out to see it all happen up close and personal as Hugh Masekela looks to put on yet another fantastic show for his devout fan base.
You'll want to start making plans as early as you can to see this captivating music man in person! StubHub is your one-stop-shop when you want to pick up tickets to see any classical music artist out there, so head right over to order your seats with just a click!
Back to Top
Epic events and incredible deals straight to your inbox.