There aren't any Events on the horizon right now.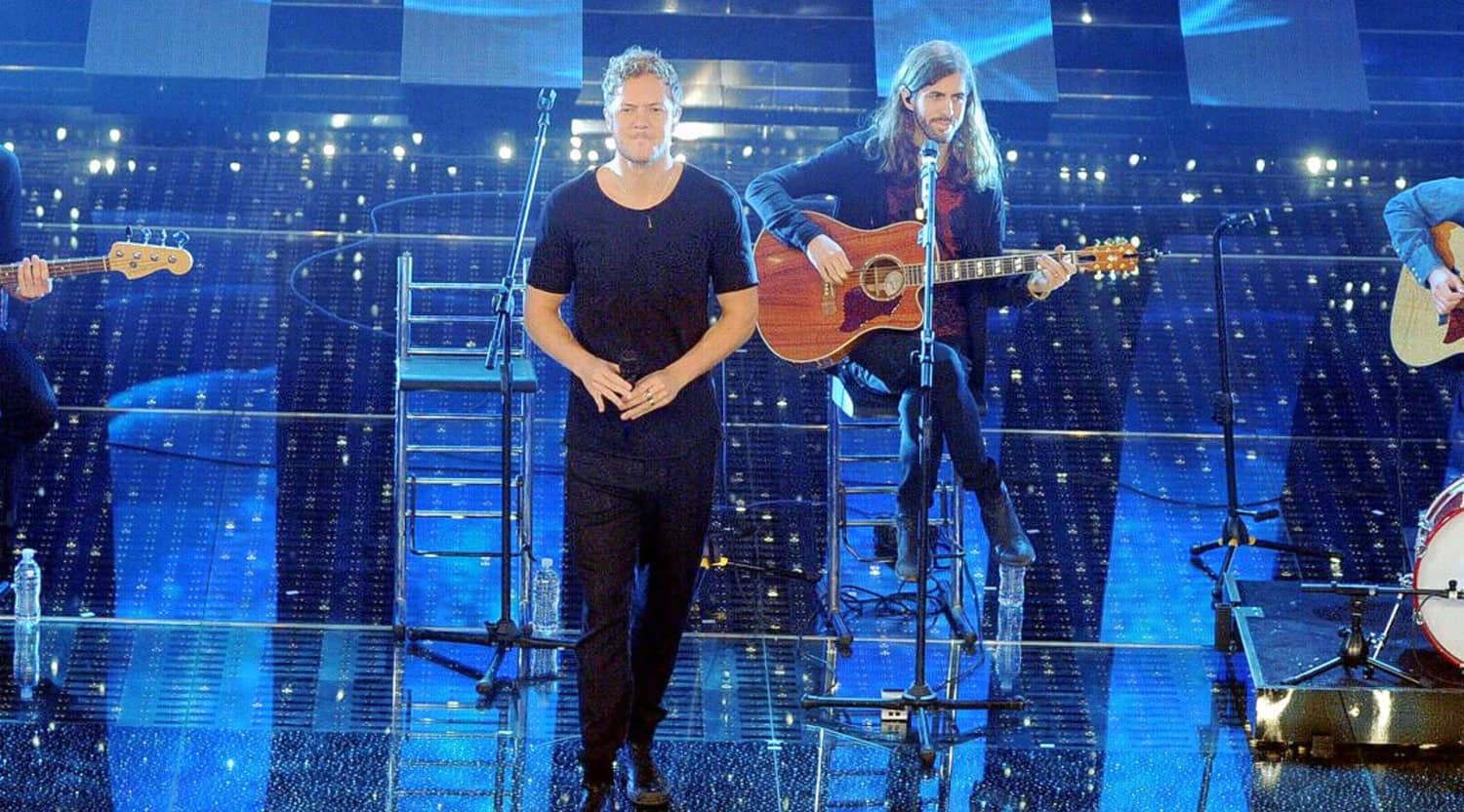 Alamy
Imagine Dragons Tickets
Imagine Dragons Tickets
Imagine Dragons burst onto the music scene in 2012 with their award-winning album Night Visions, which included hits like "Demons" and "Radioactive." "Radioactive" holds the record for most weeks charted on the Billboard Hot 100 charts and was hailed as the biggest rock hit of the year. They haven't slowed down since, being named the Billboard "Breakthrough Band of 2013," "Biggest Band of 2017" and placing at the top of their "Year in Rock" ratings in 2013, 2017 and 2018. With so many hits under their belt, including "Believer" and "Thunder", they also hold the record for the most weeks at number one on Billboard's Hot Rock Songs chart. They have won a Grammy Award, one MTV Video Music Award, three American Music Awards and nine Billboard Music Awards.
Imagine Dragons Clawed Their Way to Fame
While it may seem like Imagine Dragons suddenly appeared from nowhere, they actually formed in 2008. The founding members, Dan Reynolds and Andrew Tolman, met while they were students at Brigham Young University. They had some struggle in getting a final lineup for the band, but once they did, they began to gather a following in Provo, Utah. After this, they moved the band to Las Vegas, Dan Reynold's hometown. This is where their first three EPs were recorded and released. While they continued playing small shows and developing a dedicated following, it was not until a chance incident in 2009 that they got their big break. The band Train was scheduled to play at the 2009 Bite of Las Vegas Festival, and their lead singer, Pat Monahan, fell ill. Imagine Dragons was asked to fill in last minute and got to play to an audience of 26,000 people. This gave them the jump they needed to hit the mainstream music scene. Since then, they have sold over 12 million albums worldwide, as well as over 35 million singles. They show no signs of slowing down any time soon. Imagine Dragons has performed in many countries around the world, including Poland, England, Germany, Mexico, Italy, Russia, France, Thailand and the United States.
Where can I buy Imagine Dragons tickets?
To see Imagine Dragons in concert, you can buy tickets at the world's largest ticketing marketplace, StubHub. Easily order your tickets from anywhere in the world with StubHub's mobile or desktop platforms.
How long is a normal Imagine Dragons concert?
Including the opening acts, an Imagine Dragons concert lasts around 3.5 hours, with Imagine Dragons performing for two of those hours.
Where is Imagine Dragons playing?
The band is set to play in a number of locations around the world, including Rio de Janeiro, Brazil and inside the United States in Canton, OH.
What does Imagine Dragons setlist look like?
Imagine Dragons normally plays 16 songs in their set and one encore song. You can expect to hear top hits such as "Radioactive," "It's Time," "Thunder" and "Natural." They also do a cover of The Police's "Every Breath You Take." Their encore song is usually "Believer."
Who are the members of Imagine Dragons?
Current members of Imagine Dragons include lead vocalist, Dan Reynolds, lead guitarist, Wayne Sermon, bass player, Ben McKee and drummer, Daniel Platzman. Between 2008 and 2011 there were several members who joined and left the band, including Andrew Tolman, Brittany Tolman, Theresa Flaminio, Dave Lemke and Andrew Beck.
Where did the name Imagine Dragons come from?
Imagine Dragons is an anagram for a phrase that only the band members know. They wanted something they could keep just to themselves since they expose themselves so much as musical artists.
What other bands are similar to Imagine Dragons
For bands who are similar to Imagine Dragons, check out Maroon 5, The Chainsmokers and OneRepublic.
Back to Top
Epic events and incredible deals straight to your inbox.