There aren't any Events on the horizon right now.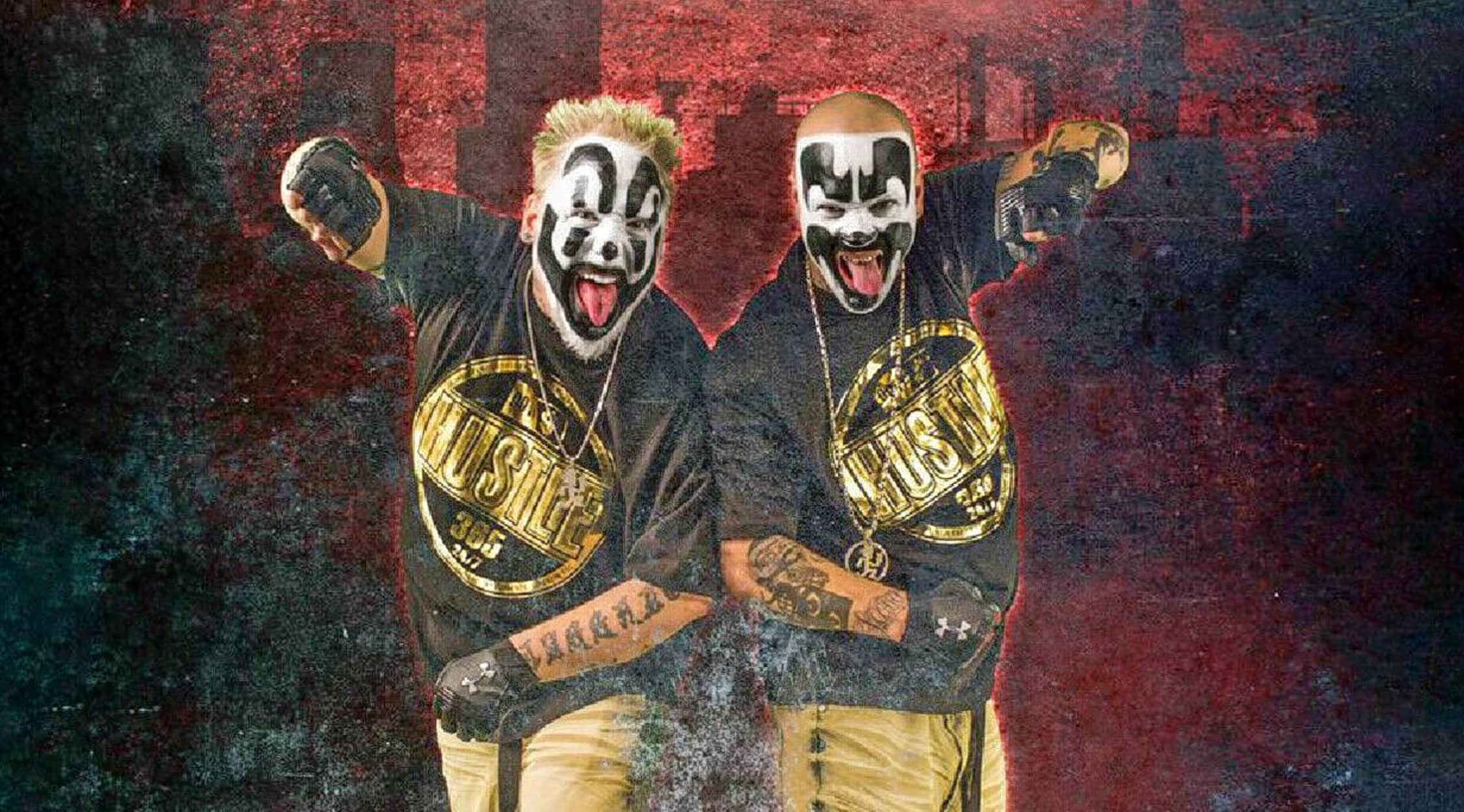 Rovi
Insane Clown Posse Tickets
Insane Clown Posse tickets
There are few bands with fans as passionate as those of Insane Clown Posse. Since the Detroit-based group's founding in 1989, the duo of Violent J (Joseph Bruce) and Shaggy 2 Dope (Joseph Utsler) have continued to mold their own version of hardcore hip hop, or as they deem it, "horrorcore."
Insane Clown Posse has found significant success, including more than 6.5 million units sold in North America, two platinum albums and five gold albums.
Insane Clown Posse history
ICP's roots can be traced to the mid-'80s. Joseph Bruce and Joseph Utsler spent their childhoods together in the difficult neighborhoods of southwest Detroit. In 1991, the duo helped found the independent label Psychopathic Records, and Insane Clown Posse, or Inner City Posse as it was then known, released their first EP that same year.
Throughout the '90s, the group released several albums and developed a loyal following, eventually landing a contract with Disney-owned Hollywood Records. However, after controversy engulfed the band over their lyrics, style and general message, Hollywood Records ended the contract.
Over the past decade and a half, Insane Clown Posse has survived everything from assault charges to disavowed contracts and seemingly every controversy in between. The group seems to feed off of this, however (and so do their fans), and they continue to perform to passionate crowds to this day.
Of course, any discussion of the Insane Clown Posse would be remiss without mentioning their iconic festival, the Gathering of the Juggalos. Started in 2000, the Gathering of the Juggalos is an annual festival put on by Psychopathic Records, which features a number of independent and underground artists. The headline act is of course the Insane Clown Posse. The first few years of the gathering were relatively small events, with just a few thousand people in attendance. In 2003 the festival was held in an outdoor park and took place over a 5-day period. By 2007, the Gathering featured more than 100 acts, with nearly 10,000 people in attendance. However, it was the tenth annual Gathering of the Juggalos that drew in the largest audience, with more than 120 artists and more than 20,000 people in attendance.
Insane Clown Posse's biggest concert
Insane Clown Posse has performed for some large crowds, but one of the most noteworthy was their performance at Woodstock 1999. In addition to offering $2,000 to anyone that came onto the stage naked (two people took them up on the offer), the group threw several dozen beach balls, with anywhere from $100 to $500 attached to them, into the crowd.
Similar to Insane Clown Posse
Fans with Insane Clown Posse tickets might also enjoy Twiztid or Blaze Ya Dead Homie.
Back to Top