There aren't any Events on the horizon right now.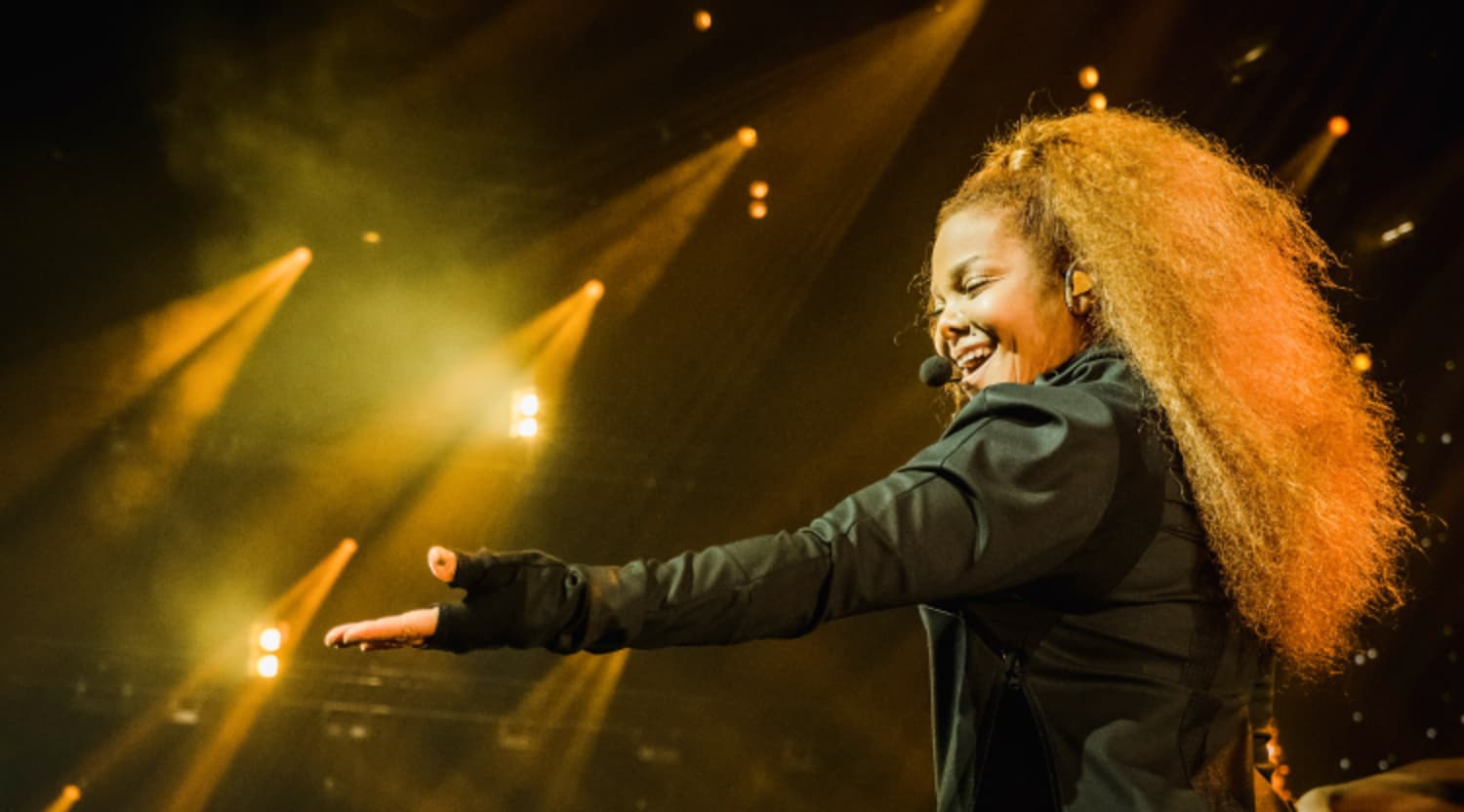 Zuma Press
Janet Jackson Tickets
Janet Jackson Tickets
The youngest of 10 siblings, Janet Jackson began her career as a child actress singing and dancing on shows like Good Times and Different Strokes. Though her characters at times were bold and vivacious, Janet was very shy. Like many artists, the stage is where Janet Jackson found her voice. Her breakout tour in 1990 set a record for the fastest ticket sellout of Japan's Tokyo Dome.
Janet's Metamorphosis
Janet Jackson became the "Queen of Radio" when 70 million fans tuned into hear her music during her first week of radio play. Her album Janet Jackson's Rhythm Nation 1814 skyrocketed her to the top of pop culture royalty. The album held Top 5 hits, including "Miss You Much," "Rhythm Nation," "Escapade" and "Black Cat," a song she penned. The album won three American Music Awards and was certified platinum six times. Jackson has sold more than 100 million records. She is listed as number seven on Billboard's Hot 100 All-Time Top Artists, and in 2010 she was fifth on the Top 50 R&B/Hip-Hop Artists of the Past 25 Years. After the release of her eleventh album, Unbreakable, she started her label called Rhythm Nation Records.
Where can I buy Janet Jackson tickets?
Buy your Janet Jackson tickets at StubHub, the largest online concert ticket marketplace. With StubHub's FanProtect, your ticket purchase is safe and secure.
Where is Janet Jackson playing?
Janet Jackson is currently playing at the Park Theater MGM in Las Vegas and is scheduled to perform at the Chase Center in San Francisco in September. Janet Jackson has performances in Las Vegas and San Francisco but does not have any other cities announced.
Will Janet Jackson tour in 2019?
Other than her Vegas and San Francisco shows, Janet Jackson has not announced any additional tour dates although this doesn't mean that she won't be touring. Keep an eye out for any announcements by the performer on any upcoming tour dates.
What can I expect at a Janet Jackson concert?
You can expect a high-energy performance of electrifying and provocative dance moves. Janet Jackson still has the moves of her younger contemporaries and delivers a show that has fans still screaming for more. From costume changes between songs and philosophical tidbit video inserts to performance interludes, you can expect to see an evolution of a woman who's undergone a true metamorphosis.
What is Janet Jackson's show Metamorphosis about?
Ms. Jackson's Las Vegas Metamorphosis, as her show is called, is Janet peeling back the layers of who she has become as an artist, mother and a woman. Known for keeping her private life quiet and not sharing her personal struggles with the public, the show gives her fans an intimate look inside of this iconic musician. This is the 30th anniversary of her Rhythm Nation 1814 album, and this performance is all about Janet and no one else.
How long is a Janet Jackson concert?
With nearly 40 songs in her setlist, Janet performs her greatest hits and brings fans forward to her latest compilations. Janet Jackson gives audiences a full 90 to 100 minutes of sizzling songs and dance moves.
What other artists have similar music to Janet Jackson?
Beyoncé, Mariah Carey, Bobby Brown and Usher have similar music styles to Janet Jackson.
What is a Janet Jackson tour setlist?
The following is a list of some of the most popular songs performed at a Janet Jackson concert. "Rhythm Nation," "Feedback," "Trust a Try," "If," "You," "What Have You Done for Me Lately," "Control," "Together Again," "When I Think of You," "Escapade," "That's The Way Love Goes," "All For You" and "Nasty."
Back to Top
Epic events and incredible deals straight to your inbox.