JESUS CHRIST SUPERSTAR ANAHEIM
Jesus Christ Superstar Anaheim
Jesus Christ Superstar Anaheim Tickets
We didn't find anything nearby, but here's what's happening in other cities.
There aren't any events on the horizon right now.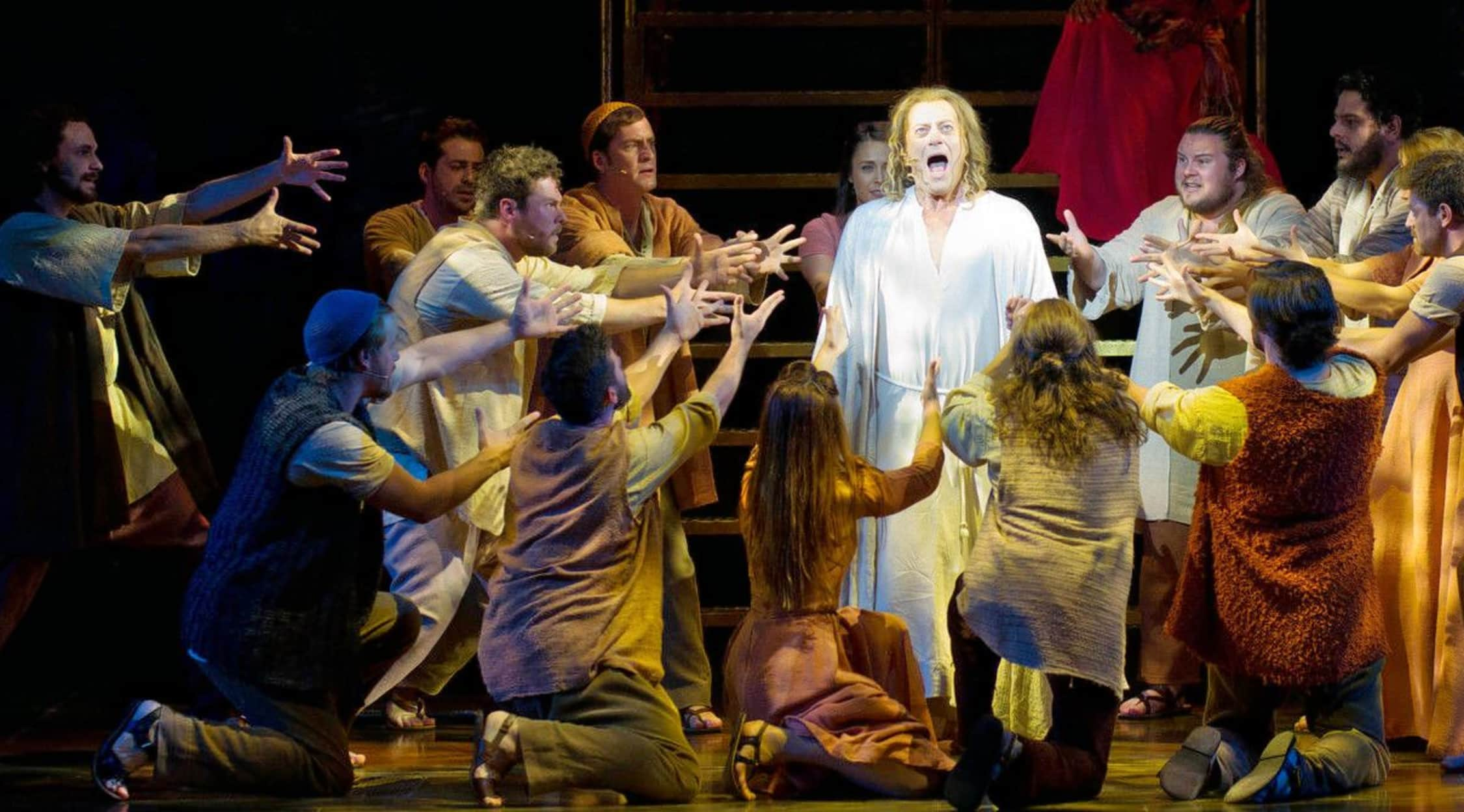 Alamy
Jesus Christ Superstar Anaheim Tickets
Jesus Christ Superstar Plot
When's the last time you had the opportunity to take your loved ones out to a great show for the weekend? Well the workweek is almost over and you need to start figuring out what you're going to be doing to keep yourself entertained this weekend, so why not go and see a popular show? There's plenty of shows to choose from, of course, so it can be difficult to pin down exactly what the plan is for this weekend. But if you've already established that you need to take in some culture this weekend, it at least narrows down the type of show that you should probably be looking at attending. If you were hoping to take in a decent dose of culture this weekend, you should look no further than picking up tickets to see a show like Jesus Christ Superstar!
Jesus Christ Superstar is a retelling of one of the most popular stories to come from the bible - that of the final week in Jesus Christ's life where he is betrayed by his disciple Judas and is arrested by the Romans for his crimes against the State. Though Jesus is allowed to enjoy his final meal with his disciples beforehand, he is brutally sentenced to be executed by crucifixion. Though at face value that can seem like a particularly negative end for a musical, the philosophy of Jesus' teachings are prominent and for believers and non-believers alike, you'll be interested in hearing the fantastic songs that were written for this timeless story of one of humanity's earliest humanitarians. If you have yet to catch this popular musical on the stage, you owe it to yourself to log on to StubHub as soon as you're able and look for tickets to see this amazing story play out on the stage! You won't regret picking up your tickets to see Jesus Christ Superstar when it opens for the stage in lovely Anaheim!
Jesus Christ Superstar Schedule
Were you hoping to see Jesus Christ Superstar when it opens for the stage at one of the many theaters and performing arts centers in Anaheim, California? Well if that was the plan all along, you'd better do yourself a favor and open your laptop as soon as you can, because tickets are going fast to this popular show and you're going to need to log in and check to see if there are any seats still available for you and your loved ones. Don't miss out on this fantastic show, get your tickets to see Jesus Christ Superstar through StubHub today!
Jesus Christ Superstar Cast
Though Jesus Christ Superstar was originally created for the stage, the casting director of this show always has challenges to contend with. The issues don't necessarily stem from not being able to find enough actors, but more in finding the right fit for certain roles. Since the release of the film version of Jesus Christ Superstar in 1973, the general public has certain assumptions about how characters in the show are supposed to behave. That's why the casting director was given such a difficult challenge, putting all of the potential players for this show through a rigorous vetting process to ensure that they were the right person for the job. In the film version, they were able to cast such popular actors as Ted Neely, Carl Anderson, Yvonne Elliman, Barry Dennen, Bob Bingham, Kurt Yaghjian, Josh Mostel, Philip Toubus, Larry Marshall, Richard Orbach, Robert LuPone, and more! That's why it was so difficult to cast for a show like this, but thankfully, the casting director was able to find performers whose ability far exceed the demands of the roles, so when you catch this show performed before your very eyes, you're almost guaranteed to have an amazing time! Don't miss out, get your tickets through StubHub today!
Jesus Christ Superstar Author
The story of Jesus Christ Superstar is based on the gospels in the bible that chronicle the last week of Jesus Christ's life, but it took a very special team of creative folks to adapt the tale so that it would translate and be effective on the stage. With Andrew Lloyd Webber writing the music and Tim Rice on the lyrics, there was absolutely no way this musical would not succeed! Andrew Lloyd Webber is no stranger to musicals, of course, with his long history writing for the stage. He's written music for such hit plays as The Phantom of the Opera, Joseph and the Amazing Technicolor Dreamcoat, Evita, and of course, Cats. Tim Rice, however, has worked on many of the same projects as they make quite the writing duo together, but he's gone on to work on other projects as well such as The Lion King, Aladdin, and The Road to El Dorado. You're not going to want to miss your opportunity to see the work of these two talented writers as it finally makes its way to the stage. Remember, StubHub is your one-stop ticket shop, so no matter what you need or when you need it, you can always log on and see what's available. Don't miss out on this exciting opportunity to get a night of culture in, hurry and secure your tickets with StubHub today!
Jesus Christ Superstar Trivia
Q: Where did Jesus Christ Superstar first debut in front of an audience for the stage?A: Jesus Christ Superstar first debuted in front of an audience for the stage on Broadway.
Q: When did Jesus Christ Superstar first debut in front of an audience for the stage?A: Jesus Christ Superstar first debuted in front of an audience for the stage in 1970.
Back to Top